Are you a bird lover? Bigodi Wetland Sanctuary is one of the amazing Uganda birding safari sites visited by some of the most ardent birders around the world. It is famous home to the Great Blue Turaco although you will encounter other interesting bird species. The sanctuary is situated about 40 kilometers away from Fort Portal Town and it is about 6 kilometers from Kibale forest National Park.
It was established as a community development project. Bigodi sanctuary houses the Magombe Swamp which harbors over 200 colorful bird species. Some of the birds found in this wonderful wetland sanctuary include; Papyrus gonolek, Great blue Turaco, White winged Warbler among others. it is also a great spot for many beautiful butterflies and exciting primates like the grey cheeked Mangabey, white and black monkeys among others. You can enjoy a guided nature walk around the sanctuary and this takes you about 3 hours. A long guided walk costs 50,000 Uganda shillings per person.
Birding Safaris at Bigodi Wetland Sanctuary
For bird lovers, highlights include papyrus gonolek, grey-throated, yellow-billed, yellow-spotted and double-toothed barbets, speckled, yellow-rumpled and yellow-throated tinker barbets, yellow-bill, and black-and-white casqued hornbill.
A tour to Bigodi wetland sanctuary can be tailored together a Uganda Safari to Kibale forest national park – great place to see impressive numbers of interesting primates about 13 species including the over 650 chimpanzee individuals thus giving many travelers to enjoy chimpanzee trekking experience in Kibale forest.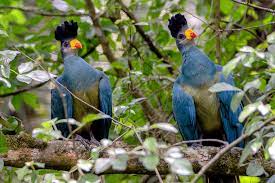 How to get to Bigodi wetland Sanctuary
From Kampala to Bigodi Wetland Sanctuary it is 330 km and a 5-hour drive. However, it is under an hour's drive from Fort Town so the Bigodi Wetland Sanctuary is a convenient stop if you are visiting the Kibale Forest or if you are on your travels further south to Queen Elizabeth National Park.
Incase you would love to hire private transportation for a safari round-trip to Bigodi Wetland sanctuary, simply contact our travel experts for an affordable quotation on info@ugandasafaribookings.com or call us directly on 0700135510/ +256-414699459 to speak directly to our customer care personnel