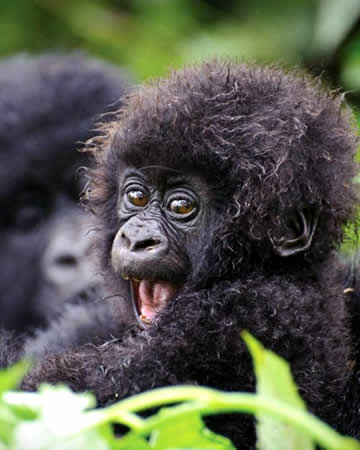 Africa is home t0 up to 216 primate species and the mountain gorillas sit on top of the list. Endangered and only found with three African countries, gorilla trekking experience is regarded as one of the most amazing wildlife encounters in the world. A guided trek through Bwindi forest & Mgahinga mountains offers tourists the perfect opportunity to come face to face with the gorillas.
As it happens – Enjoy an early breakfast and then drive to the park headquarters where you will get a briefing form the guides and in-case you need a porter, he/ she will be availed at a cost. Gorilla trekking is no easy task as the gorillas are hard to find on some particular days and that's why you are escorted by an UWA guide. Tracking may last between 3 to 5 hours depending on location of a family , you will have an hour amidst the gorillas to take pictures and observe them in their natural habitat. Enjoy your packed lunch in the forest and then trek to a pick-up point where the drivers will find you and take you back t you accommodation. Gorilla certificates will be awarded to you at night over camp fire or dinner.
Gorilla Permits – You mus have a gorilla permit to be allowed to safari in Bwindi or Mgahinga. A Gorill trekking permit in Uganda costs US$ 700 person for foreign non-residents , US$ 600 per person for foreign residents and UGX 250,000 per person for East African Citizens . You can book a permit online with us or visit the UWA office in Kampala to reserve in person.
For details about booking our Uganda gorilla safaris or obtaining a permit , send an email to info@ugandasafaribookings.com or call our travel consultant via +256-700135510/ +256 414-699459.