Today, a family trip is no longer about getting children into the car and looking for a nearby beach or Resort, family safaris have grown to  be more interesting and also  giving a chance to your kids to  love travel and nature apart from sand beaches. This 5 days Uganda family safari will offer you and your children time to meet the wild animals in their territory and also get chance to explore the city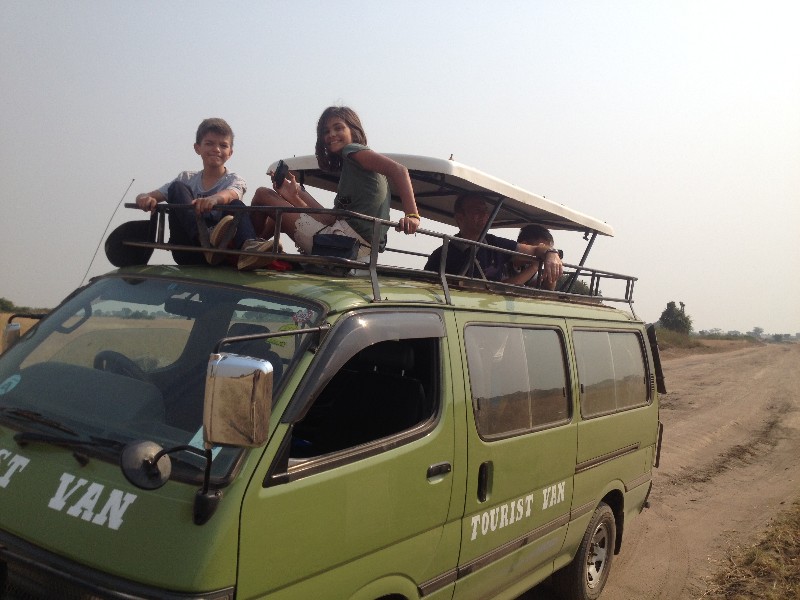 5 Days Family Safari Itinerary
Day 1: Drive to Queen Elizabeth National Park
Queen Elizabeth is located in the western region of Uganda is approximately 5-6hrs drive from Kampala capital city. Whether you are looking at guided trip or self drive safari, the route is very accessible and less tiring. It is more comfortable to set off early 7-8am, to avoid city traffic and an early departure saves a lot of time on the road.
Enjoy a scenic drive through Mubende town with an enroute warm lunch. You will be at the park probably in the afternoon, check into the lodge and have time to prepare for the next day's activities. Be treated to a comfy dinner with overnight stay at your lodge.
Day 2: Game Viewing & Launch Cruise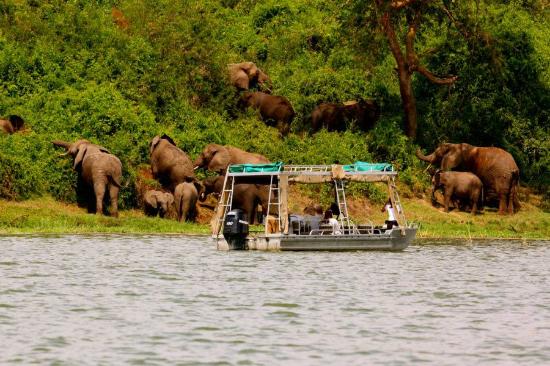 In the medley of wonders- Queen Elizabeth National Park, the lions reside in the fig trees of Ishasha sector, elephants walk lazily in the open grasslands, buffaloes, stand steadily, the playful antelopes, sitatungas, waterbucks, bush bucks, baboons, mangeese, warthogs and many more animals each enjoying the park in its own manner, all these can only be seen during the game drive.
Therefore after your breakfast, get ready to meet all those members above and more. After the game drive, have lunch and still join your guide to the launch cruise along the Kazinga channel. This 32 kilometer channel connects Lake Edward and George; it attracts a number of birds inclusive of the migrant birds from as far as neighboring countries and also a great concentration of hippos and Nile crocodile. Just sit back, get your camera ready and enjoy the rest of the ride. Enjoy the rest of the evening with dinner and overnight at the lodge.
Day 3: Drive to Kampala
Enjoy breakfast and drive to Kampala, still the drive is approximately 5-6 hrs on perfect roads. Ask your guide for moments to stretch and stops in case you want to take look at some beautiful physical feature or even photography. Have a warm lunch enroute and proceed to the city. Welcome back from the quiet wild places, we are back to noisy, busy city. Have a night with dinner at your preferred hotel.
Day 4: City Adventure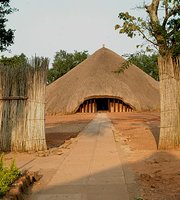 Today get ready to check Kampala capital city, the city is also a perfect destination for family and children will as well enjoy every bit if the city. After breakfast, head to the National museum, and share part of the ancient moments of Uganda, visit the craft market and also give the children a chance to pick out something they have liked most.
Wonder world amusement park, will have your children vibrated with fun, there is a lot of fun packed activities for the children, like bouncing castles, water slides, the swinging boat, octopus name it. There are other parks for the children like Freedom city children's park, twinz children's center or you can choose to spend this whole time in Entebbe at the white sand beaches. Return to your lodge for dinner and overnight stay.
Day 5: Reserved for Departure
I am sure you will have a great time in Uganda through the days, visiting the wildlife park, children amusement parks, craft markets and so much more that you were part of while in Uganda. On this day, your driver will transfer you the airport for your flight to the next destination or to your preferred drop off point
END OF UGANDA FAMILY SAFARI
To book or inquire about arranging a family safari in Uganda, simply send us an email to info@ugandasafaribookings.com or call us now on +256-700135510 to speak with the reservations team.