The 12 Days Uganda safari combines the best of primate tracking and bird watching in Uganda. Enjoy visists to Bwindi & Kibale forest for gorilla and chimp tracking respectively. Popular birding sites in Uganda to visit will include the Mabira forest, Mabamba swamp & Maramgambo forest. take a look through the itinerary and get back to us to book online.
Detailed itinerary
Day 1: Arrival
Today upon arrival in Uganda at the Entebbe international airport, our company representative will meet and greet you. Begin your tour with an introduction to primates of Uganda and birds by visiting the Botanical gardens in case you got more time for the rest of the day. If the time is less, proceed to your hotel for dinner and overnight stay.
Accommodation: Imperial Resort Entebbe, Fairway hotel Kampala, The Lodge lweza
Day 2: Drive to Mabira Rain forest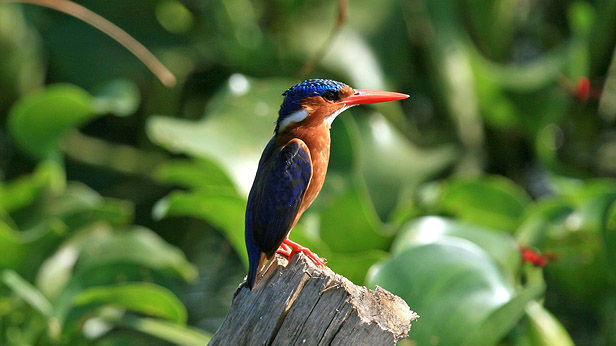 Wake up to a hearty breakfast and get ready to leave the city for Mabira rain forest approximately 50km east of Kampala. This is one of the remaining natural rainforests in Uganda covering an approximate area of 310sq Km. Birds here include yellow- mantled weaver, capuchin Babbler, Black shouldered Nightjar, Nahan's Francolin, Guinea-congo forest biome and many others. Catch a glimpse of the red tailed monkeys and grivets residing in this forest reserve. Enjoy the rest of your evening with dinner and overnight stay at Mabira Rain Forest Lodge
Day 3: Drive to Kibale Forest National Park
Have an early breakfast and drive to Kibale forest National Park, western Uganda. The forest is rich in numbers of primates in the whole country and this is the reason why it is called the Primate Capital of the world with over 13 species of primate including the chimpanzees and colobus monkeys and over 325 bird species plus an estimate of 500 species of butterflies
Accommodation: Ndali lodge, Chimpanzee guest house, Kibale Forest Camp
Day 4: Birding and chimpanzee tracking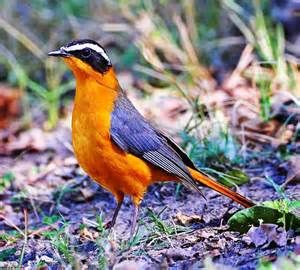 Join the rest of the group for briefing about the tracking code conduct after an early breakfast. Chimpanzees can easily be seen in the tree canopies and you can save more hours looking out for common bird residents of the forest including Nahan's Francolin, Grey – winged Robin, yellow spotted Nictor, Blue shouldered Robin, white –napped pigeon, purple breasted sunbird, joyful Greenbul and so many more. Return to the lodge for lunch and thereafter proceed to Bigodi wetland for more birding adventure in search for the rare Shoebill. Have the rest of the evening with dinner and overnight at the park.
Accommodation: Ndali lodge, Chimpanzee guest house, Kibale Forest Camp
Day 5: Drive to Maramagambo Forest
After Breakfast, drive to Maramagambo Forest for more bird watching. The forest is located in Bushenyi district and is part of Queen Elizabeth National Park. The forest is very famous for its bat cave and numerous birds. Although this is great spot for birds, many tourists fear for their lives because of the numerous bats that carry the Marburg virus. After a moment at the forest, proceed to Queen Elizabeth National park for rest of the evening with dinner and overnight stay.
Accommodation: Mweya Safari Lodge, Bush Lodge, Mweya hostel
Day 6: Game Drive & Boat Cruise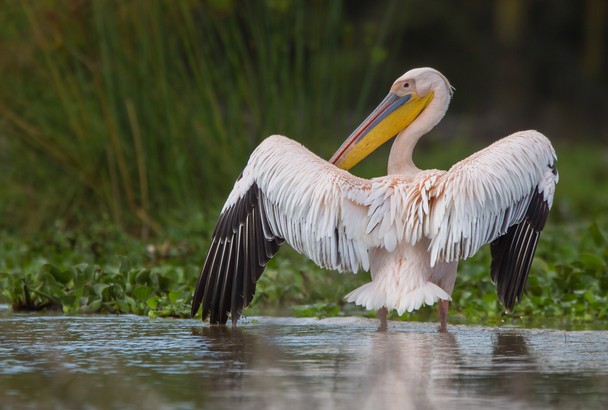 Today is a lovely day in Queen Elizabeth National park, wake up to an early morning game drive to meet the elephants, buffaloes, Uganda kob, antelopes, sitatunga, mangeese, waterbucks, lions and on lucky day you can spot the leopard. Return to the lodge for lunch and get ready for an afternoon boat cruise along the Kazinga channel. This is the best spot to view many water birds and high concentration of Hippos. The crows and pink backed pelicans cover most of the water surface. Return to the lodge for rest of the evening with dinner and overnight stay
Accommodation: Mweya Safari Lodge, Bush Lodge, Mweya hostel
Day 7: Drive to Bwindi Forest National Park
After breakfast, drive to Bwindi Forest National park via the Ishasha sector and view the tree climbing lions. Proceed to the park with a scenic drive through Uganda's most beautiful rolling hills and green vegetation. Have the rest of the evening at your lodge with diner and overnight
Accommodation: Mweya Safari Lodge, Bush Lodge, Mweya hostel
Day 8: Gorilla Tracking Experience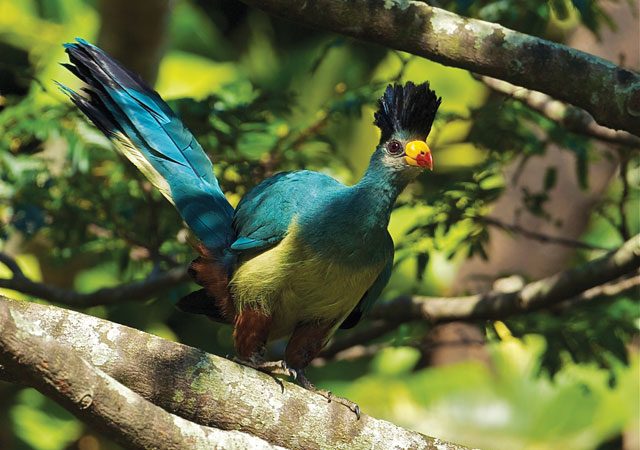 This is yet another thrilling and adventurous day, after your breakfast, get ready to join the park rangers for Gorilla tracking experience. The forest has over 10 gorilla families or groups and theses gorillas are spread widely in the forest, whichever group that is indicated on your tracking permit, you will surely see these giant apes. Have your packed lunch in the forest close to the gorillas. Use this moment in the forest to spot a number of birds including the African Green Broadbill, Chapin's flycatcher, Rwenzori batis, woodland warbler, and so many more birds as your guide will be explaining to you
Accommodation: Gorilla Resort, Gorilla Valley lodge, Buhoma community Bandas
Day 9: Drive to Mgahinga gorilla National Park
The park is located south western part of Uganda, sharing part of its slopes with Rwanda. The drive is approximately 5-6hrs and packed with interesting sceneries of beautiful rolling hills, homesteads, grazed farm lands and a lot more. Along the way, your guide will be showing you some interesting birds to look at. Enjoy diner and overnight at the park
Day 10: Golden Monkey Tracking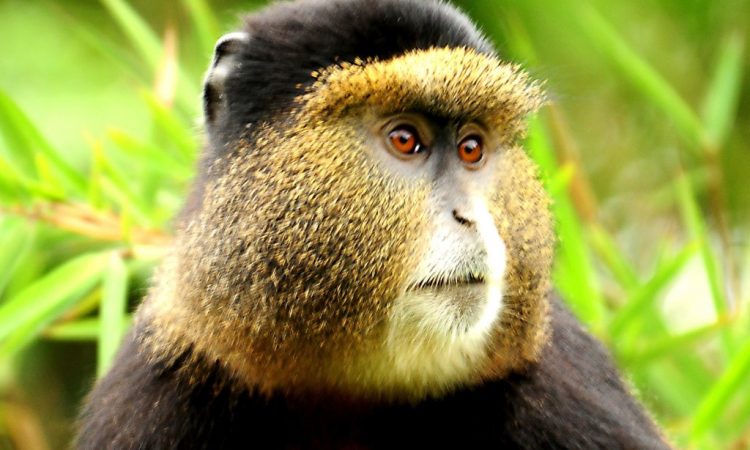 Mgahinga National Park is also defined as the place where silver meets gold, meaning a place where you can see the silver back gorillas and the golden monkeys at the same time. Today you shall mainly checkout the golden monkeys, what beautiful creatures! Return to the lodge for lunch and then get ready to visit the other part of the forest in search for golden winged sunbird, Scarlet – tufted Malachite sunbird, Rwenzori Turaco, double-collared olive-back and many other Guinea- Congo Forest Biome. Diner and overnight in Kisoro town
Day 11: Drive to Mabamba wetland
Have an early breakfast and join your driver for a drive to Mabamba wetland in Mpigi district. This has sprout to be a birder's haven also competing with other destinations. Have your lunch enroute with quite a number of stops to spot some species including the Uganda Crane. Have your night the Hotel
Accommodation: Imperial Resort Entebbe, Protea hotel Entebbe, Backpackers Entebbe
Day 12: Reserved For Departure
Wake up to a leisurely breakfast and get ready to checkout of the hotel, depending on your flight time, you can consider a brief tour at the Uganda Wildlife Education Centre (UWEC) take a look at the habituated birds like the beautiful peacock, ostrich, shoebill, Uganda Crane also accompanied by a number of wild animals lion the lions, Rhino, hippos, Zebras and a lot more. If you have less time for a zoo visit your driver will transfer you to the airport for your flight to the next destination
END OF UGANDA PRIMATES & BIRDING SAFARI
To book or inquire about this primate and birding safari trip, simply send us an email to info@ugandasafaribookings.com or call us now on +256-700135510 to speak with the reservations team.