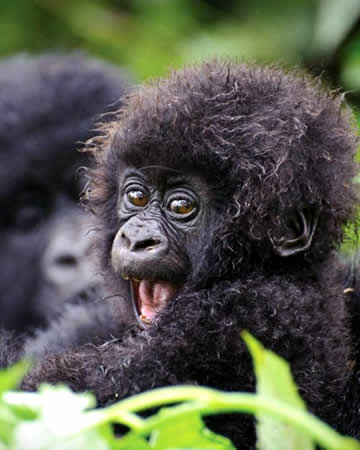 The 3 Days Uganda gorilla safari offers you a great opportunity to encounter the might gorillas face to face in their territory Bwindi National Park. Bwindi Impenetrable forest is one of the biggest rain forests in Uganda and is most times referred to as the impenetrable forest due to the dense thick vegetation that makes it quite tough to trek through.  The park lies in the southwestern region of Uganda on the edge of the East African Rift valley being home to over half of the world's mountain gorilla population. Thousands of visitors crowd this park to do gorilla trekking, nature walks, bird watching , hiking and so much more. Take a look through the itinerary and get back to us to book or inquire about the package.
Bwindi gorilla safari itinerary
Day1: Transfer to Bwindi National Park
Depart early enough from Kampala for Bwindi gorilla park with a brief stop at the Equator monument for a moment of photography and refreshments. You this moment to stretch a bit and also visit the craft shops around. Proceed with your drive and enjoy pleasant view of vast grazing lands show casing the long horned cattle of Ankole, big banana plantations, pine forests, swamps and much more. Enjoy and en-route lunch meals in Mbarara or Kabale thereafter proceed to the park for diner and overnight stay.
Accommodation: Gorilla Resort (luxury), Lake Kitandara Lakeside lodge (Midrange), Buhoma community Bandas
Day 2: Gorilla Trekking Begins
Enjoy an early morning breakfast and thereafter head to the park headquarters for briefing about the gorilla trekking rules. Make sure that you carry enough water plus your packed lunch for the whole time you will be in the forest. Please note that gorilla trekking is not just an easy joy ride, some parts of the forest are slippery, others quite high and sometimes there is rain fall. Meeting the gorillas face to face is so much worth the hassle you have been through. You are allowed only an hour with the mountain gorillas, use this time to take pictures videos and learn more as your guide will be explaining. After the tracking, return to the lodge for the rest of the evening at leisure with dinner and overnight stay. Your gorilla safari certificates will be handed to you at night over a camp fire or dinner.
Accommodation: Gorilla Resort (luxury), Lake Kitandara Lakeside lodge (Midrange), Buhoma community Bandas
Day 3: Back to Kampala / Entebbe & Departure
Today is the last day in Bwindi, enjoy your breakfast and hop on board and drive back to Kampala. Have a stop at Igongo cultural center, the best spot to know more about the history and culture of western Uganda. Proceed to Kampala for your night stay or to the airport for your flight to the next destination.
END OF GORILLA SAFARI
To book the bwindi gorilla safari in Uganda today as solo traveler, couple, family or small group, simply get in touch with us by sending an email to info@ugandasafaribookings.com or call us now on +256-700135510 to speak with us today. We can book gorilla permits as well as affordable accommodation in Bwindi at no extra cost. 
Related Gorilla Safari Packages