Dubbed the Medley of Wonders , it's no doubt that Queen Elizabeth national park is one of Uganda's top safari parks blessed with an abundance of attractions that include mammals, birds, water bodies to mention but a few. The 3 days wildlife safari in Queen Elizabeth park features exciting game drives along the Kasenyi tracks plus boat cruise along the Kazinga channel. Take a look through the itinerary and get back to us for any inquiries
Queen Elizabeth park safari package itinerary
Day 1: Transfer to Queen Elizabeth National Park
After your hearty breakfast, join your guide/driver and drive to Queen Elizabeth National park. Peel your eyes for exciting scenery through Mubende town. The swampy areas on the road sides and numerous forests make sure to make a stop at the market and get some roasted meat or a lunch meal. Proceed to the park and check in at your lodge. If you still have a whole afternoon, you can take on a game drive.
Accommodation: Mweya Safari Lodge/ Ihamba Lakeside Lodge/Simba Safari camp
Day 2: Morning Game Drive & Boat cruise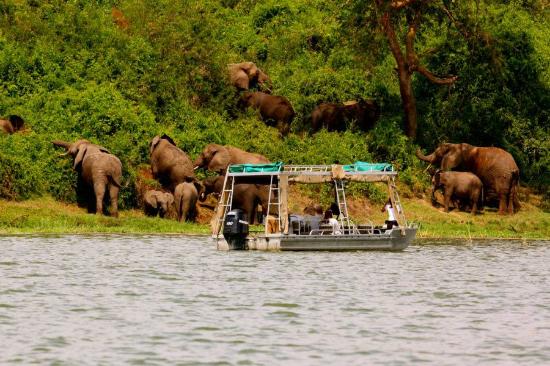 Wake up to a lovely morning in Queen Elizabeth National Park, it is the morning to that early raisers roam and the night walkers go to find their rest. You will enjoy an early morning breakfast before heading out for a 2 to 3 hours game drive in the Kasenyi plains , expect to encounter a variety of wild animals along the trip.
Return to the lodge for lucnh and relaxation before heading out for an afternoon boat cruise along the Kazinga channel. The cruise features great birding opportunities to spot the pink backed pelicans, the crows, sunbirds and lots of hippos as well. You will spot a lot of wildlife drinking up at the water banks, inclusive of buffaloes chilling in the muddy water. After the 2hrs boat cruise, join your drive and head back to the lodge for dinner and overnight stay.
Accommodation: Mweya Safari Lodge/ Ihamba Lakeside Lodge/Simba Safari camp
Day 3: Return to Kampala
Have breakfast and get ready to drive back to Kampala. Having enough time, stop at the Nakayima tree, a traditional spot where people go for spiritual healing. They believe that the ancient goddess Nakayima disappeared in that tree and still gives blessings to people. There are so many interesting stories about this site which you would love to hear about. Thereafter proceed to Kampala or Entebbe airport for your flight back home marking the end of your 3 days Uganda safari in Queen Elizabeth national park.
To book or inquire about the Queen Elizabeth safari package today, simply send us an email to info@ugandasafaribookings.com or call us now on +256-700135510 to speak with our reservations team.