Queen Elizabeth National Park is an all year round safari destination with a number of interesting activities to do. Since it is majorly a wildlife destination, wildlife viewing is at its best in the dry season from January to February and June to mid-September. The months of June and July make the best time to visit Queen Elizabeth national park and are considered the peak season because that's when it receives the highest tourist numbers. During the low season of March to May which is also known as the wet season, rainfall amounts are high and this is considered the worst time to safari Queen Elizabeth national park.
The dry season in Queen Elizabeth national park
The months of June, July, January and February are the drier months of the year. June to September also comes with little or no rainfall and that's when visitors are many around Uganda for different safari activities including wildlife viewing, gorilla trekking and other adventures. This is the best time to be in Queen Elizabeth because animals are easy to sight as they often congregate on the shores of water sources like Kazinga channel and Lake Edward. The weather during this period of the year offers good conditions for tourist to carry on their activities; roads are passable for game drives and wildlife viewing is perfect, adventurers can take on nature walks around the park and you can as well go for chimp trekking in Kyambura gorge.
The wet season in Queen Elizabeth National Park
During the wet season which runs from March to May and October to November, the park is registering low visitor counts. Rainfall in the place is heavy; thunderstorms should be expected especially after the afternoon rains. Some roads are impassable and this could interfere with your safari. Something good about this season is that the landscape is beautiful; the vegetation is freshly green depicting the real meaning of the tropics. Migratory birds from Europe and northern Africa are present in the park from November to April.
Things to do in Queen Elizabeth national park
The highlight for Queen Elizabeth national park safaris is wildlife viewing. These tours focus on watching animals of the park including the tree climbing lions of Ishasha and other lions in Kasenyi, elephants, leopard and hyena. Meanwhile, seeing buffaloes, Uganda kobs and hippos is almost a guarantee.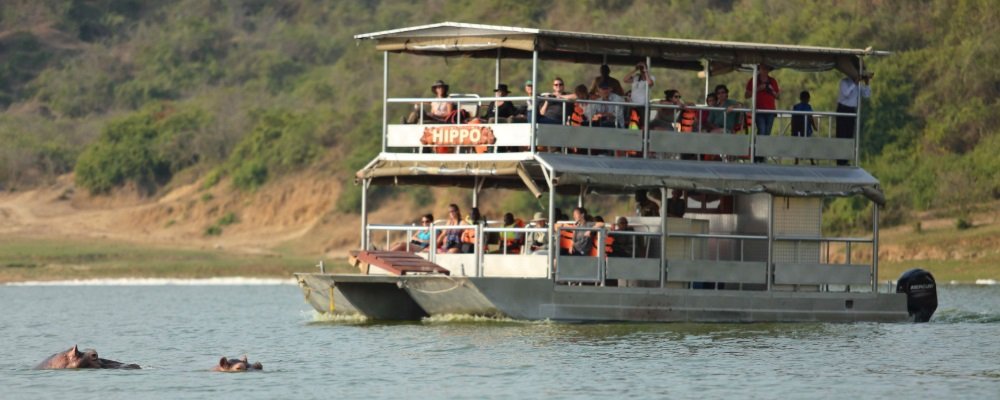 With over 600 bird species, Queen Elizabeth national park is also a great spot for bird watching. Bird watching is overwhelmingly rewarding around Kazinga channel for water birds, Kasenyi plains for scavenger birds, Maramagambo forest and Kyambura gorge for forest birds.
Chimpanzee tracking in Queen Elizabeth national park takes place in Kyambura gorge
A visit to Maramagambo forest takes you to see the bat cave and also do a forest walk which offers sightings of primates.
Generally, the best time to do all above activities in Queen Elizabeth national park is during the dry season.
Packing list for Queen Elizabeth national park
As you prepare for such a trip that may require you to be out of your usual environment for days, it is important to know the right things to have on your packing list. As a tour operator who is mindful of the enjoyment of your trip, we give a highlight of the essential items you need to have for your wildlife safari in Queen Elizabeth national park. Here is a list of things to have in your travel bag;
Travel documents– ensure to have your valid passport and a stamped visa. Travel insurance, document with your next of kin and emergency contacts, medical documents including vaccination cards for yellow fever and Covid-19 and travel directories should not miss as well.
Cash – it is advisable to carry some hard cash with you when traveling, although it should not be in large amounts. It is more important when traveling to remote areas where you might not get points to withdraw with debit cards.
Safari clothing– you need a warm layer for mornings and evenings and light clothes for the day time. Pack your knee zipped trousers, shorts, t-shirts, vests, blouses, light skirts (knee height or longer) and a wide brimmed hat. Those with chimp trekking on their itinerary should carry a light rain jacket. The color of clothes is key- they should be neutral and naturally-toned fabric like green, khaki and brown.
Footwear– sneakers, breathable stockings and sports sandals.
Amidst the post COVID-19 era, it is essential to carry face masks and hand sanitizer.
Other items include a first aid kit, insect repellent, binoculars, camera, sun lotion and sun glasses.
Despite of the fact that the dry season is the best time to visit Queen Elizabeth national park, the wet season can also be a suitable time for some people to travel. Travelers planning to travel on tight budgets can utilize the discounted rates of accommodations during the wet/low season. However, not that game drives and boat cruise may not be impressive due to the bad weather. With the above information, we hope you can make the best decision that fits your travel interests. For more information and safari bookings, contact us through info@ugandasafaribookings.com or call us directly on +256-700135510/ +256-414699459. You can rent a 4×4 car for self drive to Queen Elizabeth national park today or request for the reservices of a tour guide, we got you covered.