A safari can be a life changing travel experience for anyone. Going on a Uganda safari is one of the ways you can explore the best that Africa got to offer. It is a magical country endowed with interesting tourist attractions including mountain gorillas, chimpanzees, tree climbing lions, scenic landscape of mountains, valleys, rivers and lakes plus the source of the River Nile among others.
There are a number of things to consider when preparing for safari and one of the most important is your packing list. This is often a challenge for first time safari goers. Uganda Safari Bookings is here to help you to prepare all the important items for your upcoming safari.
Travel documents
A passport, yellow fever vaccination card and currently COVID-19 PCR test are a must have when entering Uganda. Tourists are allowed to obtain a visa on arrival. If you are traveling to Uganda, Kenya and Rwanda, you can obtain a single visa for all the three countries. Other important documents to carry include travel insurance documents, medical documents, your safari itinerary and a notebook with contacts of your people in case of emergencies.
Safari foot wear
If you are going for simple activities like game drives and boat cruise, necessary shoes to pack are the sturdy closed-toe shoes or simple sneaker. You can also buy beautiful craft shoes from craft shops. These will keep you free and comfortable when it is hot. And if you are going for adventures like mountain climbing and gorilla trekking plus nature walks, then your packing list should include strong hiking boots.
Waterproof backpack
A waterproof dry bag big enough to carry your equipment like camera and anything else that you commonly use will help you keep them from dust, rain and keep them safe. For activities like gorilla trekking and hikes, a waterproof backpack is very important.
Digital camera and binoculars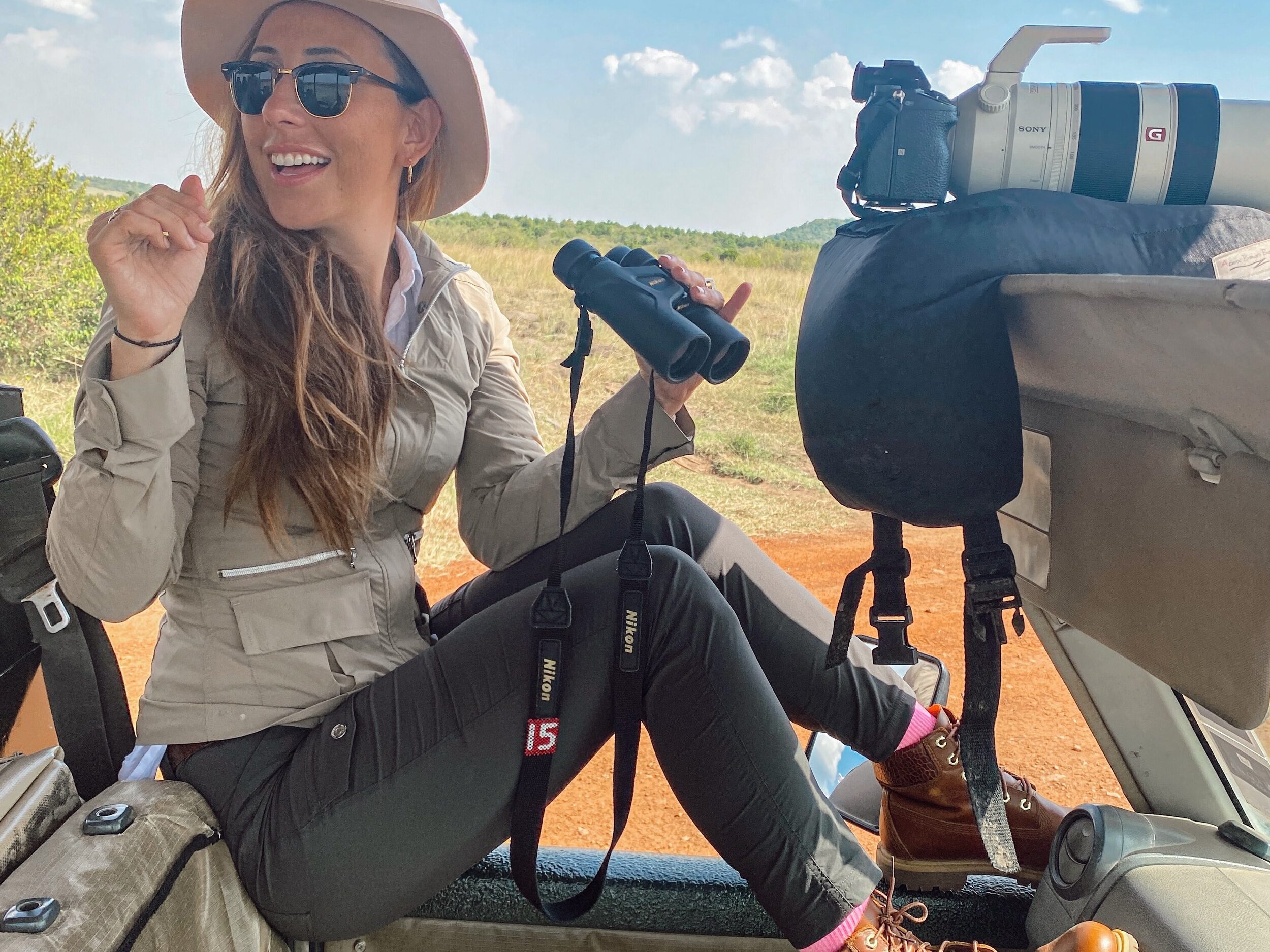 The best way to keep and show memories to others is through pictures and videos. However, while most people always remember to carry their cameras to capture pictures and videos (also with their phones), few think they should come along with binoculars. Binoculars are essential for wildlife viewing.
Safari clothes and toiletries
It is paramount to choose comfortable clothes when you are going to sit for hours transferring from one destination to another, for example the journey from Kampala to Bwindi, takes about 8 hours. Throughout these transfers, you need to wear clothes that will allow you stay comfortable. In this aspect, there are a number of factors to consider; weather, culture and blend. Uganda has a tropical climate and its weather is normally around 270 C in the afternoon and 160 C in the morning. Also different regions and destinations experience different temperature. Also, your dress code will change with the destination you will be at. For example, going for game drive in Queen Elizabeth national park requires light clothes while gorilla trekking and chimpanzee tracking in Bwindi forest and Kibale forest require slightly heavier clothes that cover most of the body parts.
You are reminded to be descent to avoid insults from the locals as well as respecting the African culture. Your clothes should also be of colors that blend with the environment. Use colors that are dull and avoid colors that shout.
Your Uganda safari friendly clothes to pack include a Light scarf, Light weight sweater, Shorts and trousers, Short sleeved shirts/ blouses and long sleeved t-shirts and a wide brim hat.
First aid kit
Some days of the safari will take you off-road where you might not be able to easily access a clinic or hospital. In addition, sometimes changing environment can lead to disorders like diarrhea and other illnesses. Carrying a first aid kit with painkillers and antibacterial medicines among others is of importance during such situations.
With the above packing list guide, you will keep your bag light with only the necessary items required on your Uganda safari. No need to carry heavy bags with unnecessary items. For more information, contact us through info@ugandasafaribookings.com or speak to our travel consultants through +256-700135510/ +256-414699459.