Many primate lovers plan to take a safari to Bwindi forest Impenetrable Forest National Park – one of the most fascinating safari destination in Uganda. The Park is situated in south western Uganda and it lies strategically on the edges of the Rift valley.  Bwindi Forest Park is blessed with the Uganda's oldest rain forests featuring a rich biodiversity which has existed for over 25,000 years and its has favored the presence of over 400 plant species. This park is famously known home to almost half of the remaining mountain gorillas species in the world about 500 individuals.
It is paramount to note there are about 19 habituated gorilla families in the Bwindi Impenetrable forest national park situated in the different sectors of the park namely; Nkuringo, Rushaga, Buhoma and Rihija sector. To make gorilla trekking easy, the park was bisected into four sectors and each section features its own accommodation which ranges from Budget, mid range and luxury lodges therefore feel free to choose your favorite lodge option.
The biodiversity give chance to the survival of about 120 mammals species including a number of primate species like chimpanzees, olive baboons, antelopes, elephants among others which you may encounter on a lack day while trekking the mountain Gorillas. There are over 350 species of birds recorded whilst about 24 are Albertine rift endemics.
Activities in Bwindi impenetrable forest national Park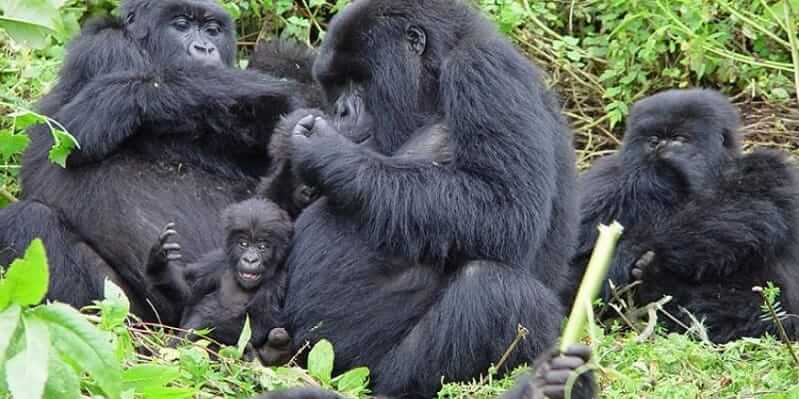 The park has a lot to offer to all travelers that a visit to this safari destination. Therefore, regardless of whether you are seeking for an outdoor adventure in a true African jungle, trust me you have come to right place. Or if you are looking forward to meet the endangered Mountain gorillas in their natural environment then you found your bliss in the misty Bwindi Impenetrable forest national park.
Gorilla trekking in Bwindi Forest
This is one of the fascinating activities in the park, many tourists flood Bwindi forest every year to trek the mountain gorillas. It is important to note that it is one the top key activity highlight included on Uganda safaris. All you need to pack your trekking gears like long sleeved clothes, gum boots, sunscreen lotion among other and expect to enjoy a wonderful time with the silverback in the Bwindi forest.
Other activities you can enjoy along gorilla trekking include bird watching with over 350 colorful bird species, Batwa experience where you get chance to meet and greet with the Batwa people – shortest people in world, enjoy their exciting lifestyle behavior of life exhibited through the traditional dances and songs.
Here are some of the popular gorilla trekking safaris you chance choose to enjoy on your road trip in Uganda;
3 days Bwindi gorilla trekking safari
7 days Uganda gorilla, chimpanzee and wildlife safari
3 days gorilla habituation experience
5 days Uganda gorilla trekking and wildlife safari
5 days Uganda gorilla and chimpanzee habituation safari
3 days Bwindi gorilla flying safaris
Among others, all these safari itineraries can be tailored to suit your travel interests and dates.
To book a gorilla trekking safaris with us in Bwindi impenetrable forest national park, please just feel free to get in touch with our travel experts to assistance, simply send us an email on info@ugandasafaribookings.com or call us directly on 0700135510/ +256-414699459 to speak directly to our customer care personnel.