Fishing is one of the fascinating activities done in Murchison falls National Park in form of sports fishing along the Victoria Nile banks, rocky surfaces and at the bottom of the falls. Spot fishing involves catching up of the fish species out of the water like the tiger fish, Nile perch, and catfishes among the rest, the first to get one out of water wins the game giving you a lifetime memory.
Murchison falls is located in the northwestern part of Uganda and is the leading spot fishing park among the ten parks of Uganda. Spot fishing is the most done activity on the Victoria Nile among the many like launch cruise.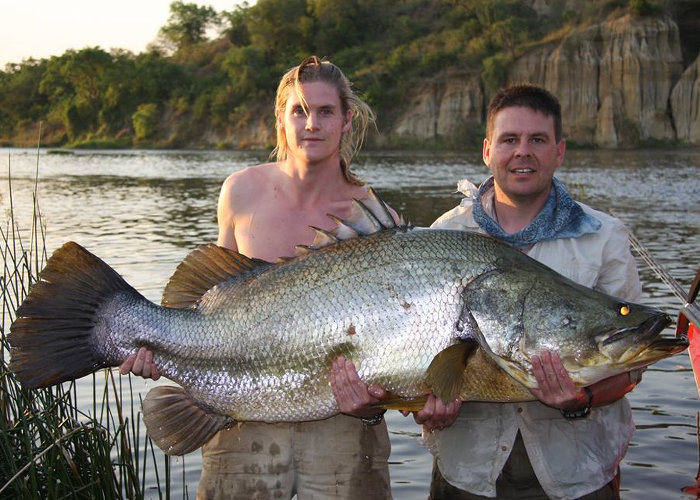 Spot fishing sites in Murchison.
Murchison falls national park has two major spot fishing sites such as the one found below the Murchison falls next to Paraa safari lodge and the other one is located beneath Karuma falls near Chobe safari lodge but also spot fishing is done at the bottom of the falls either on the boat or along the rocks of the river bank. Spot fishing sites can be reached by the means of a boat plus all the necessary fishing types of equipment or by foot from the top of the falls to the river gorge which is approximately 45 minutes walk by a physically stable person. so for a lifetime experience, spot fishing must be part of your activity during the Uganda safari to Murchison falls national park in Uganda.
Best time to go spot fishing.
Spot fishing is done all year round but mostly best in January to April when the size of water is at a reasonable level and clear providing a high chance of catching them.
Spot fishing methods in Murchison falls.
During this spot fishing experience in Murchison falls national park on a Uganda safari, travelers are advised to drop the fish back in water when alive. Spot fishing methods used in Murchison include the following hooking, casting lures, spinning among others. These methods are used when fishing large fish species like tiger fish, tilapia, catfish, Nile perch mention but a few but there is a 7 spinning rod used to catch small fish.
Conditions during spot fishing in Murchison falls National park.
You are advised to pack protection gear like the hats, light long-sleeved shirts, sunglasses, long trousers, an insect repellent for tsetse fly bites, long socks among others which help you during the hot temperature of over 40 degrees calculative safari activity is a fabulous and stunning experience whereby you can also view wildlife species like the elephants, hippos, crocodiles, waterbucks, and various waterbird species. If you need a sport fishing guide is also available at a low and affordable cost to accompany you in this interesting lifetime experience during your Uganda safari in Murchison falls national park.
How to get to Murchison falls national park.
Murchison falls national park is situated 305 kilometers in the north western part of Kampala Uganda and it is included on the long safaris other tour destinations like kidepo valley national park, kibale forest national park, Bwindi Forest Impenetrable National Park and many other long safaris.
You can access the park by two means such as road and air as explained in details below;
Air transport
You can book a flight from Entebbe International Airport or kajjansi airstrip then to pakuba airfield in Murchison falls. Then after your driver takes you in the park to start off the activities. You can opt to use fly Uganda or Aero link aircraft that operate domestic flights to various safari destinations in Uganda including Murchison falls National Park and other Uganda National parks at large.
Road transport: it takes approximately 4 to 5 hours drive on the tarmac road having an optional stopover at Ziwa rhino sanctuary enjoying this fascinating wildlife. Therefore, Murchison falls offers the best spot fishing safari activity in Uganda due to its GOD given wonderful falls along the Nile River favoring spots fishing at its best.
Therefore, if interested in spot fishing you are advised to come along with your fishing gears or can hire them at the site at a reduced cost. You can contact us for more information about fishing at info@ugandasafaribookings.com or call us directly on 0700135510/ +256-414699459 to speak directly to our customer care personnel.