When we think of safari tours in Uganda, what quickly comes to our mind are the mountain gorillas. However, this country is blessed with diverse landscapes of savannah, mountains, forests, lakes and swamps which are homes to an array of wildlife. With 10 national parks and 5 wildlife reserves, Uganda is a wonderful place for wildlife safaris as these destinations harbor some of the most interesting mammals, birds, reptiles and primates. Wildlife viewing safaris in these national parks and wildlife reserves offer a chance to see wildlife including African elephant, lion, leopard, lots of hippos, antelopes, giraffes, buffaloes and a variety of birds. Primates including baboons, monkeys and chimps can also be spotted.
In this post, we highlighted the best places for wildlife safaris in Uganda you will definitely love to visit. They are savannah parks that offer the most rewarding experiences for game drives.
Murchison Falls National Park
Murchison falls national park is the largest national park in Uganda and is known for having large populations of antelopes; Jackson's hartebeest and Uganda kobs, giraffes, elephants, hippo and buffaloes. It is also great for tourists who want to see carnivores such as lion and leopard in the wild.
Murchison falls national park is bisected by the Nile hence having two major parts; the northern and the southern parts. Game drives are mainly done in the northern part which is dominated by savannah plains.
A Murchison falls wildlife safari gives a great chance to also engage in other interesting activities including the boat cruise on the Nile and a visit to the Murchison waterfalls falls (this can be done by hiking to the falls or get there by car).
Queen Elizabeth National Park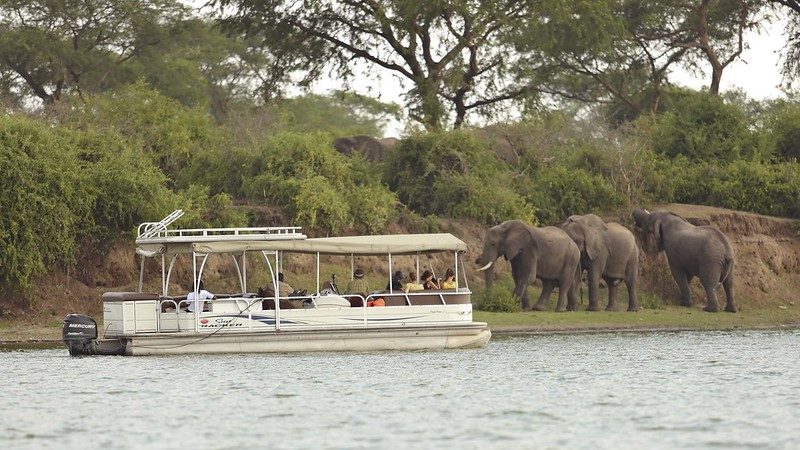 Located in the western part of Uganda, Queen Elizabeth national park is one of the top destinations for wildlife safaris in Uganda. It boasts a variety of habitats including savannah, grassland, savannah woodland, forests, lakes and wetlands. This diverse ecosystem has many water bodies; Lake George, Lake Edward, Kazinga channel and river Ishasha among others. These are habitats for aquatic and semi-aquatic wildlife – hippos and crocodiles plus other wildlife that often visit the lakes and rivers to drink and cool their bodies.
Game viewing wildlife safari in Queen Elizabeth park is mainly done by taking game drives to Kasenyi plains where various animals species can be spotted; Uganda kobs, elephants, waterbucks, buffaloes, lions, leopards and hyenas. Nature walk and boat cruise also offer great chances to see more wildlife.
Lake Mburo National Park
This is the smallest savannah park in Uganda. It mainly consists of savannah and acacia woodland. Most of the park is covered by acacia savannah which supports a wide variety of antelopes, zebras and buffaloes. Lake Mburo national park is the only place with impalas in Uganda. The recently introduced giraffes are also thriving and increasing in the park and can be easily spotted with guidance of a game ranger on a game drive. Wildlife viewing in lake Mburo national park can be done by going for a game dive with a safari vehicle, on a nature walk with a ranger guide or by horse riding through the park. You can also go for a boat cruise on lake Mburo and watch the hippos, crocodiles and several bird species.
Are you planning for a Uganda safari this season and would love to have a wonderful wildlife viewing experience? Then the above mentioned national parks should not miss on your bucket list. For more information plus safari bookings, contact us through info@ugandasafaribookings.com or speak directly to our travel consultants on +256-700135510/ +256-414699459.