If you are looking forward to see a Silverback gorilla in Uganda, we guarantee you have come to the right place. The Pearl of Africa is one of the best safari destination to enjoy silverback gorilla tracking due to the fact that the price of the gorilla permit is fairly affordable compared to that of Rwanda gorilla permit. It is paramount to note that a gorilla trekking safari in Uganda is given first priority due to the fact that the gorilla permit costs $700 per person per day per single trek whilst East African residents pay 250,000 Uganda shillings through out the year, and you need to acknowledge that Uganda has no low season discounted gorilla permit.
With out ignoring the above facts, at Mumwe Global Safaris, we are more than delighted to offer you affordable Silverback gorilla tours and safaris which give you a chance to enjoy long lasting memories on your gorilla road trip in Uganda. Prior to that, it will definitely suit your traveler budget of a short gorilla tracking package in Uganda or Rwanda.
For an exceptional gorilla experience, feel free to choose from a 2 days Uganda gorilla safari from Kigali- Rwanda or Entebbe airport in Uganda or 3 days gorilla tour from Kampala or Entebbe international airport to Bwindi impenetrable Forest national park.
Logistics of budget safaris to see Silver back gorillas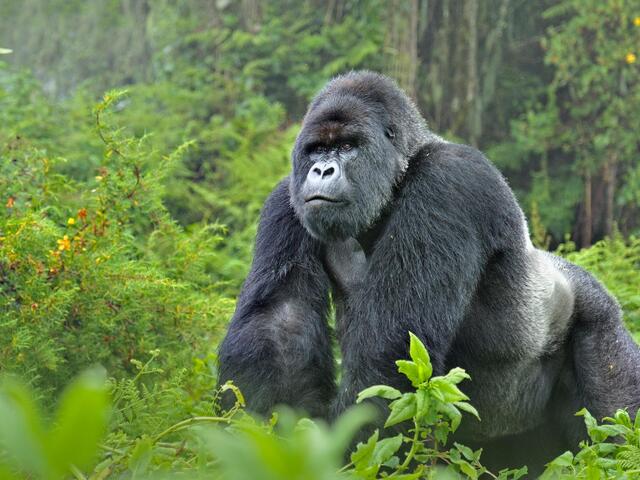 Silverback gorilla trek in Uganda is one of the pocket friendly activity and it depends on the different park offers, for resistance, primate lovers can have a chance to save some dollars on their gorilla trek in Bwindi impenetrable forest national park in Uganda and run away from the high cost of gorilla permit in Rwanda that costs $1500 USD. In other words if you are searching for a budget or cheapest and save gorilla permit, Uganda is the answer you need for your gorilla safari adventure.
Bwindi forest hosts the highest number of mountain Gorillas with about 19 habituated gorilla families, found in the different sectors of the park namely Rushaga,Ruhiji, Nkuringo and Buhoma sector. This is because to the park is home to almost half of the remaining Mountain gorilla population in world.
We need to know that there about about 3 countries in Africa where you go gorilla trekking though each destination offers a different gorilla experience and the cost price of a gorilla permit is set by the government of each respective countries. And each countries has crafted a mechanism on how protect and conserve the life of the remaining gorillas in the World including the plans of investment and expanding Mountain gorilla habitat.
Gorilla tracking Permits in Uganda
A gorilla permit in Uganda costs USD 700 per person per day for all international tourists and there is no discounted gorilla permits in Uganda. The East African residents are charged UGX 250,000 per day per single trek.
Is it cheaper buying your gorilla permit or use a tour operator
We argue travelers to organise you gorilla tour with a local tour operator, the agent assists you to arrange an all-inclusive package for you including accommodation, meals, transport plus all activities included in the itinenary. It may not be easy to book or reserve your Gorilla permit with the Uganda wildlife authority, because it is not easy to get response email from the reservations team at the headquarter office but the tour operator like us in Uganda can go and face them physically and it is easy to reserve for you a permit without any struggles.
At Mumwe global safaris, we have the ability to receive your email, reply to your inquiry as soon as we get it. We give you a prompt reply and we do effectively book your gorilla permits before your dates of arrival in the country, thereafter we send you scanned copies as prove for permit reservation. Feel free to send us an email and grab a chance to book a budget silverback gorilla tracking safari to Uganda. For further more information about gorilla tours in Uganda, don't hesitate to contact our travel experts on info@ugandasafaribookings.com or call us directly on 0700135510/ +256-414699459 to speak directly to our customer care personnel.