Murchison falls national park is popularly known as the largest and oldest national park in Uganda hosting about 76 mammal species like elephants, Rothchild giraffes, Antelopes species, buffaloes, Jackson hartebeest, leopards, lions, hyenas, warthogs, bushbucks among others. The park also has about 451 beautiful bird species. It covers an area of about 3,840 kilometers squared and from Kampala, it is about 5-6 hours drive in a 4×4 safari vehicle.
A Game drive is one the key interesting activity highlights on a safari in Murchison falls park usually done on the flat plain savannah areas, here you enjoy clear views hundreds of intriguing wildlife. Game drive in the park is can be done in the morning, afternoon and evening hours/ night game drive, it takes about 2-3 hours while driving through different trails to searching perfect spots of animals in the grassland areas hunting the prey or grazing.
It is also important to note that, game drives in the park is one of the best way you can explore and experience Murchison National Falls Park, appreciate the fascinating rich biodiversity including the stunning wildlife. On the game drive in the country's oldest park, you get chance to sight African big four animals excluding the Rhinos that ran extinct in the 1983 though we thank God they were later re-introduced in Ziwa Rhino Sanctuary in 2005.
Where to do game drive in Murchison Falls national park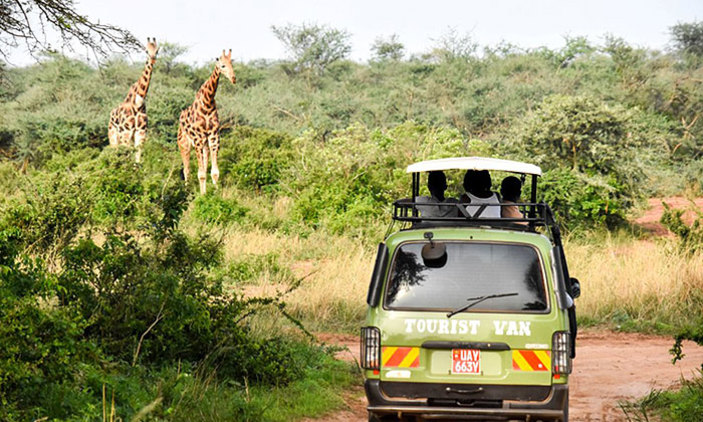 Game drives in the park are best done in the north section of the Nile River, here you encounter huge concentration of wildlife living in its Savannah plains, though you can do a game drive drive in southern section, expect to find few animals like small different antelope species, giraffes, elephants, buffaloes, warthogs, baboons among others.
The game drives take through various tracks such as; Buligi tracks, Victoria and the Albertine tracks. As you drive all these tracks, trust me its a different game encounter and experience due to the fact the park is blessed with different ecosystems favoring the survive of different game.
The Buligi track is known as the most rewarding, it is about 7 kilometers north of Paraa, with this you encounter the Nyamsika cliffs home to the largest number of water animals that come to this permanent waterfall to quench off its thirty and take a birth in the dry season. You as well get to see hundreds of bird species like Egyptian plover and the bee-eaters among others.
Best time for game drives in Murchison Falls National Park
Game drive is a great activity that is done all year round in Murchison Falls National Park . it is a thrilling activity that gives you chance to see predators like; lions how they do hunt their prey- the antelopes without their notice.
All this kind of adventure is experienced during the dry season when the grass is shorter and you can clearly view the wildlife. Whilst game viewing in the rainy season is a bit challenging due to the tall grass thus you may miss out seeing some animals.
When does the dry season experienced in Murchison Fall Park
The best time to go game drives in Murchison falls national park is during the dry season when the road are dry and it is easy to drive through the park. The dry season happens in the months of July, August, September, October and December, January and full end of February, during this time of the year expect, hot temperatures so mind about the safari clothing for a game drive adventure in Murchison falls national park.
Are you a family, solo or  group travelers planning an awesome safari in Murchison falls national park this season, don't miss out on rewarding game drives offered by our company guides tailored with long lasting memories. To book a game drive tour in Murchison falls national park with us, simply get in touch with our reservations team by sending an email on info@ugandasafaribookings.com or call us directly on 0700135510/ +256-414699459 to speak directly to our customer care personnel.