Kalinzu Forest Reserve is one of the best places to go for chimpanzee trekking in Uganda. It is also strategically situated for guided walks for both wildlife and scenic viewing and tourists on nature walks enjoy every bit of the experience as they walk along the ridges of the forest.
Wildlife in Kalinzu forest
More than 410 tree species are recorded in Kalinzu forest and these make a comfortable dwelling place for different animals. It is home to a good population of chimpanzees- about 300 individuals, some of which have been habituated for tourism purposes. It has other 5 species of primates including monkeys and olive baboons. The forest also harbors 378 species of birds, 262 species of butterflies and 97 reptile species.
Things to do in Kalinzu forest
Chimpanzee trekking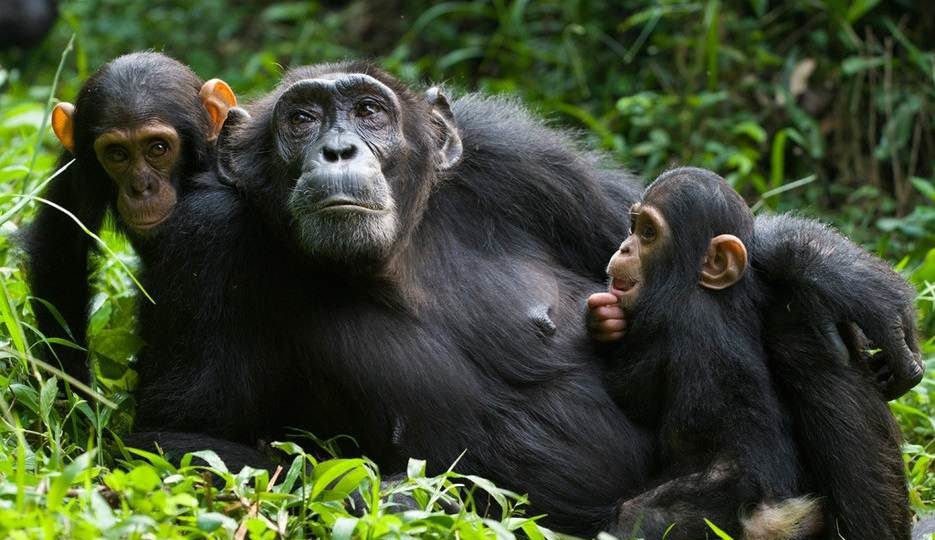 Coming face to face with chimpanzees is an exhilarating experience and one to go for when on an African safari. In Kalinzu forest, a team of Japanese researchers have got about 40 chimpanzees habituated for trekking. To increase your chances of spotting the chimpanzees in the forest yet in a shorter period of trekking, it is advisable that you go for the adventure early morning so that you will search for these primates while they are still closer.
Kalinzu forest is one of the places to track chimps in Uganda at a cheaper cost. A chimpanzee tracking permit for Kalinzu forest costs USD50 which is far less than USD200 in Kibale and USD130 in Budongo forest.  Chimps can also be tracked in Kyambura gorge and be seen at Ngamba Island and Entebbe zoo.
Chimpanzee tracking in Kalinzu offers an opportunity to come across other primates of this forest such as black and white colobus monkey, blue monkey, L'Hoest monkey and baboons.
Night primate tracking: night tracking provides a chance to see some of the nocturnal forest animals such as bush baby and Pottos.
Nature walk: take a walk with a guide around the trails of Kalinzu forest to explore the riches and beauty here. Guided nature walk is the best way to learn intensively about the wildlife of Kalinzu, getting to the unique spots of the forest and getting to areas where you can watch scenic surroundings and landscapes.
Kalinzu forest has four trails for nature walks; the valley trail, the waterfall trail, the river trail and the palm trail.
The valley trail offers spectacular views of the steep slopes of the right valley and the green forest canopy while the waterfall trail leads tourists to the exceptional waterfall "Kilyantama". Covering about 2.5km, the river trail gives a chance to meet a number of primates as it leads you to R. Kajojo which is known to have been attracting elephants that came to bath.
Location of Kalinzu forest
Kalinzu is located along the Kasese- Mbarara main highway. It is about 10km from Bushenyi, west of Ishaka near Queen Elizabeth national park.
The forest is accessed by road; most convenient route from Kampala is the Masaka-Mbarara-Bushenyi route. This takes about 5 hours with a 4WD. You can also reach the forest from Queen Elizabeth national park and this takes about 1.5 hours.
Accommodation near Kalinzu forest
At Kalinzu forest, there are not many lodges. Apart from the camping option at the forest, you can choose to stay at a nearby lodge. Some of the best lodges near the forest that offer good accommodation services include;
Katara lodge
Park view safari lodge
Jacana lodge
Engiri game lodge
Uganda Safari Bookings is experienced in booking tours to Kalinzu forest reserve incluing chimpanzee tracking tours. We can combine your tour to Kalinzu with other destinations such as Queen Elizabeth national park, Lake Mburo national park and other nearby local sites. For inquiries, contact us through info@ugandasafaribookings.com or speak to our travel consultants through +256-700135510/ +256-414699459.