The 1-day Ngamba Island excursion allows you to explore Ngamba Island situated on Lake Victoria- the biggest Lake in Uganda. This Island is a famous home for impressive numbers of injured and orphaned Chimpanzees that have been habituated for Tourism. The Chimpanzees found at Ngamba Island have been rescued from poachers trying to smuggle them from the wild and being taken care of in this amazing sanctuary. Ngamba Island Sanctuary has played to ensure the security of the Chimpanzees through fighting for their rights. Due to the care given to the chimpanzees, they have been able to give birth to three more others. Apparently, the Chimpanzee Sanctuary hosts over 20 male and over 29 female chimpanzees, therefore, the island hosts a population of over 49 chimpanzee individuals. Among all these, there are only three that were born at this island and the 46 are considered orphans since they were just reintroduced. Book with us an excursion safari to Ngamba Island and grab a chance to watch the luck chimpanzees that escaped death from poacher.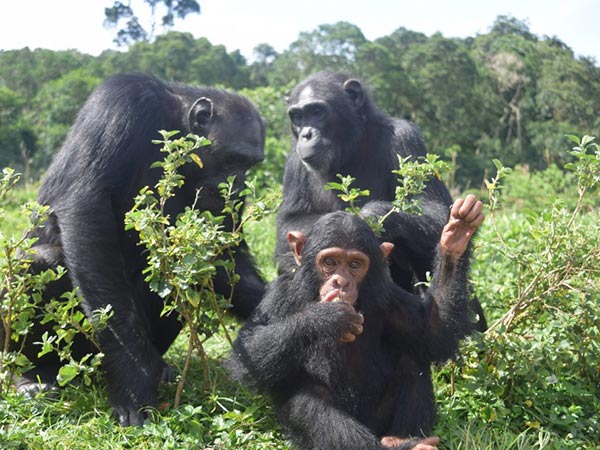 Safari Highlight of the safari
Bird watching experience
Chimpanzee Experience
Boat Cruise experience on Lake Victoria to Ngamba Island
Swimming at the Equator
A guided walk to the near by fishing Village
Detailed Itinerary
Upon arrival, enjoy the two session activities in Ngamba Island. The first session starts at exactly at 7:00 am in the morning while as the second section begins at 11:00 am . Our company representatives meets you early in the morning from your hotel of residence and transfers you to the boat point where you cruise for 45 minutes to reach to Ngamba Island. While on a boat cruise ride on Lake Victoria, you encounter with a number of fishermen, colorful birds as well as dotted islands on lake Victoria.
Landing at the Island
Upon arrival enjoy a scenic clear beauty of the surrounding environment and grab a chance to spot some monitor lizards that welcomes you on the shores of the lake. some of the bird species that you encounter include; Egyptian goose, yellow billed duck, African Open-billed stork, Sacred Ibis, Black-headed weavers Kingfishers among others.
Later take a drive to the visitor's center for a warm welcome to Ngamba island as well as a short briefing about the available activities to enjoy on your trip.
Breakfast and Feeding the Chimpanzees
Enjoy a delicious cup of coffee and later join a guided walk with the management and participate in feeding and taking care of the chimpanzees. Here you get a chance to watch the orphan chimpanzees playing and feeding and learn more about their behavioral patterns of life in the sanctuary.
Later, you take a guided walk around the different centers of the island such as the food store. The chimpanzee caretaker offers you interesting information about the various food types that these chimps do feed on, how management is able to keep their food safe and in a very good condition. It is important to note that the chimpanzees are fed on fresh fruits and vegetable like watermelon, apples, carrots, cassava due to fact the forest food is not enough for all the members in the sanctuary.
In the afternoon you get a chance to participate in food preparation for these wonderful creatures, as one of the fascinating activity for all visitors that travel to the Island.
Boat cruise transfer ride to the mainland as well as Swimming at the Equator.
Wake up early for leisure breakfast and get ready for a cruise transfer back to the mainland at exactly 7:00 am. While cruising back, enjoy a stopover at the equator where you experience the antagonistic forces of the south and north pole pushing the boat. And after crossing the Equator line that ride comes to normal. Upon arrival, you can enjoy swimming for all those that love swimming and later you are dropped to your hotel of residence or at the airport.
End of the Tour
Inclusive of the safari.
All road transfer services including the Airport transfers.
Chimpanzee trekking permit per person
An English speaking driver guide
Drinking water and all meal plans
Safari Exclusive
Extra and alcoholic drinks
Tips and other personal items that you may need
Safari gears
A cap or hat with a neck string
Camera and fully charged batteries
A heavy jacket to wear when it's cold and windy while cruising on the boat
To book a tour to Ngamba Island this season, please don't hesitate to contact our reservation team by sending an email on info@ugandasafaribookings.com or call us directly on 0700135510/ +256-414699459 to speak directly to our customer care personnel.