Fort Portal is a famous town located in western Uganda in Kabarole district and it is a good spot to enjoy your Uganda safari because it has a number of surrounding destinations and good accommodation facilities where to sleep, relax and also have dinner. It takes about four hours for one to drive from Kampala city to cover the 180-kilometer distance to Fort Portal town. The area is mainly inhabited by the Batooro people with interesting culture you don't want to miss and the Toro kingdom headquarters are also located there. It is an interesting city with a number of attractions to enjoy on your Uganda safari and some of them include the following.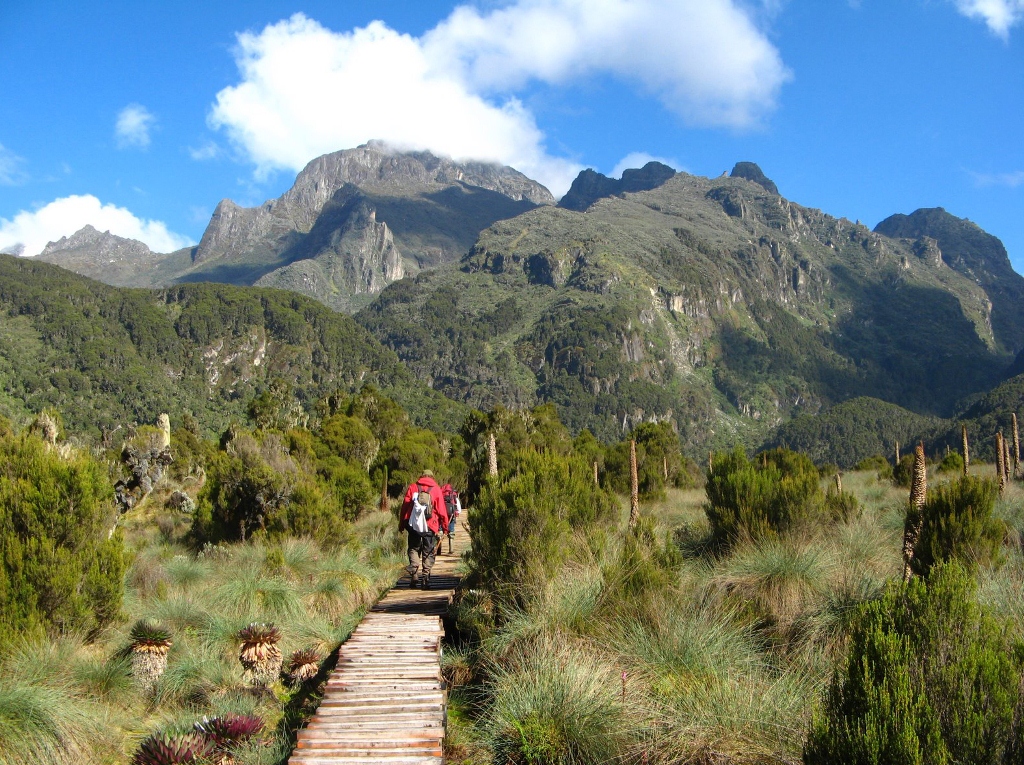 Mountain Rwenzori
Mountain Rwenzori is a snow-capped mountain that has a group of six ranges one of which hosts Uganda's highest peak, Margherita, also known to be the third highest in Africa with an altitude of 5,109 meters. Once in Fort portal, you are already in close proximity to this mountain so just a drive from fort portal town can lead you to the start point of your hiking activity. Hiking mountain Rwenzori to the top can take you about 9 to 12 days so mountain hikers have a great deal to enjoy while on their Uganda safari. In 1991, Rwenzori national park was set up to protect the highest parts of the mountain and this park has a number of mammals like colobus monkey, hyrax and birds like long-tailed cuckoo plus a variety of vegetation, about five zones which include bamboo, montane, forest vegetation and many more all for you to encounter.
Kibale national park
Kibale national park is the major home of chimpanzees and other primates like the red colobus monkey in Uganda alongside Kyambura Gorge and the zoo, so once in Fort Portal, do not miss out on these highly intelligent primates, the chimpanzees because they reside just in the neighborhood of Fort portal. All you need to have is your trekking permit bought from the Uganda Wildlife Authority, then head for the great chimpanzee trekking experience in the forest. You can book a chimpanzee tracking safari in Kibale forest today by simply sending us an emailm to info@ugandasafaribookings.com or call us now on +256-700133510 to speak with us now..
Amabere Ga Nyinamwiru caves
Amabere Ga Nyina Mwiru caves is a stunning tourist site located in Fort portal and it was named as a memorial place for the alleged cutting off of the breasts of Nyina Mwiru, who was a daughter to the local king as a way of making her less attractive to men. These are not exactly caves but could be best described as large overhangs and for a better view while entering the cave, you need a flashlight because enough sunlight does not reach the caves. There are also waterfalls that flow down the cliff above the cave. There are also three crater lakes present which you can hike on your Uganda safari, but since the area is usually wet and slippery, you need to have gumboots, long trousers, long sleeved shirt, a hat, water and snacks for a better hiking experience.
Mpanga tea estates
Mpanga Tea growers are a public limited company that grows and produces tea on a very large scale for both local and international market. While at Mpanga, tourists are given bikes to have a cycling tour around these beautiful estates through the demarcated rails as they view the beautiful landscape, know the different types of tea grown and also participate in tea growing activities like pruning or harvesting while interacting with the local people of the area.
If you need to enjoy the best of Fort portal on your Uganda safari, contact us on email info@ugandasafaribookings.com for the bets safari packages or call us directly on +256700135510.