The Kazinga channel is a famous channel that joins Lake Edward to Lake George and has a length that measures approximately 32 Kilometers. Lake George is located east of the channel and is filled with waters from the Ruwenzori streams while Lake Edward is in the western side so Kazinga channel drains water from Lake George into Lake Edward.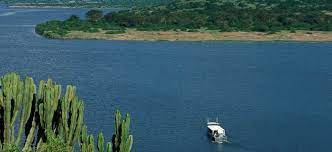 This popular tourist destination attracts a number of tourists on their Uganda safaris to travel to the western part of the country to Queen Elizabeth national park where this channel is located. This is about 390 km from Kampala, the largest and capital city of Uganda and this is equivalent to a drive of about 7 hours via Kampala-Masaka road and Mbarara-Kasese road.
Kazinga channel is known to host the highest number of hippopotami in the world so your Uganda safaris to this area can never be a loss. More to this, the birding experience at Kazinga channel is also wonderful as you may spot over 60 bird species which include African skimmer, African shoebill, black bee eater, pink backed pelicans and many more while just on the two hour boat cruise along the channel. Your Uganda safari to the Kazinga channel will enable you to encounter the giant Nile monitor lizard, the largest lizard in Africa, as well as a number of crocodiles, fish types, reptiles and fish eagles.
Are you interested in visiting the Kazinga channel for a boat cruise, then you should book a 3 days safari in Queen Elizabeth national park and get a chance to encounter a variety fo water animals like crocodiles and hippos as well as birds. Just contact us on email info@ugandasafaribookings.com or call +256700135510 for the best safari packages.