The Pearl of Africa stands for impressive and unspoiled wildlife that makes any safari tour more memorable than expected. There are so many places to go with much to do, see and capture with your long-range camera. However, to enjoy all these, you need a good and appropriate safari vehicle for the trip. Is it a honeymoon safari, a family tour or a group safari? Here is a list of the best safari vehicles ideal for tours in Uganda and we hope this article helps you make the right vehicle choice for a safari this season.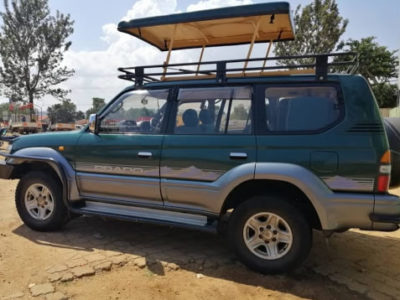 Toyota Land cruiser
Land cruisers are one of the most popular vehicles that work on safaris in Uganda. The 4X4 cars take travelers on guided safaris to nature reserves and other tourist destinations around the country. Types of Toyota land cruisers that never go wrong on a safari include the land cruiser 5-seater and land cruiser extended. These cars are designed purposely for such kinds of safaris to wildlife reserves in Uganda. You can as well use the VX land cruiser, LX land cruiser and the GX land cruiser. They are strong and perfect for road trips.
This is the most popular vehicle for self-drive safaris in Uganda when travelers are few. The SUV is a very good Japanese automobile known for its friendly fuel consumption and therefore excellent for long trips. It has a 1990 cc engine which is so powerful to drive to most locations in Uganda including the rugged terrains of national parks. There's a Rav4 with 3 doors and that with 5 doors, it comes in both manual and automatic transmission. The car is comfortable, has enough space for luggage in the rear and is also suitable for camping safaris.
Super custom/ Toyota Hiace
The Super custom is a 4Wheel vehicle suitable for family trips around the Pearl of Africa. It is a Toyota-manufactured car in form of a van. The car has a seating capacity of up to 8 people and enough space for luggage. You can get a super custom with a pop-up roof for wildlife viewing. They are normally available in both manual and automatic transmissions.
Simply known as a safari van, it is perfect for Uganda safari adventures. It has 4WD and can navigate well through the challenging dirt roads of Uganda. Ideal for group travel; the car accommodates up to 10 people and is available for chauffeur driven safaris. It comes with pop-up roof for excellent viewing of wildlife.
Toyota Prado
These cars are also among popular safari vehicles in Uganda. These 4X4 cars are appropriate for safaris for tiring trips to numerous destinations. the 5 door SUVs carry a maximum of 5 people including the driver. Categories of Toyota Prado include the Prado TX and TZ. They are available for self drive and chauffeur driven safaris.
While you plan for your safari, be aware that not every car can work on a safari. it is advisable to choose a trusted company for the best advice and suggestion for your upcoming trip. At Mumwe Global Safaris, we have strong cars for safaris. Contact us today for your safari car through info@ugandasafaribookings.com or call the reservations desk via +256-700135510/ +256 414-699459.