What does it take to have a successful safari in Uganda?
Having a successful Uganda safari is a big dream come true! However, this achievement is determined by various things including how the traveler planned for their trip. Currently, Uganda is one of the most visited safari destinations in Africa and offers exceptional tours for adventurers, honeymooners, solo travelers, groups and all kinds of travelers. Uganda tours expose tourists to the amazing wildlife, lovely scenery, warm weather and the hospitable Africans. Looking forward to a Uganda safari this season and wondering how it will go? Here are tips that will help you experience a wonderful safari;
Make your plan and select destinations
There are infinite Uganda packages with lots of options for safari. They can have single destinations with various activities or include combined destinations with a list of interesting activities. Uganda has 10 national parks which are open for tourism year in and year out. From these, you can choose what suits your interests considering the attractions and activities there. For wonderful wildlife safaris, take your trip to one or more of these; Queen Elizabeth national park, Murchison Falls national park or Lake Mburo national park. Popular primate destinations include Bwindi Impenetrable National Park, Mgahinga Gorilla National Park, Kibale Forest National Park, Kalinzu Forest Reserve, Bujumbura Gorge and Budongo Forest.
Travelers seeking cozy places for relaxation can go to Ssese Island or lodges in Jinja while the best adventure options are done in Jinja.
Choose your travel dates
Now that you know where you want to go on your safari, you can thereafter check the best time for you to travel. Uganda is an all year destination and experiences two seasons; the dry and wet season. There are two dry seasons and two wet seasons. The two dry seasons are in June – September and December- February. Most to travel because it normally comes with little or no rain in most parts of the country. Activities will go on smoothly during these periods of the year. The dry season is considered the best time.
Book for your safari activities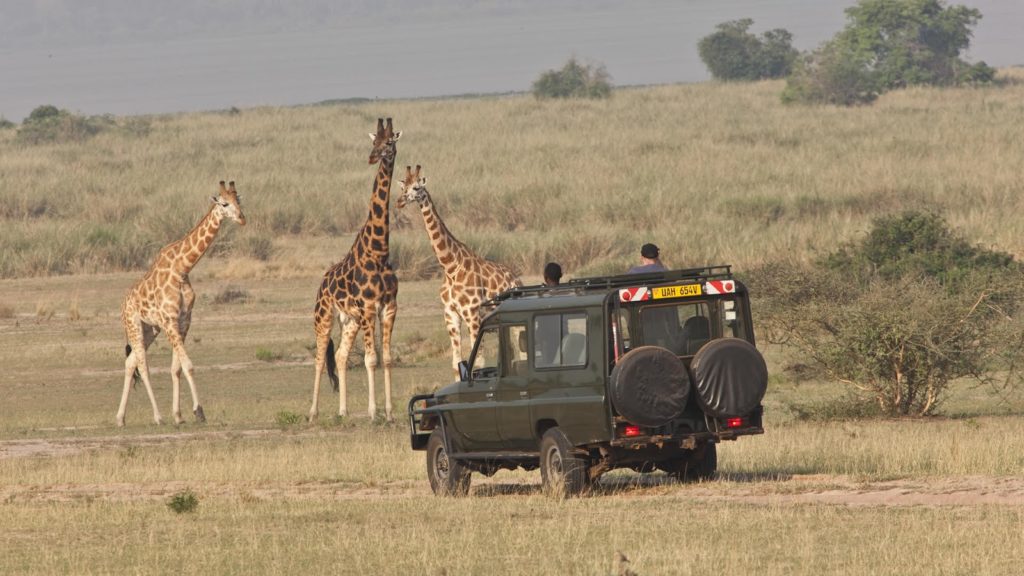 There are a lot of tours and travel companies in Uganda and East Africa at large, all claiming to offer the best safari services. However, it is advisable to be keen when choosing who to travel with. Go online and Google for tours and travel companies in Uganda or browse for activities that you want to do so as to see the different companies that offer them. To find trusted companies, check their reviews to see what the past clients say about them. Also check the organizations they are affiliated to, their physical address and if their phone numbers are valid. In addition, compare their tour prices with those of other companies for similar packages. If they are way too low, they could be fraudsters, so you have got to be vigilant.
Book for accommodation
If you want to enjoy your day activities, make sure to have comfortable nights. There are a lot of lodges and hotels close and around all destinations in Uganda. They range from budget to high-end to cater for travelers with their different budgets. Booking for your trip through a local tour operator helps you to book for good lodges known to offer the best quality accommodation that is worth your dollars.
Book for your flights
Do an early booking for your flight with an airline that will make your journey convenient. There are a number of airlines that operate from different countries to, through and from Uganda. Seek advice where necessary from your tour operator for any recommendations. And after booking, let them know of the program so that they arrange for your services such as the nearby hotel to host you for the overnight on arrival at the airport. Depending on the time of arrival, you could even transfer to your destination and relax when you get there.
Secure your travel insurance
Travel insurance is very important when you are planning for a Uganda safari just like any other African holiday or vacation. The insurance covers incidents such as baggage loss, health, flight cancellations and theft among others and highly saves travelers. Remember that to plan and go for means putting in some good dollars that cover a number of safari items.
Check visa requirements
The visa is a very crucial requirement when traveling, therefore, you are advised to thoroughly check and confirm that your visa is still valid. It should be in position to still work 7 months prior to the dates of departure for your safari. Since visa rules keep changing, make sure you read about the updated information from the official government of the destination country.
Search about the appropriate travel gear
The list of things to pack when going for a Uganda safari is quite long. The packing list also depends on the destinations and activities on your Uganda safari itinerary. Essential things to carry include insect repellent, sweater, wide brimmed hut, strong boots, first aid pack, flat open shoes, shorts, t-shirts, drinking water bottle and a pair of binoculars. If you are going for trekking or hiking, make sure you pack hiking boots, rain jacket, backpack, long pants, long sleeved shirts and gardening gloves.
Travel medication
Traveling to most countries in Africa will require travelers to get the recommended vaccinations to prevent specific infections. Two months prior to your safari to Uganda, visit a health center and inquire about the kinds of vaccinations you need to have. A yellow fever vaccination certificate is a must have for anyone entering Uganda. Also get vaccination for hepatitis A and B, PCR COVID-19 vaccination and anti-malarial medication.
Uganda is one of the most interesting places to safari and it offers remarkable experience. With an expert tour operator, be sure to have a successful Uganda safari. For safari inquiries or bookings, contact us today through info@ugandasafaribookings.com or speak to our travel consultants through +256-700135510/ +256-414699459.