Several studies have confirmed that practicing outdoor activities and breaking off to spend some time deep in the nature is important for humans; it helps in stimulating creativity and developing cognitive capacity. More to this, it is a great way to improve memory, get rid of stress and reduce mental fatigue, anxiety and depression. It should be noted that these outdoor activities are an advantage not just to the health but also in making great travel memories. With this, let's look at the most popular outdoor activities that Uganda has for travel enthusiasts planning for a trip to the pearl of Africa this season.
White water rafting on the Nile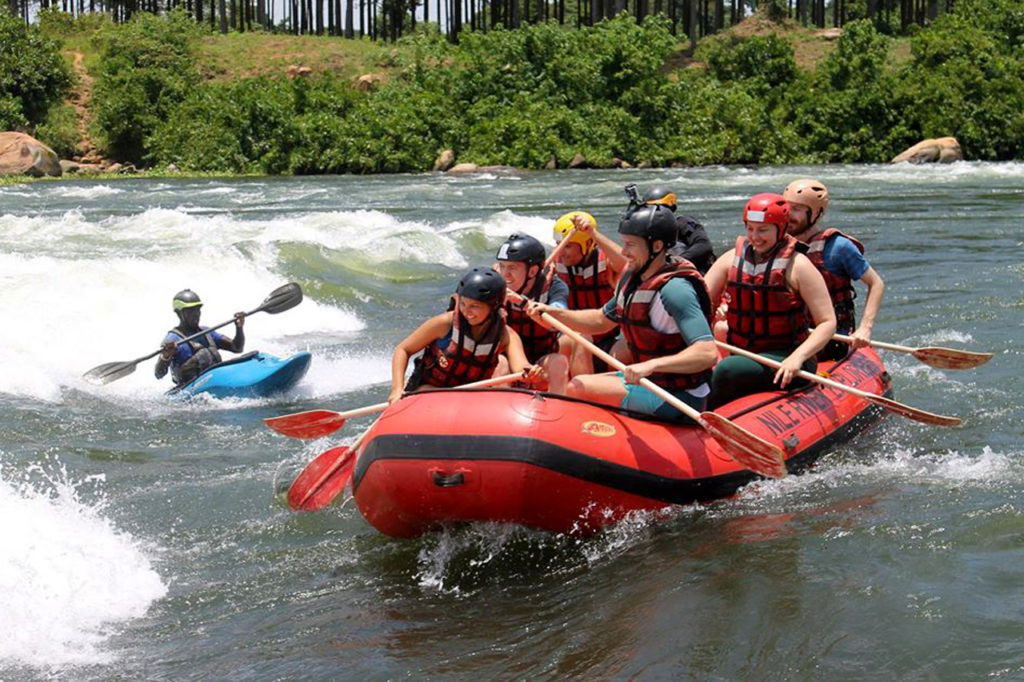 This is one of the most popular adventure activities in Uganda that gives the most adrenaline-pumping Nile exploration. The water activity takes place on the River Nile in Jinja. It takes you facing your fears on the water; go through some of the rough parts of the river. The whitewater rafting spot in Jinja- which is also the source of the Nile is one of the world's best rafting destinations. It has levels up to Grade 4 and 5 5 where rapids are tougher, suitable for expert rafters. Regardless of the intensity of the rapids, white water rafting in Uganda is a great fun outdoor activity.
Tubing the Nile
Tubing is one of the latest outdoor activities that have been introduced for tourism in uganda. It has been like another thriller added to the previous adventure activities in Jinja including whitewater rafting, bungee jumping, jet boating and kayaking among others. Tubing the nile is ideal for travelers looking for a relaxed outdoor experience. The activity is a perfect selection on hot days because it gives a chance to float on the flat water even preferably with a drink. Splash the waters and cool your body in this tropical Pearl of Africa. Tubing the Nile does not require any swimming experience.
Chimpanzee tracking
Kibale forest national park is quite thick, but good news is that the trails are relatively smooth to get through while on a chimpanzee tracking experience. It is the prime chimp tracking destination in Uganda and one of the most popular destinations to see these primates in the wild on the African continent. A walk in the forest to search for chimpanzees starts at 8am and this adventure offers almost a guarantee to spot them because it has an amazing population- more than 1,400 individuals. Chimpanzee tracking in Kibale is undoubtedly a fun outdoor activity that takes you into real nature; being in the surrounding of the deep green forest, whistles of birds and a spot of other primates including monkeys, mangabey and baboon among others.
Cycling
The time you start cycling, you will testify how good it is as many have done and can tell a number of advantages of this activity. It provides an excitement as you move from place to place in this simple and easy way. Road cycling is the most known type of cycling but Uganda makes it more interesting by offering it in a wildlife nature reserve- Lake Mburo national park. As you enjoy the benefits of cycling including improving circulation and reducing cholesterol levels among others, you will also enjoy the sights of wildlife around the park and scenic views of the hills and vast savannah.
Horse riding
When you decide to visit Uganda and are looking for thrilling outdoor activities to do, horse riding should not miss on your list. The most popular places for this activity are Jinja and lake Mburo. In Jinja, it takes place in village trails, the bridge paths and the forest road where riders enjoy scenic views of the beautiful natural surroundings. And if you want to enjoy this activity in a natural wildlife setting, then simply visit Lake Mburo national park and go watch the zebras, antelopes and great physical features on the back of a horse. Horse riding in Uganda offers a wonderful experience of exploration and is surely worth it.
To add a thrill to your outdoor seeking trip in Uganda, you can try other activities such as birding, bungee jumping, quad biking and nature walk among others. Uganda is one of the best African safari destinations to visit for exciting outdoor sports and activities. Book for your trip today through info@ugandasafaribookings.com or call us now on +256-700135510 to speak with our reservations team today.