Renting a car is one of the best options to explore Uganda this season. Are you wondering how to get to the Uganda's most visited safari park largest and oldest national park in Uganda? Murchison fall National Park is not only the oldest and largest safari park but it is a famous host to the most magical and strong waterfalls in Uganda. The park is home over to over 76 mammal species including the African big five animals like the lions, leopards, African Elephants, Buffaloes, Rhinos apparently spotted at Ziwa Rhino Sanctuary.
Rent a car with Mumwe global safaris and grab a chance to experience beauty of Murchison falls National Park. As you explore this beautiful jungle, you encounter a diversity of stunning wildlife species as well as over 451 colorful bird species spotted in various areas. When you rent a car for self drive safaris to Murchison falls National Park, grab a chance to get around the surrounding community and interact with the local people as you learn more about their fascinating cultures.
Rent a car with a professional driver guide to Murchison falls national and enjoy a diversity of intriguing activities like game drive viewing experience supplemented by an interpretation from the guide about all the different kind of wildlife that you encounter in the park. Here at Mumwe global Safaris, we argue you to rent a car with a driver to the top attractions in Murchison Falls National parks of Uganda rather than opting for a self drive rental due to the fact that the experience is extremely exceptional with a driver guide.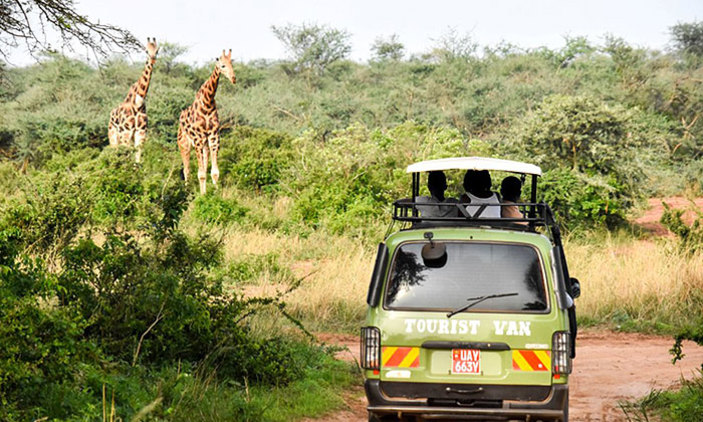 You can contact our reservation team here in Kampala and rent a car with a driver to explore Murchison Falls National Park. Our travel experts will assist you to plan your Murchison fall safari right from the start until the end of your trip. When you rent a car in advance, you enjoy the most affordable and reliable safari deals suitable to meet your effective demand on a safari and they are flexible to change.
Enjoy our full-board rates that are inclusive of a 4×4 safari vehicle with a professional experienced driver guide, all accommodation and meals, all activities plus all road transfer services.
How to get to Murchison Falls National Park
When you rent a car with a driver, the journey to the park depends on your pick-up location in Uganda and this is either Entebbe international airport or Kampala capital city. By Road, it is about 5-6 hours to Murchison falls National Park lasts for about 5-6 hours covering a distance of about 305 kilometers from Kampala city or Entebbe.
Where to stay in Murchison Falls National Park
Upon arrive, your driver guide transfers you to the booked lodge with in the park. Murchison falls National Park is home to a diversity of accommodation facilities that range from budget, mid-range and luxury options. Such as; Red Chili Rest Camp- budget, Pakuba Safari Lodge -Midrange as well as Paraa safari lodge- luxury option among others that offer affordable quality services. Therefore, no need to worry about where to stay when you rent a car to Murchison Falls National Park.
With the above facts, feel free to rent a car to Murchison falls National Park and you wont regret every dollar spent on your road trip. Feel free to contact our reservation team to rent a car to this beautiful safari park. And also assist you to arrange your safari depending on your interest for a lot of unforgettable memories of a lifetime in the Pearl of Africa. Send us an inquiry at info@ugandasafaribookings.com or call us on +256-700135510 or Tel +256-414699459.