Self-drive tour is one of the best convenient ways to get around the fascinating corners of the Pearl of Africa without any restrictions or limitations from the company driver guide whilst taking a drive on your own offers you a unique adventure road trip that allows you to delight in unforgettable memories on a Uganda safari adventure . However, you need to rent a 4×4 safari vehicle with the ability to navigate through tough road terrains in the safari destinations. Here in this article, we present you a thrilling Uganda self drive itinerary to try out;
Day 1: Transfer to Ziwa Rhino sanctuary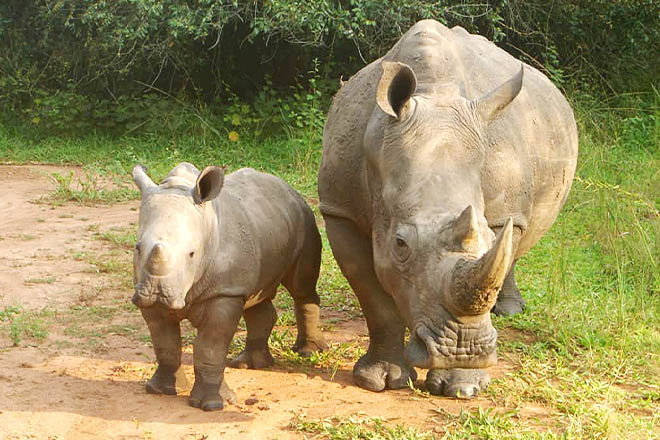 On this day wake up for a delicious breakfast and set off for your 3 hours journey to Ziwa Rhino Sanctuary located about 176 km from Kampala, this is the only place you encounter rhinos and the other place is the Entebbe Zoo, due to the location of Rhinos individuals in this place, we advise you to a take drive closer to them before you commence with the trekking. Upon arrival at the site, meet and greet with a ranger guide who shares a lot of interesting information and facts about rhinos found in this place.
Once you find a Rhino family you will be allowed to spend an hour with them and great advantage is that you get chance to see more than one family as well as many other stunning animals like kobs, bush bucks, waterbucks, duikers and Leopard among others.
After the awesome adventure, enjoy lunch and transfer to Murchison falls national with a visit to the top of the falls. While here experience the magical beauty of Murchison falls, drive to your booked lodge for dinner and an overnight stay.
Day 2: Experience Murchison Falls National Park
On this day, wake up early for a cup of coffee and head out for self drive game tour to explore the magnificent beauty of the park, the drive takes you close to a diversity of attractive wildlife namely, Rothchild giraffes, elephants, buffaloes, uganda kobs, lions, leopards among others. Later transfer to the lodge for lunch and short nap.
In the afternoon, get out for a Nile boat cruise on the Victoria Nile that takes you to the bottom of the falls – popularly known as the "Devils Cauldron", the cruise offers you chance to see many hippos, crocodiles, elephants, buffaloes taking water plus many colorful bird species.
Day 3: Transfer to Kibale Forest National Park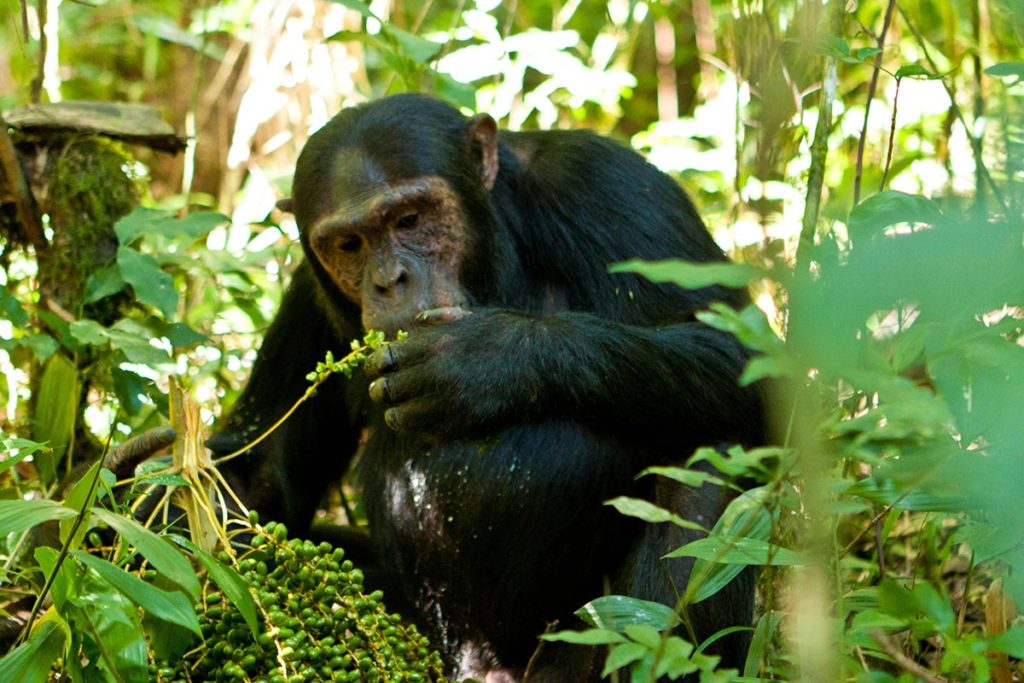 After an early breakfast, check out of the lodge and start off for a transfer to kibale forest national park. Enjoy lunch enroute, delight in a self drive tour toward the green countryside, the massive local farmlands along the Albertine rift valley escapement, the journey is about 7-8 hours drive and upon arrival, check in at your booked lodge for dinner and an overnight stay.
Day 4: chimpanzee trekking and Bigodi community walk
After a delicious breakfast at the lodge, transfer to park headquarters for briefing about the chimpanzee trekking exercise in the forest, the dos and don ts , later with a ranger guide transfer to the starting point and begin the trek in forest, once you find a chimpanzee community, enjoy watching the juvenile playing, babies feeding, feel free to take photography with them and after the unforgettable experience, transfer to the lodge for lunch and short relaxation. In the afternoon you choose to head out for an optional Bigodi walk that takes you to enjoy a rewarding bird watching experience and offers you chance to interract with the local people, learn more about their lifestyle behaviors. Later transfer to the park headquarters for dinner, refresh and an overnight stay.
Day 5:Transfer to Queen Elizabeth national park
Wake up early for breakfast, check out and take a transfer to Queen Elizabeth national park, enjoy a drive through the crater lakes, the eye catching landscapes plus many rolling hills while taking the southern direction from Kibale forest. If you are luck, on this day you might get chance to sight some animals along the road as you access the park. Once you have arrived, check in at the lodge, relax and have dinner plus an overnight.
Day 6: Experience Queen Elizabeth national park
Enjoy an early breakfast, and head for a self drive game safari in the park, this takes you to Kasenyi plains where you sight impressive number of wildlife diversities, Ishasha sector to see the tree climbing lions plus the crater lake exploration to see the salt mines and return to the lodge for lunch and relaxation.
In the afternoon, get ready for a recreation boat cruise on Kazinga channel, here get another chance to see other wildlife that you might have missed to see on a game drive, namely the hippos, crocodiles, buffaloes, elephants, lions, warthogs on the shores taking water plus many beautiful bird species. You will as well see fisher men preparing their nets for a night catch and return to lodge after the awesome experience.
Day 7: Transfer to Bwindi impenetrable forest national park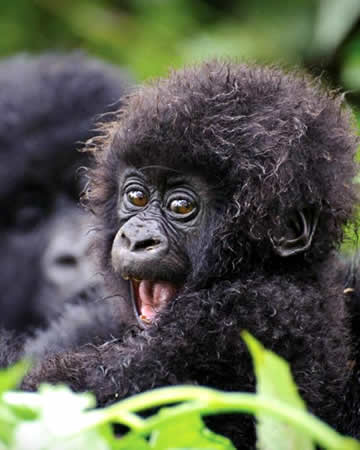 After your morning breakfast, set for Bwindi forest, driving through the Ishasha sector where you get a chance see the tree climbing lions hanging on fig tree branches, the journey to the park takes you about 4-5 hours drive with an en route lunch in kihihi, then enter Bwindi forest via Buhoma sector. Upon reaching, check-in at your booked lodge or camp for dinner and overnight stay. 
Day8: Gorilla trekking plus optional Batwa experience
Wake up early for a cup of coffee, get ready with your packed lunch boxes, and enough water and head to the park headquarters for briefing about the gorilla trekking exercise, learn the dos and donts, you will be grouped in groups of 8 people with a ranger guide, then transfer to starting point and begin trekking. Expect to hike and once you locate a gorilla family, you are allowed to spend one hour with it, take photography with them and get to learn more about their fascinating lifestyle in the forest. Later after the great memories, return to lodge.
In case you finish the trek in time, in the late afternoon, you can go for a community walk to experience the Batwa people and their exciting culture. Return to lodge for dinner and overnight stay.
Day 8: Departure back home
Today enjoy a leisure breakfast, begin the transfer journey back to Kampala, enjoy lunch enroute at Igongo cultural centre and proceed with the journey, don't miss out an option stopover at the Uganda Equator and continue with your self drive to Kampala city. Reaching in the evening, you can drop the self drive rental car at the company office or at the airport and this marks the end of your uganda safari.
Incase you are planning to experience the Pearl of Africa beauty on your own , we hope the about self drive itinerary guide with be help to enhance you delight in long lasting memories. To book a self drive safari with us, simply get in touch with our travel expert by sending an email on info@rentadriveruganda.com or call us directly on +256 414 699459 / +256-700135510.