Are you planning a Uganda Safari and you would love to encounter the African lions found in their natural habitats. We argue you to look no further but taking a road trip to some of the interesting safari destinations Uganda. The Pearl of Africa is blessed with about three different Safari Parks where you can see lions in their magnificent natural homes.
Typically, the African lion (Panthera leo) loves the grasslands and savannas but it is not easy to find it in dense forests. It is a non nocturnal compared to other carnivore big cats, although its sometimes adapts to being extremely active at night and twilight while hunting its prey.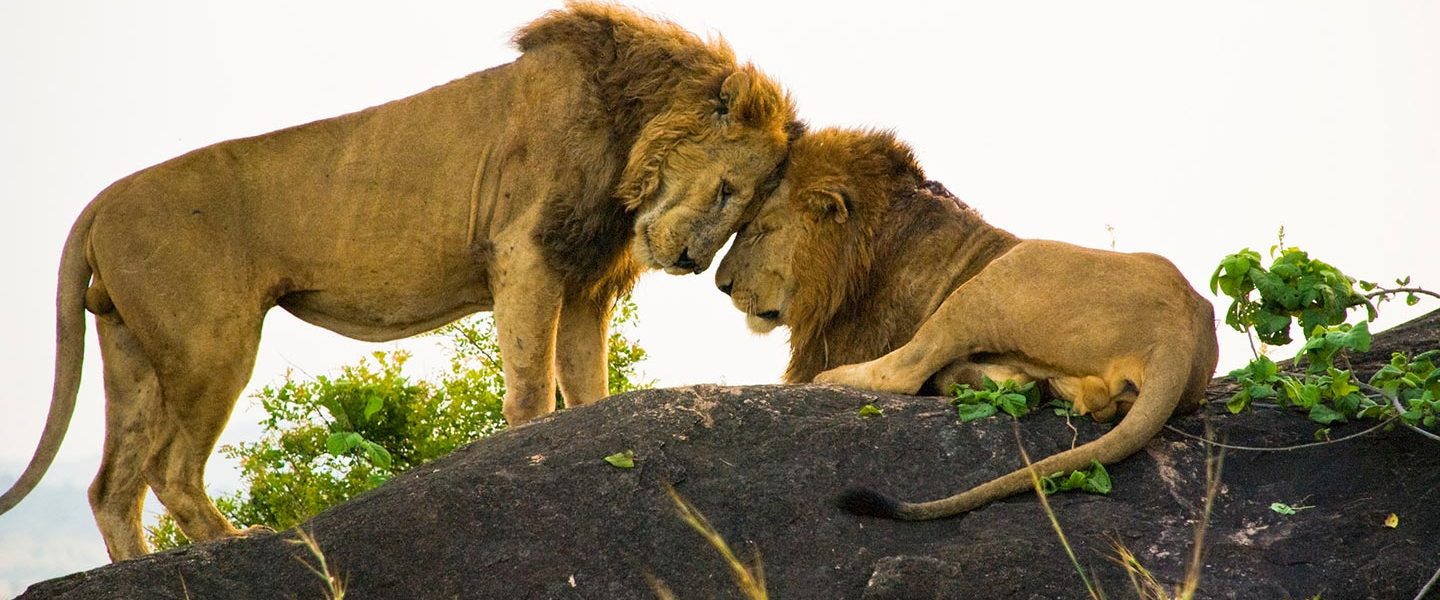 Fascinating facts about lions in Uganda
It is important to note that Lions dominate a huge population of carnivores here on the African continent and they weight ranges from 150 to 250 kilograms when mature or fully grown.
Another truth about Lions is that they enjoy sleeping about 20 hours per day.
Lions have the ability to run over 60 meters in about six seconds flat.
It is important to note that is not easy to find a lion living or wondering in the Kaniyo Pabidi Forest Reserve on a guided forest nature walks in Murchison Falls National park.
Lions are only found in the savannas vegetation (not in the forest jungle).
Conflicting to the popular folk tales, lions are not actually kings of the jungle at all according to the wildlife experts as they are just referred to in safari language.
Where to see Lions in Uganda
As earlier mentioned lions are found in three main savannah parks of her motherlands, namely; Queen Elizabeth National Park(QENP), Kidepo Valley National Park(KVNP) and Murchison Falls National Park (MFNP).
While planning a lion experience in the country then your tour operator needs to include the above safari park as highlights on your all inclusive Uganda safari where you are guaranteed to seeing the lions in their natural environment. The range guides in the park have experience on where to perfectly encounter the lions roaming in the wilderness thus while on a game drive safari, as you search for these beautiful creatures, the guides take you to see these enchanting animals at an up-close though you watch them from a safe distance.
Here below, we are glad to take you through the three thrilling national parks where you get chance to see the lions of Uganda live;
Kidepo Valley National Park
Also known as the whispers of the wilderness, Kidepo Valley National Park is home to impressive numbers of lion population of about 132 individuals are roaming through this wonderful safari park. One of the interesting things about Kidepo valley national Park, the population of lions is increasing compared to Uganda's other two prime lion safari destinations. This is an indicate that this will become a more and more critical enchanting habitat enjoy the lions tracking safaris over time.
The Queen Elizabeth National Park
The most outstanding safari site to see the lions in Uganda is Queen Elizabeth National Park and it is famous host to the Tree climbing lions in Ishasha sector. The park is situated in the western region of Uganda covering kasese districts and others. The park features a simple but stunning landscapes blessed with expansive savannah grasslands plains, forested woods, crater lakes, thick forests and offers travelers an opportunity to catch glimpse of the Rwenzori Mountains ranges standing right from its backdrop.
Queen Elizabeth national park hosts about 95 distinctive mammals species and over 600 colorful bird species living here. A tour to Queen Elizabeth gives you an opportunity to groove on impressive numbers of charming wildlife namely; herds of African elephants, herds African caped buffaloes, warthogs, Uganda kobs, Oribis, waterbucks, bushbucks, hundreds of hippos, crocodiles among others. However the tree climbing lions in Ishasha sector is one of the key attraction and the primary focus by many travelers. There are over 250 individual lions pride, mostly found within the southern and northern sectors. Thus with a safari to Queen Elizabeth national National Park in Uganda, we assure you excellent hope for viewing a lion's pride in action.
Ishasha Tree Climbing Lions
Besides the typical prides of lions that grace in Queen Elizabeth National park, the QENP has gained an outstanding global reputation for hosting the biggest population of tree climbing lions species. These tree-climbing lions live in the Ishasha quadrant or sector of the park in the southern region. While a Uganda safari a game drive through Ishasha sector gives you chance to groove on these charming cats confidently lazing in the enormous fig trees or acacia tree branches.
Murchison Falls National Park
The lions of Murchison Falls are diurnal thus they are active at two different times of the day namely; in the morning or when the sun rises and in the evening. These are all ideal times incase you want to see the lions wandering in the open savannah plains of the park. They are the true and unrivaled kings in this habitat, preying on the less powerful game like Uganda kobs, buffaloes among others.
Lion Tracking experience in Queen Elizabeth national Park
It is paramount to note that lion tracking experience is among the top fascinating safari activity in Uganda on safari. This adventure activity offers you chance to search for the tree-climbing lions of the Ishasha in Queen Elizabeth national park thus giving you chance to delight in breathtaking adventure memories.
You can as well enjoy this thrilling lion tracking in the Kasenyi Plains sector of Queen Elizabeth National Park's northern sector. The Kasenyi plains also offer tourists with a unique experience of getting up close and personal with the lions living in their natural environment habitat.
Lion tracking involves closely following the lions to personally understand their feeding habits, behaviors, and natural habitats. Experienced and expert researchers from the Uganda Carnivore Program take you through this exciting activity. Visitors who would love to enjoy in the once-in-a-lifetime encounter with the kings of cats are required to pay so that they are allowed to participate in the lion tracking experience. The money goes to support a worthy initiative for wildlife conservation in Uganda.
Lion tracking experience in Queen Elizabeth National Park cost USD 50 for all international visitors and UGX 100,000 for an East African Residents.
The Queen Elizabeth National Park is one of Uganda's most excellent safari park featuring different ecosystems like the vast savannahs, shadowy forests, fertile wetlands, and lakes. The park has a lot to offer to travelers on a Uganda Safari and besides lions, it is blessed with stunning wildlife species, birds, and exciting primates in Kyambura gorge among others.
To book a lion tracking experience in Uganda this season, please feel free to get in touch with our travel experts for a tailor made package, simply send us an inquiry on info@ugandasafaribookings.com or call us directly on 0700135510/ +256-414699459 to speak directly to our customer care personnel.