Many travelers love to visit Uganda in a view of the fact that the country is blessed with unique stunning wildlife species that give a glimpse safari experience. The tree climbing lions are extremely exceptional wildlife that you don't need to miss on a Uganda safari adventure. In East Africa these beautiful creatures are found in two countries. Below in this article, we are more than delighted to present you the astounding safari destinations where you can encounter the tree climbing lions and why they do climb trees.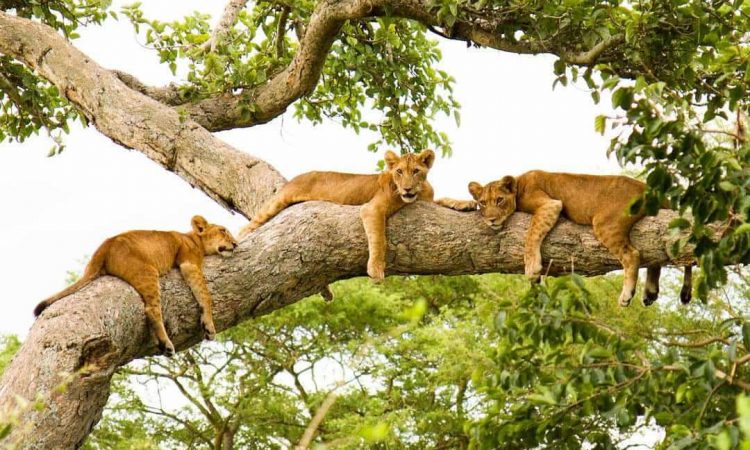 Where you can find tree climbing lions?
Climbing trees is a unique and rare phenomenon demonstrated by these lions. It is paramount to note that the strange behavior has attracted many travelers that find it fascinating seeing the lions climb trees. As earlier mentioned in East Africa the tree climbing lions are only found in Uganda and Tanzania.
In Tanzania, they are found in Lake Manyara national park and around Tarangire National Park. While as in Uganda the tree climbing lions can only be seen in Queen Elizabeth national park in the Ishasha sector- the southern part of the park.
How easy is it easy to sight these tree climbing lions?
It is important to note that the Ishasha sector in Queen Elizabeth national park offers the best experience for the tree climbing lions compared to Tanzania or Kenya where you need to take some good hours searching for them. The Ishasha sector hosts about 3 prides of lions that is equivalent to about 40 individuals which call the amazing place their home.
On your game drive, delight in a glimpse sight of the tree climbing lions hanging lazily on the Acacia or sycamore fig trees. The lions in the Ishasha sector not only love to climb the sycamore trees but also have got a unique feature. Such as; their males have got black manes another thing that impresses you when you encounter with these beautiful creatures.
On a guided tour in Queen Elizabeth national park , feel free to open up to your driver guide, take courtesy to ask him if he knows where to find them so that you don't miss out on this once lifetime adventure in Africa. The Ishasha sector offers more than your expectations, you as well encounter other stunning wildlife species like herds of African Buffaloes, Elephants, populations of Antelopes thus giving you long lasting memories.
Why do lions climb trees?
Climbing trees is not a common thing with the lions but this specific groups have adapted this culture due to a number of fascinating reasons;
Avoid insect bites
According to research, lions in these regions are believed to climb to trees with an aim to protect themselves from wild insect bites that interfere with their peace while they are resting on the ground under the tree shade.
Avoid too much heat
it is one of the tricks they do to run away from the too much heat from ground especially during the dry season. They therefore climb to catch up with the fresh and cool furry of air as they enjoy their relaxing.
Clearly observe their prey
As you they rest lazily on their tree branches, they are as well busy observing their favorite prey such as the antelopes.
Planning a lifetime safari adventure this season? Here at Mumwe Global Safaris, we pride in offering a dreamlife safari adventure. Regardless of the nature of your tour, take an opportunity to get around with our exceptional driver guide who is always ready to deliver the best on any road trip. We as well provide you with an awesome safari car featuring a pop-up roof for clear viewing and outstanding photography. To book with us, don't hesitate to contact our safari experts. Simply send us an email on info@ugandasafaribookings.com or call us now on +256-700135510 to speak directly with our customer care personnel.