Tourist Vehicle means a contract carriage constructed or adapted and equipped and maintained in accordance with such specifications or a self-propelled vehicle capable of being used for the temporary living, sleeping or eating accommodation of persons. Your safety and comfort are extremely important to us here at Mumwe Global Safaris hiring out well-serviced safari vehicles specifically designed to handle the rigors of a true African safari. the tourist vehicles are designed with maximum possible comfort on Africa's dusty and often bumpy roads. Our safari vehicles have 4×4 engines capable of handle rough terrain, steep and muddy slopes. Most roads that lead to safari destinations are characterized by rough roads however with our vehicles we guarantee you a better Journey. Our fleet of tourist vehicles in Uganda is equipped with comfortable seats, a first aid kit, storage space and more so you don't have to be worried about bringing your entire luggage along for the ride. In addition, every passenger has their own window seat for proper comfort.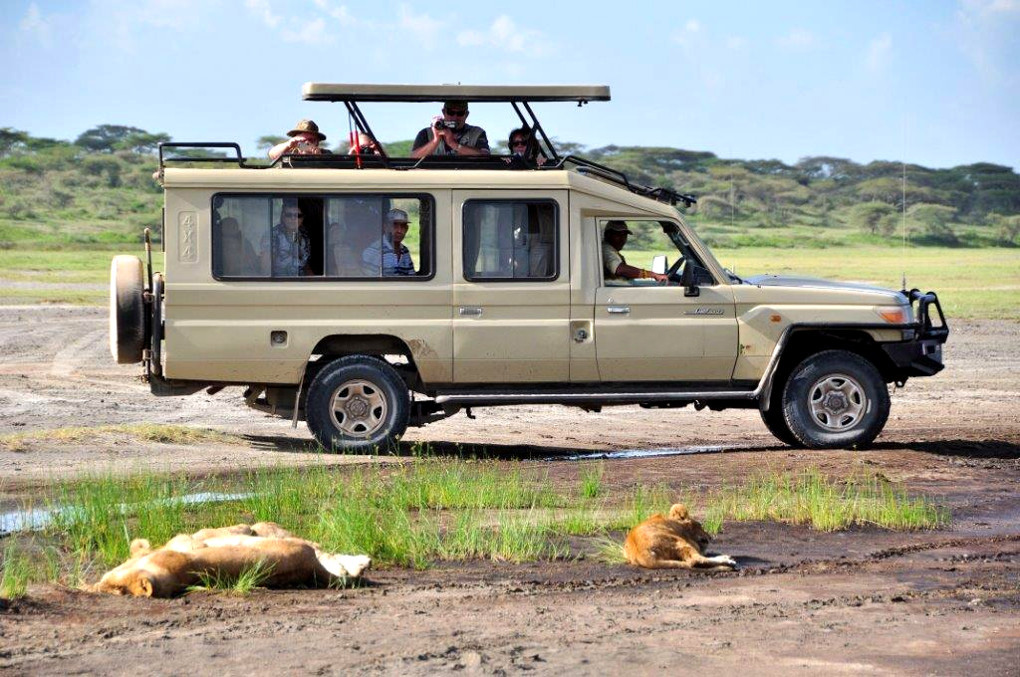 Toyota Land cruiser
Proven from time to time as one of the best SUVs offered by Toyota, the Land Cruiser is a must-have for anyone who dares to conquer the off-road while knowing that failure is not an option. Despite having a few downsides, the Land Cruiser holds its own against almost every terrain obstacle you throw it. Well. Land cruisers are one of the most popular vehicles that work on safaris in Uganda. The 4X4 cars take travelers on guided safaris to nature reserves and other tourist destinations around the country. Types of Toyota land cruisers that never go wrong on a safari include the Land cruiser 5-seater and Land cruiser extended. These cars are designed purposely for such kinds of safaris to wildlife reserves in Uganda. You can as well use the VX Land cruiser, LX Land cruiser and the GX Land cruiser. They are strong and perfect for road trips The Land Cruiser can be driven off-road to the most remote locations possible not forgetting its Kinetic Dynamic Suspension System (KDSS) which is an intelligent stabilizer adjuster that continually tunes the suspension characteristics as the vehicle drives over rough terrain. It holds enough power and torque within its 5.7-Liter V8, to push an almost the 3-ton machine without hustle. It comes with a rooftop tent without compromising the special views of a sunroof giving you an opportunity to take some of the most amazing safari scenes without stepping out of your car.
Toyota Coaster Buses
For very large groups of between 20 to 40, a Toyota Coaster bus may be more ideal. The coaster bus is ideal for students, airport transfers, and city tours and also to visit national parks. Regardless of which model you ending up choosing, we will share photos of the car before you make any payments or sign the contract. We don't offer some Luxury cars like Range Rovers, Mercedes Benzes and Limousines as a company but we can recommend companies that do so. We do not hire our buses or Extended Safari Cruisers without a driver. It is important to indicate why you are hiring the vehicle so that we recommend the most suitable one for the activity. The vehicles that are hired for tourism related purposes have a pop-up roof to allow for better wildlife viewing. They might not be suitable for a conference or business meeting.
Toyota Rav4
This is the most popular vehicle for self-drive safaris in Uganda when travelers are few. The SUV is a very good Japanese automobile known for its friendly fuel consumption and therefore excellent for long trips. It has a 1990 cc engine which is so powerful to drive to most locations in Uganda including the rugged terrains of national parks. There's a Rav4 with 3 doors and that with 5 doors, it comes in both manual and automatic transmission. The car is comfortable, has enough space for luggage in the rear and is also suitable for camping safaris.
Super custom/ Toyota Hiace
The Toyota Super Custom is a very popular vehicle because it has been tailored to offer comfort for tourists going on a safari. It can take up to 5 travelers and provides all the space and legroom required particularly for long journeys. It comes with a rooftop tent without compromising the special views of a sunroof giving you an opportunity to take some of the most amazing safari scenes without stepping out of your car.
Toyota Prado
These cars are also among popular safari vehicles in Uganda. These 4X4 cars are appropriate for safaris for tiring trips to numerous destinations. The 5 door SUVs carry a maximum of 5 people including the driver. Categories of Toyota Prado include the Prado TX and TZ. They are available for self-drive and chauffeur-driven safaris With a 2 pax rooftop tent, you can conquer any off-road terrain without worrying about where you will be sleeping.
Nissan Patrol
The Nissan Patrol has been known for being rugged, tough and powerful. They're also well known for their durability and performance especially the pickups which are considered legendary masters of off-road. The Nissan patrol is built for harsh and unforgiving terrain, with a wider rear track, powerful diesel and gasoline engines that make it good for adventurous fanatics.
Mitsubishi Pajero
Mitsubishi has been one of the champions of off-road cars for Africa for a long while now, with many sharing stories about how the Pajero in particular, took on vast challenges when it came to dealing with tough terrain. The Pajero has a proven record for having a reliable 4WD system, center, and rear diff-locks that offer a stable and reliable driving experience. The 2018-19 models come with a tried and tested 3.2-liter four-cylinder turbo-diesel engine that produces 190 BHP and 441 Nm of torque, teamed with a five-speed automatic transmission, which gives you the needed power to push the vehicle through almost anything and comes With a 2 pax rooftop tent, you can conquer any off road terrain without worrying about where you will be sleeping.
Jeep Wrangler Rubicon Recon
The Jeep Wrangler is one of the most iconic and classic off-road vehicles of all time. The Rubicon Reconversion is a special edition that maintains the classic outlook and comes fully equipped to go high and low in whatever wilderness you throw at it. The Rubicon Recon comes with upgraded Dana 44 axles, 32-inch off-road tires, and a dual vented hood. Add on heavy-duty cast differential covers and model-specific rock rails to provide extra protection against dense objects on the trail; it's a must-have. Its electronic sway bar disconnect switch allows for superior wheel handling on the road, including front and rear steel bumpers to give off an outstanding finish. The Jeep Wrangler will take you places.
Are you planning to visit Uganda for a park safari adventure and would love to use a private rental car for self drive ro driver guided trip, the above tourist vehicles in Uganda will give you a smooth and safe safari to the parks and other popular Uganda tourist destinations. To rent a car , simply send us an email to info@ugandacarrentalservices.com or call us now +256-700135510.