Jinja is famously known as the "Adventure capital of East Africa", for many years, this place has been known for offering the most intriguing adventure activities on a Uganda Safari and it is the only place where travelers do white water rafting, bungee jumping among other fascinating activities done on the source of river. In travel, it is important to note that weather and climate greatly affects the success of any trip. To know the best time to visit Jinja town is important to enhance a perfect preparation and planning for long lasting adventure memory here in the Pearl of Africa. However, the best time to visit is based on general conditions plus your holiday criteria and vision.
Jinja experiences a warm temperate climate that favors travelers all year round with little variation in temperatures. The day temperatures ranges from 26°C(78.8°F) to 29°c (79°F) whilst the night temperatures are slightly cooler and they range from 16°C(61°F) to 18°C(64°F) and these tend be the lowest temperatures in some days.
Jinja Climate, Temperature and Weather Conditions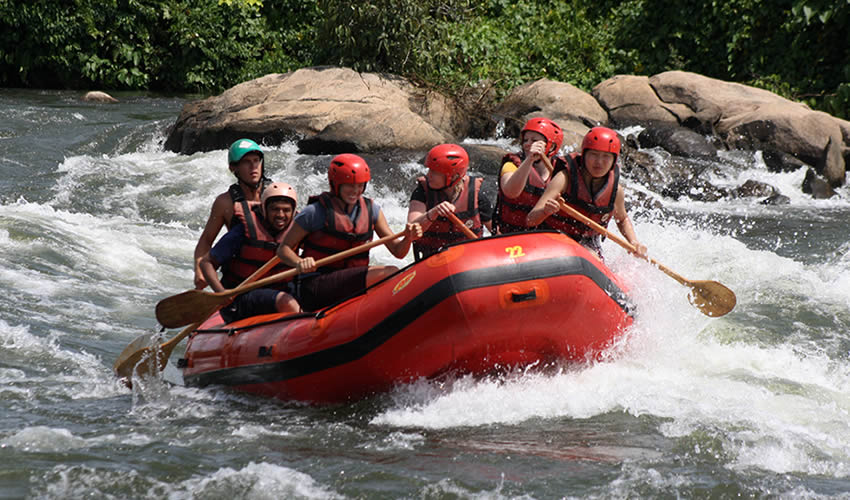 The temperature are extremely nice throughout the year, rainfall may be a key factor that affects your experience in Jinja. The Pearl of Africa has two dry seasons plus two wet seasons, the short dry season occurs in the months of June, July until mid August- thus this is considered a perfect time to travel to Jinja. This short dry season happens the same time with the summer season in Europe and US- thus this is the time when family trips are so common therefore it is a great time to enjoy Jinja and Africa at large.
Whilst the long dry season begins in the months of mid December, January and February thus it can also be considered as best time to visit Jinja or go Uganda Safaris. Though in such a season , expect to meet hiked prices on accommodation lodges and there is a high demand for gorilla and chimpanzee permits so they easily get sold out, on this note think about booking your permit in advance at least 4-6 months prior to the dates of travel.
Feel free to combine your Jinja experience with a tour to Bwindi Impenetrable National Park Forest for a gorilla trekking adventure or Kibale forest for chimpanzee trekking experience. And the long dry season of December, January and February is the best time to visit to these amazing safari destinations.
The rainy season
Although the rainy season is not highly considered good time to travel for Uganda Safaris, there are great advantages that come along with planning a road trip in this season. The rainy season occurs in the months of March, April, May and September- this is the longest wet period whilst late October, November and early December is considered as the shortest wet season in Uganda. The wet season a great time to enjoy interesting discounts on lodges, safari packages from tour operators thus you can save some dollars in this season if planning to visit Uganda at such a time.
Jinja is home for all travelers, local business, conference experiences thus there is no off peak periods or low costs on accommodation, all tourism resources remains constant through out the year in Jinja. Since it is busy year round, you encounter many attractions outside the city thus the town features few tourist crowds during the rainy season.
However we need to respect the ecological value of the rains, during this time, the landscape changes into green paradise, lush environment thus expect to groove on the backdrop for nature and amazing photography. Though the availability of water-based activities is kind of limited during the wet season, expect to experience muddy, wet and slippery roads. The climate changes to unpredictable weather conditions. in the wet season grab a great opportunity to enjoy a rewarding bird watching in jinja city and expect to sight impressive numbers of beautiful bird species since there is plenty of food this season.
The above information and recommendation is given based on historical data, and due to the fact that seasonal consideration are greatly important aspects to respect when planning a trip in Jinja city or Uganda as a whole. For more inquiries about the best time to experience Jinja – the Adventure Capital of East Africa, please feel free to contact our travel experts by sending an email on info@ugandasafaribookings.com or call us now on +256-700135510 to speak with the reservation team.