Just like gorilla trekking, Chimpanzee trekking is one of the most thrilling adventure activity that is done by many tourists that travel to Uganda. If you are planning a chimpanzee experience on your Uganda Road trip this season , you need to consider booking a chimpanzee permit for either Kibale Forest National Park, Kalinzu forest, Kyambura gorge in Queen Elizabeth national park and Budongo forest in Murchison falls national park
Booking a chimpanzee permit in Uganda can be done through a local tour operator like Mumwe Global Safaris or through Uganda Wildlife Authority. All you need is to send us an email and our tour consultants are always ready to give you a swift reply as soon as possible.
Here is the information required to book a chimpanzee trekking permit in Uganda;
If you are interested in having a private tour with a local tour operator like us, we argue you to always feel free to inform your travel experts which activities and attractions you would love to enjoy. Feel to share the dates, months plus the year you would love to visit the Pearl of Africa, such travel details help us to find out the availability for the chimpanzee permits depending on your travel dates and if there is availability, we get back to you and commence with the payment for the permit.
This country is one of the great safari destination where you can enjoy extremely rewarding primate tours. Many travelers who are primate lovers enjoy combining the chimpanzee and gorilla tracking safari in Bwindi impenetrable forest National Park or Mgahinga gorilla national park.
Its important to take note that we at Mumwe Global Safaris, we pride in offering tailor made and all inclusive group tours giving you chance to enjoy all intriguing safari destinations including Kibale Forest National Park. With our tours, expect to enjoy sight seeing, wildlife viewing in different safari parks of the country as well as boat safaris among other thrilling activities.
The above can be customized to make your safari experience superb exciting and also a memorable one. We advise travelers who would love to enjoy chimpanzee trekking in Kalinzu forest and Budongo forest to acquire them on arrival to these sites because they are sold on the ground at the park headquarters. When you contact Mumwe Global Safaris for a primate tour, please don't hesitate to provide us all your information as well as the specific travel dates and trust me we will be in position to organize a customized dreamlife safari.
Chimpanzee tracking permit prices in Uganda
For travelers interested in a chimpanzee safaris in Uganda, you need all important information for chimpanzee permit booking. There is need for you to know which national parks in Uganda do offer chimpanzee trekking experience. It is important to acknowledge the permit price for chimpanzee trekking in Uganda varies from one safari park to another.
If you are looking forward to trek chimpanzees in Kibale Forest National Park , you are required to pay USD 200 per person per day for all international visitors. Whilst if you want to trek chimpanzees in Budongo forest, the permit price goes for USD 90 per person per trek and you would love to trek chimpanzees in Kyambura gorge then you pay USD 50 per person.
Take note of this,there are no discounted chimpanzee permits in Uganda. If you want to book a chimpanzee permit this season, feel free to contact us here Mumwe Global Safaris, we are more than ready to assist you secure a chimpanzee permit in advance before your travel dates.
About Chimpanzee tracking and chimpanzee permit booking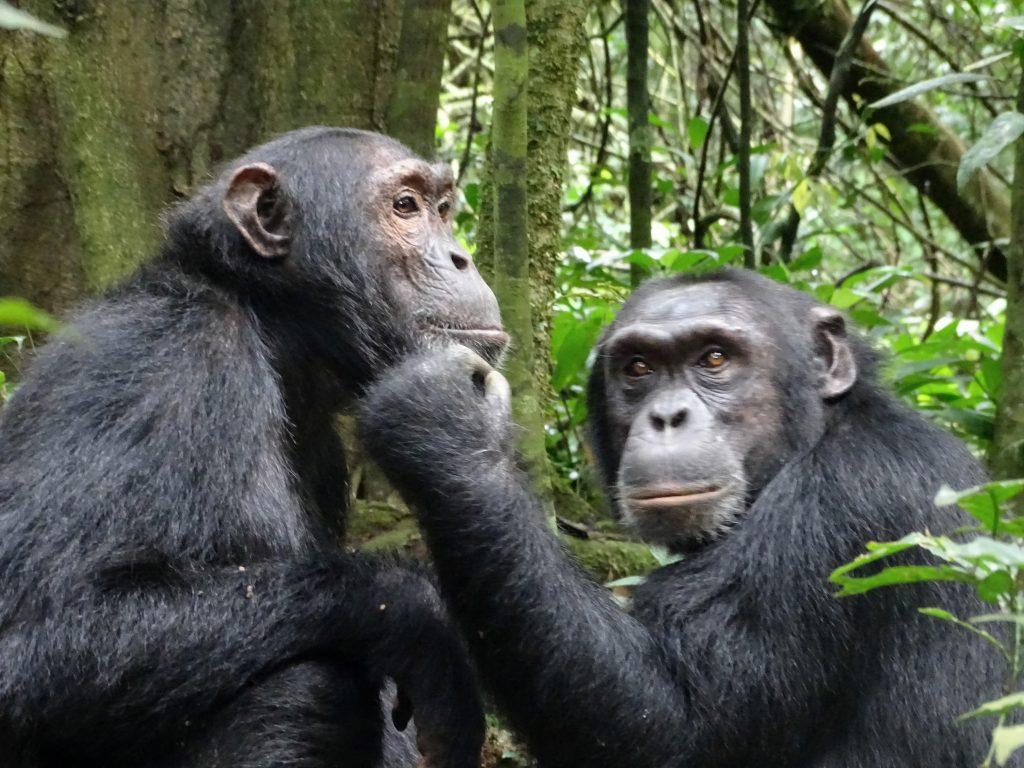 Before you proceed booking a chimpanzee permit in Uganda, you need to know information concerning the minimum age limit for chimpanzee trekking for all the national parks where you can get chance to see these beautiful creatures in their natural environment.
The age limit allowed for a chimpanzee trekking experience in Uganda and Rwanda is 12 years of age and above. A person below that is considered a child thus he is not fit for a chimpanzee exercise. For more information on chimpanzee age trekking limit, please don't hesitate to reach us here at Mumwe Global Safaris and with our professional team, we are able to offer you all required information or any other primate tour in Uganda.
Chimpanzee trekking in kibale forest, Budongo forest and Kyambura gorge is done in two phases, the morning and afternoon sessions. The chimpanzees have a attendance of living in communities of more 150 individuals. During the day time, they split into small groups to search for food and in the evening hours they rejoin to build their nests.
A maximum of 6 people is allowed to meet the chimpanzee community either in the morning or afternoon hours, just like gorilla trekking, chimpanzee trekking also has the same booking procedure and information. Therefore feel free to combine your chimpanzee tour with a gorilla trek in Bwindi Impenetrable Forest National Park, there is any problem on this.
For more information about the chimpanzee trekking experience or any frequently asked questions about chimpanzee safaris in Uganda. It may be how to book a chimpanzee permit, which accommodation facility to use, best time to trek chimpanzees or how to get to Kibale Forest National Park among other inquiries, simply get in touch with our travel experts and trust me you wont regret every dollar spent on your road trip, you can send us an email on info@ugandasafaribookings.com or call us directly on 0700135510/ +256-414699459 to speak directly to our customer care personnel.