Jinja city is famously known as the "Adventure capital of East Africa" due to the fact that it is home to many fascinating adventure attractions that many travelers love to experience when they do take a trip to this beautiful city. It is strategically located in south Eastern part of Uganda on shores of lake Victoria and it home to the source of River Nile. Jinja city was once known as a fishing village but it has evolved over years after being established as a city. From Kampala capital city of Uganda, Jinja city is about 2-3 hours drive on luck day with no traffic jam while driving East.
It is important to acknowledge that Jinja city stands as the administration Centre for Busoga kingdom as well as the district headquarter. There is a lot you can enjoy filming tour in Jinja city, these attraction range from the beautiful River Nile source point, fisheries, Mabira forest, waterfalls, eye catching sugarcane and tea plantations along the roadside, Electricity dams among other thrilling activities.
The River Nile in Uganda
This is known as the world's longest river and Jinji city features it source – a point where it begins to flow its journey to the Mediterranean sea. River Nile begins it flow from the neighboring areas adjacent to the Equator line then to the scandalous safari desert and proceeds up to Mediterranean sea in the Eastern. Nile river is long about 6696 kilometers , it pours it water in over 9 countries, it has two major tributaries namely the blue and white Nile which join together in Khartoum to create the original Nile that comprises of the contract Nile along with the Egyptian Nile.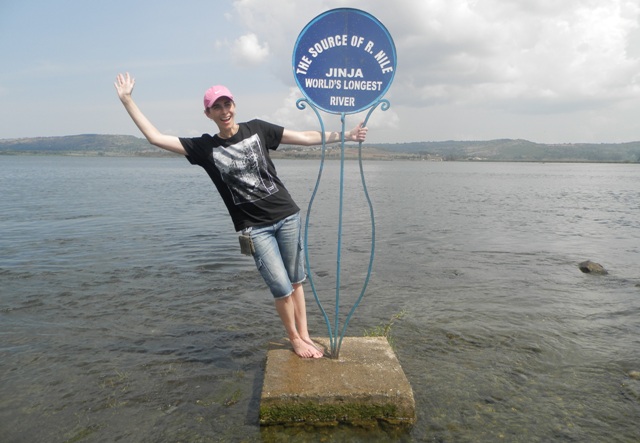 The Source of the Nile point
For quit some years, there has been arguments to confirm which place is truly the source of Nile River- popularly known as the longest river in the world. Beside Jinja city, Mountain Rwenzori in south western Uganda and River Akagera in Rwanda which have declared themselves to be home to the source of the Nile, however, fortunately Jinja city still stands as the true home to the source of the Nile as discovered by British explorer John Hannington Speke and this note a monument was built to confirm his discovery. If planning a filming tour in Uganda, this is one of the great documentary you need not miss shooting and expect to delight in long lasting memories of the great Nile River.
Fisheries
Jinja city is among the great fishing areas in Uganda, apparently, Nile perch is the main fish caught and many filming travelers have got the charisma in catching this specific species. At Mumwe Global safaris, we are humbled to arrange your Nile perch filming adventure in Jinja, thus expect to enjoy unspeakable filming adventure feelings.
Gears/ Requirements to film on River Nile in Uganda
If planning a filming tour in Jinja, you are required to have a filming permit, this is acquired from local government and local authorities to film in any location in Jinja city, get media cards from the Uganda Media council among all permissions. You are as well required to pay filming fees before filming gears are cleared at the entry points. Feel free to get in touch with our travel experts at Mumwe Global safaris, we do assist you to process the all the above requirements and grab a chance to enjoy your filming tour in Jinja city.
Press Accreditation
Its paramount to note that all film crew members ought to be authorized by the Uganda Media council and as soon as this is step is done then each member is offered a media card though this costs $175 USD, the card expires after 30 days of filming and $225 USD for 60 days of shooting. You are required to fill a form known as form G which asks about all your details, this can be sent on your email, fill it, scan and send back to us together with a copy of your passport plus photocopy to attach with the media card. After all this done, you are required to have a letter from the filming company with further details about them and key reasons why they would love to do a filming in Uganda. After collecting all this data, we send all details to the Uganda Media council so that they can process the media card for you, this takes about 2-3 days to have your media card ready for use.
Visa Advice
The Uganda visa is a mandatory and this can be acquired online or upon arrival at Entebbe international airport at the entry point. Although many film crew team love to get their Uganda visa online before they do fly in the country but either can work.we advise travelers to have their Uganda visa upon arrival because this is the easiest way and its only $50 USD per tourist and it is offered as soon as you pay.
With the above key points about filming in Jinja, please feel free to delight in long lasting memories a film safari in Jinja this season. For more information and inquiries about the filming in Uganda, don't hesitate to get in touch with our travel experts by sending an email on info@ugandasafaribookings.com or call us directly on 0700135510/ +256-414699459 to speak directly to our customer care personnel.