Fly in to your destination in Uganda in the shortest period of time and enjoy your dream adventures with all the energy and freshness. Flying safaris in Uganda are one of the unique luxury tours arranged for extremely luxury travelers to this Pearl of Africa.
Uganda is gifted with impressive tourist attractions and the major ones are the wildlife which is protected in national parks through the wildlife authorities. However, these national parks are scattered across the country and travelers who wish to explore them on a somewhat short tour could consider flying safaris. Most tourists are excited to visit these destinations but often get extremely exhausted during their Uganda roadtrips to the parks leading to fatigue before going for activities such as gorilla trekking in Bwindi impenetrable national park, chimpanzee tracking in Kibale national park and game drives, boat cruises, bird watching and nature walks in Savannah parks including Queen Elizabeth national park, Murchison falls national park and Lake Mburo national park. Kidepo valley national park offers the best of a vacation in a typical wilderness setting.
The most used means of transport in Uganda is road and one of the things to expect as a tourist is the long drives when traveling from Kampala or Entebbe to the national park and other tourist destinations. With a flying safari, you can replace a long drive with a short flight to enjoy every minute of your vacation. In this article, find the major flying safaris operated to some of Uganda's distant tourist destinations. Flights to;
Murchison Falls National Park
Murchison falls National Park is Uganda's largest national park located in the northwestern part of the country. The shortest route from Kampala to this Savannah park is 305km and takes about 5-6 hours. There are daily flights to the park from Entebbe or Kajjansi to Bugungu airfield north of the park and Pakuba airfield in the west of the park.
There is a lot to see and do in Murchison falls national park; game viewing during game drives, boat cruise, chimp tracking, hot air balloon, hiking to the top of the falls and nature walk tours among others.
Queen Elizabeth National Park
Flying safaris to Queen Elizabeth national park can go straight to Mweya in the park or first to Kasese airfield and thereafter transfer to the park by road. Landing in Mweya gives an adventurous experience of the scenic view of the park and spotting some wildlife there. Queen Elizabeth national park is one of the most enjoyable parks in Uganda and once travelers arrive, they can be transferred to their lodge for a drink or meal and later on head out for their activities including boat cruise, game drive, lion tracking and bird watching among others.
The flight takes only 1.5 hours while a road trip from Kampala to Queen Elizabeth national park takes about 7 hours.
Bwindi Impenetrable Forest National Park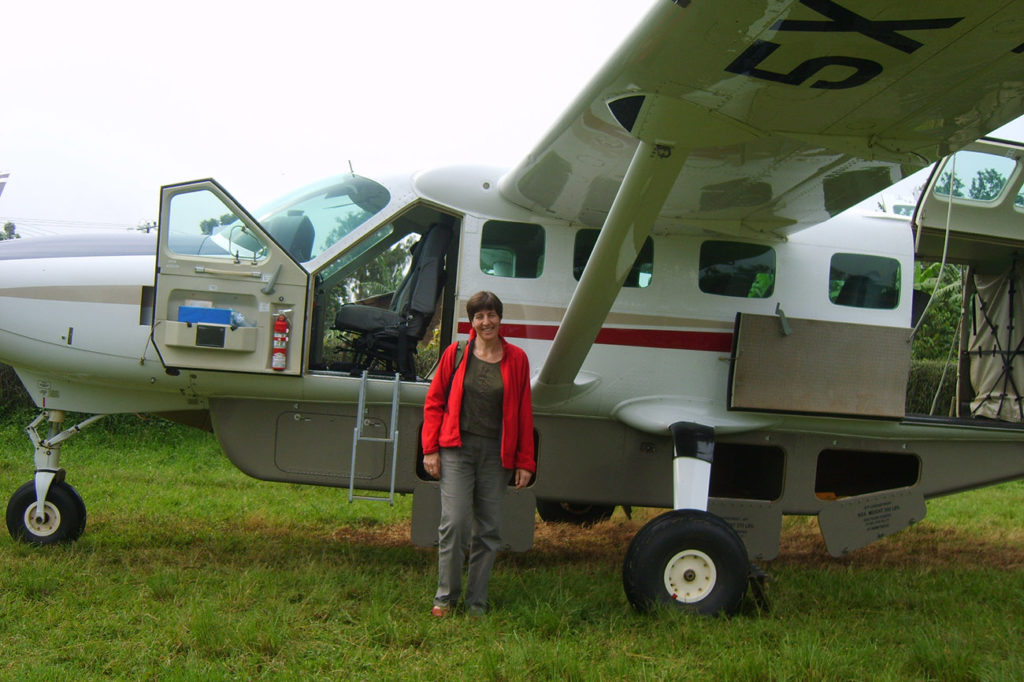 Travelers on a tight schedule for gorilla trekking or looking for a luxury gorilla tracking tour that involves a fly in to Bwindi impenetrable national park enjoy views of the undulating hills of Kigezi region. Flights to this gorilla park operate on a daily basis. As a drive to the park lasts 8-9 hours, a flight only takes one hour. Travelers going to Buhoma or Ruhija take their flight to Kihihi while those traveling to Buhoma or Rushaga fly to Kisoro and thereafter connect to their final destinations by road. The road transfer takes about an hour.
Mgahinga Gorilla National Park
Flights to Mgahinga national park just like to other above parks, operate daily. Mgahinga National Park serves as an option for gorilla trekking in Uganda. Other things to do in this park include Batwa trail experience and hiking. Aircraft lands at Kisoro airstrip from Entebbe or other parks and travelers are transferred one hour to the park by road.
Kidepo Valley National Park
Due to the long distance to Kidepo Valley national park, this is the less visited park in Uganda. This means that choosing to fly there is a suitable and perfect way to get there. Flights operate daily from Entebbe to Apoka airstrip and this takes about 2 hours. Travelers are thereafter driven to the park, a 20 minutes' drive.
Some of the most popular domestic airlines in Uganda are Aerolink, Eagle air and Fly Uganda. You can book for your flying safaris in Uganda through trusted local tour operators. For inquiries and bookings, contact us through info@ugandasafaribookings.com or speak to our travel consultants on +256-700135510/ +256-414699459.