Planning a Gorilla Tracking Safari in Uganda
Thinking of going for safari is truly exciting but there comes the planning part which sometimes gets a bit complex. It all starts with the research about African safaris and this is really huge that you could wonder where to start from. In this article, we zero down to gorilla tracking safaris in Uganda. Travelers therefore here will think of where to track the primates, how to get the gorilla trekking permit, when to travel and where to stay. All this is crucial information that you need to have when planning for a Uganda gorilla safari.
Uganda is home to more than half of the world's remaining total population of mountain gorillas. They live in two national parks; Bwindi Impenetrable Forest National Park and Mgahinga Gorilla National Park.  Seeing these giant primates in any of these two uniquely designed rain forests is one of the best things that you can encounter on an African safari.
Unlike wildlife safaris which most times may not require booking of permits for activities like game drive and nature walk, it is a must to secure a gorilla permit before embarking on your trip. And considering this and more, here is a guide with steps that will help you to put together your Uganda gorilla safari. Whether you plan to trek in Bwindi or Mgahinga, these guidelines cut across.
Decide on when to travel
Do you have a specific period off duty and you want to plan for a safari or perhaps your wedding anniversary getting closer and want to celebrate it in the jungle? Well, Uganda is an all year travel destination with a number of safari activities suitable for family, couples and solo travelers. However, there is the best time to travel for these safaris and this is the dry season when there is no or little rainfall. It is the most ideal time when safari activities give wonderful results. For example, hiking through the forest is easier compared to the rainy season when trails are muddy.
If your planned dates of travel fall in the dry season which also happens to be the high season when travelers are more, endeavor to make early bookings because all services at that time are on high demand. This is important in securing your slots for all activities of interest and book for the best accommodation and transportation services worth your money.
Where to see the mountain gorillas in Uganda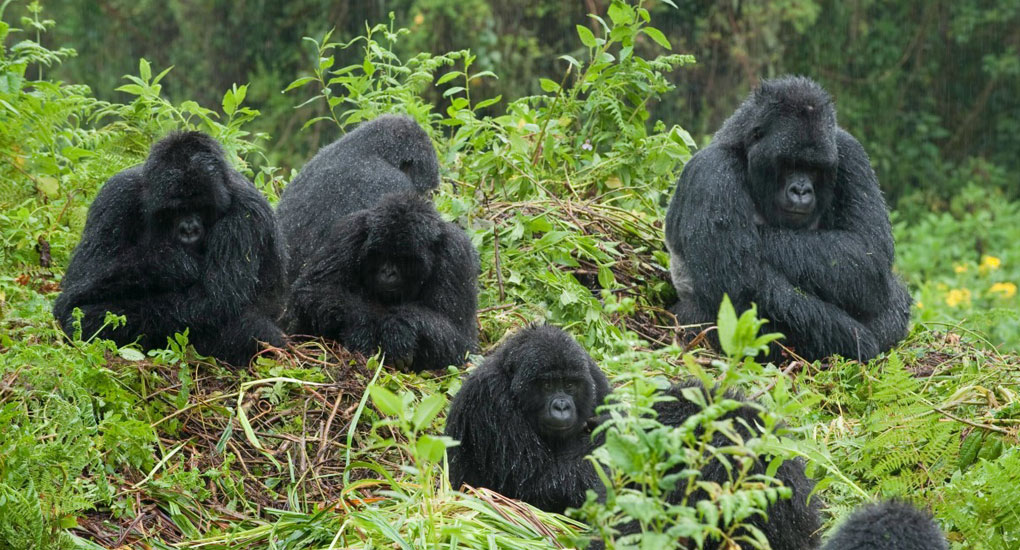 As earlier mentioned, Uganda has two gorilla destinations and it is up to you to decide where to go trekking. However, note that Bwindi is the prime gorilla trekking destination, not only in Uganda but in general. It is home to the largest number of these endangered mountain gorillas. With more than 20 habituated gorilla families, Bwindi offers more gorilla permits compared to Mgahinga and also gives higher chances to see the primates.
Bwindi is an exceptional place to see mountain gorillas. It has four sectors where you can trek them any time of the year, and each sector offers a different kind of experience. They differ in altitude, terrain and scenic views. Apart from gorillas, Bwindi is also an awesome place for a get away from town if you want to get a fresh relaxation on your vacation. It was mentioned most beautiful place by CNN in 2019.
The must have travel requirements
To confirm your travel to Uganda for gorilla trekking, ensure to have the following things;
A gorilla permit which allows you access the forest to see gorillas
A valid passport
Visa
Yellow fever vaccination card
COVID-19 vaccination card
Choose a reliable gorilla trekking tour operator to book and travel with
To have a remarkable gorilla tour, be extra careful when choosing the tour operator to deal with. There are many local tour operators in Uganda but you don't have to trust them all. Google about Uganda safaris to see the different tour operators, check their website, the information there and go ahead to read their reviews to know their honesty in regards to offering the mentioned services.
Decide on a Travel budget for your safari
Everyone will always have a ballpark figure for their trips. This helps you to easily decide whether to go for a luxury, mid-range or budget tour. Unlike Rwanda which is known for luxury gorilla trekking safaris, Uganda offers all tours from budget to luxury yet the highlight for the trip- gorilla trekking remains the same. The difference here is in the accommodations services.  
How long to stay on the tour
The duration of your safari is determined by the number of days of your leave or vacation that you have. When traveling to a specific destination for the first time, you may want to have quite a long list of things on your bucket list. Meanwhile, someone else might simply want a gorilla trek and a cultural encounter which makes a short gorilla trip. Therefore, the length of your vacation plus the activities you want on the tour will determine how long to stay on your safari. Other activities that will make your Uganda gorilla safari more enjoyable include chimp tracking, boat cruise and game drives among others.
Know what to pack for your gorilla safari
Things that must not miss in your travel bag when going for a gorilla safari are; trekking boots, gardening gloves, rain jacket, long trousers, long sleeved shirts/blouse, hand sanitizer and face mask, camera, binoculars, hat and energy giving snacks.
Where to stay
There are as many safari lodges as possible around Bwindi and Mgahinga national parks. Your tour operator can help you book with a lodge that is known to offer good accommodation services. They include; Clouds Mountain Gorilla Lodge, Buhoma Lodge, Volcanoes Bwindi Lodge, Buhoma Lodge, Engangi Lodge, Gorilla Resort, Bwindi View Bandas, Bwindi Guest house in Bwindi and Mount Gahinga Lodge, Mucha Hotel Kisoro and Kisoro Tourist Hotel for Mgahinga national park.
If you are having an itchy zeal to go for gorilla safari in Uganda, remember that an enjoyable tour comes after an effort in good planning. Whatever your requirements are, we are at your service with organized gorilla trips. Contact us today through info@ugandasafaribookings.com or call us directly on +256-700135510/ +256-414699459