Being the "Pearl of Africa", Uganda boasts various wonderful attractions so on your trip; expect to come across majestic mountains, experience a rich culture, see fresh water bodies and diverse wildlife among others. This relatively small landlocked country is one of the best destinations for wildlife safaris and some of the wildlife most sought by a number of travellers is the primates. Uganda is home to an incredible list of primates and these include the rare mountain gorillas which can only be found in Uganda, Rwanda and the DRC. It boasts habitats harboring chimpanzees, golden monkeys, olive baboons, vervet monkeys, grey-cheeked mangabeys, colobus monkeys, red tailed monkeys and bush babies among others.  
It is amazing how some primates like baboons and monkeys can be spotted as you drive on highways that go through forested areas. Are you a primate lover and want to see these beautiful creatures? This article highlights the best places to trek primates in Uganda this 2022 season.
Bwindi impenetrable forest national park
Bwindi impenetrable national park is one of the best places to see primates and specifically the endangered mountain gorillas. It is a home to half of the world's surviving mountain gorillas. The tropical rain forest is also the only place where both gorillas and chimpanzees dwell. So, as you go one with gorilla trekking in Bwindi, you could have the best luck and also come across a chimp!!. If you plan to do gorilla trekking in Uganda this season, then Bwindi forest should be your number one choice.
Mgahinga Gorilla national park
Covering an area of 33.7 sq. km, Mgahinga Gorilla national park is a great destination for real adventure. It is located on the lower slopes of the Virunga ranges and is another home to mountain gorillas in Uganda. Mgahinga gorilla national park also harbors golden monkeys and a few other mammals. How thrilling it can be spotting a golden monkey while trekking for gorillas..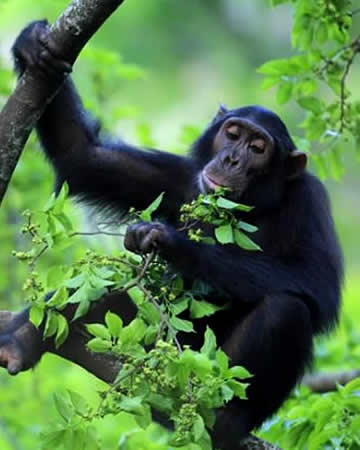 Kibale national park
Kibale national park is referred to the primate capital of the world, and indeed it is; it is home to 13 species of primates with the prime species being the chimps. The forest houses about 1,500 chimpanzees hence offers a high chance of sighting the apes. As trekkers search for chimpanzees around the forest, they can also spot other primates of Kibale national park such as the blue monkeys, red-tailed monkeys, vervet monkeys, black and white colubus monkeys, grey-cheeked mangabeys, L'Hoest monkey and many more. There are variety of places you can see chimpanzees but this forest offers the best chimpanzee trekking experience in the whole of East Africa.
Kalinzu forest reserve
If you are looking for a relatively cheaper destination for chimp tracking in Uganda, Kalinzu is one to visit. It has approximately 300 chimps out of which about 40 have been habituated for tourism. The forest is situated on an altitude of 1000 and 1,500m above sea level and therefore chimpanzee trekking requires some level of fitness. When trekkers arrive at the upper side of the forest, they enjoy the scenic views of the surrounding including queen Elizabeth national park plains since it is adjacent to it and the Rwenzori mountains.
Ngamba chimpanzee sanctuary
This chimpanzee sanctuary protects chimps that are rescued from poachers and some that have lost their families. These primates are watched up close from the cages separating chimps from the tourists. You can get engaged in feeding the animals, a thrilling activity worth doing on your Uganda safari.
Planning for a Uganda safari this season and would like to go primate trekking? We have great expertise in primate safaris around Uganda. For inquiries, send an email on info@rentadriveruganda.com or call our reservations desk via office at +256-700135510.