The Christmas season 2022 is around the corner and everyone is already in the feeling of a festive mood. Christmas comes in a unique way that no one wants to remain in the usual place for the celebration, at least a day out! As you think of the best places to go for the holiday, put it in mind that you need to save and we are offering the best Christmas offers at Mumwe Safaris Uganda.  
In this article, we bring you the top 4 places for your 2022 Christmas vacation plus the best Uganda packages for Christmas and New Year's Eve.
From national parks to hotels, you can participate in exciting and fun-filled activities on this cheerful day. From our suggested destinations below, choose the most ideal places for your Christmas holiday this year and select a package that suits your travel plan.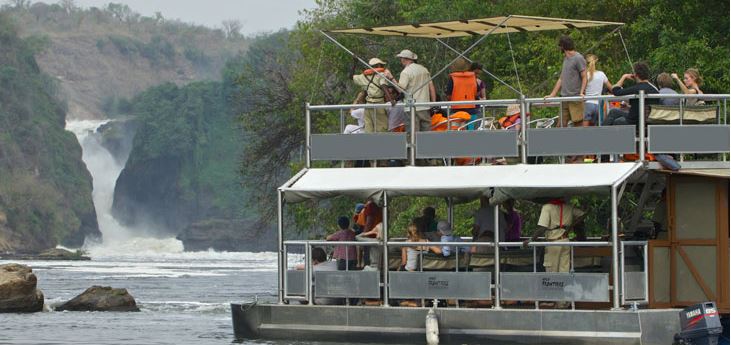 Lake Bunyonyi
There's nothing like Christmas on the beautifully dotted Lake Bunyonyi in the western part of Uganda. Waking up to the lovely views of the lake, the Virunga ranges in the background and the terraced hills is impressive. Enjoying your meals in an eco-friendly hotel decorated with twinkling lights and other Christmas decors is a great experience on this yearly celebration. While at Lake Bunyonyi, you can go for a boat cruise or relax at the lodge like a honeymooner.
All this can be done on a 3 Days Lake Bunyonyi tour which may also involve a game tour at Lake Mburo national park.
Murchison Falls national park
Hit the road and spend your Christmas in the jungle watching wildlife of different kinds. A Christmas safari offers an ultimate wildlife experience in the park. Go for a boat cruise to the bottom of the falls and along the shores you will see huge crocodiles and several bird species. Hippos in the water are countless. Early morning game drives offer you an opportunity to watch game including buffaloes, elephants, waterbucks, Jackson's hartebeest, Rothschild giraffe and lion. Leopards are present but occasionally sighted and it could be a lucky period to spot them since it is a special season. These activities can be done on a 3 Days Christmas safari in Murchison falls national park.
Serena Hotel
This 5 star hotel which offers luxurious accommodation and other facilities and amenities including restaurant is a wonderful choice for your Christmas. The hotel offers indoor and outdoor restaurant and bar services. Serena hotel is an ideal place for Christmas holiday for families, couples and solo. The hotel offers special packages for their services which include delicious meals prepared to satisfy your festive demand.
A visit to Serena hotel can be a 1 day visit or 2 Days Serena Christmas package for people that are already around Kampala.
Queen Elizabeth national park
Spend your Christmas holiday in Queen Elizabeth national park in western Uganda. You will enjoy a game drive to look out for game in the savannah plains, a bot cruise on Kazinga channel for more wildlife viewing. You will find the real Christmas spirit at your luxury safari lodge where you will enjoy ultimate Christmas packages of their services. the best luxury hotels for Christmas in Queen Elizabeth national park include Mweya safari lodge, Elephant Plains Lodge and Parkview safari lodge.
A 3 Day Queen Elizabeth Safari offers a wonderful wildlife experience of game driving in Kasenyi, boat cruise on Kazinga channel and luxurious stay at your lodge.
More of the fun-filled Uganda Christmas packages for you this season include;
5 Days Bwindi and Queen Elizabeth safari
5 Days Gorilla and Chimpanzee safari
8 Days Gorilla and Wildlife safari
We arrange Christmas safaris for travelers who wish to spend their holiday in national parks, hotels, beaches and other destinations like Jinja. Book yourself a safari that will offer you the ultimate experience this Christmas season by sending us an email on info@ugandasafaribookings.com or call us now on +256-700135510 to speak to our travel consultants.