Well known for her beautiful weather and landscape, Uganda is one of the finest places that harbor a wide range of primates. It has varying cool temperatures at different terrains which offer ultimate comfort for these lovely animals. The most sought out primates in Uganda are the endangered mountain gorillas found in the tropical forests in the southwestern region of the country. In East Africa, Uganda has the largest population of chimps with more than 1,450 chimpanzees in only Kibale national park. Other primates in Uganda include golden Monkeys, Black and white colobus monkeys, De Brazza's monkeys, L'Hoest Monkeys, Red Colobus Monkeys, Grey Cheeked mangabeys, Olive Baboons, Pottos and Bushbabies. Olive baboons are commonly seen along highways near parks and forests such as Kibale forest and in Queen Elizabeth national park.
If you are planning to doing some primate tracking in Uganda then you should consider adding the following tourist destinations to your itinerary
Bwindi impenetrable forest national park
This is the country's most popular primate destination. It is home to approximately half of the world's remaining population of mountain gorillas. As its name goes, the impenetrable forest is a beautiful lush forest on undulating terrain, a misty jungle that offers unforgettable hiking experiences to tourists in search of the giant gorillas. The destination is open for gorilla trekking all year round though the best time is during the dry season (from December-February and June-August).
Bwindi impenetrable forest national park is located in the far southwestern Uganda, about 430 kilometers from Kampala by road. It takes 8-10 hours to reach the park depending on the sector you are staying in for your gorilla safari. The park has four sectors where trekking takes place and they all give awesome experiences of gorilla trekking. They include Buhoma, Rushaga, Nkuringo and Ruhija. a gorilla permit to allow you track the apes in Bwindi costs US$ 700 for each foreign non resident and US$ 600 for a foreign resident.
Kibale national park
With approximately 1,500 chimps in Kibale national park, the tropical forest offers almost a guarantee to spot the lively apes carry on their daily activities, an experience not worth to miss in Uganda. This is the major chimpanzee tracking destination in Uganda and East Africa. In addition to chimpanzees which are the main tourist attraction, the 766 sq.km national park has more 12 primate species namely the black and white colobus monkeys, red-tailed monkeys, L'Hoest monkeys, blue monkeys, vervet monkeys, grey cheeked mangabeys, red colobus monkeys and olive baboons among others.
Kibale national park can be visited at any time of the year for primate tracking but the activity is at its best in the dry season. Chimp tracking starts at Kanyanchu Visitors Centre, led by a park ranger guide who leads you to a specific habituated gorilla family to see how these apes behave while in their natural habitat. If you are seeking more insightful experience with chimpanzees, you can opt to go for the Chimpanzee Habituation Experience where you get a chance to work closely with researchers as they habituate a chimpanzee community.
To track chimps in Kibale forest, you are required to have a permit which costs US$ 200 (foreign nonresident), US$ 150 (foreign resident) and UGX. 150,000 (East African citizen).
Mgahinga Gorilla national park
This is Uganda's smallest national park covering an area of 33.7 sq.km but also the most adventurous destination where tourists enjoy primate treks to look out for mountain gorillas and golden monkeys. Mgahinga gorilla national park has one habituated family of gorillas, meaning that 8 gorilla permits are issued daily for tourists who would like to track the primates here. It also has a habituated golden monkey family and a golden monkey trek allows you to experience how fascinating these lovely and playful primates are. Tracking in Mgahinga gives a great chance to explore the magical landscape around the park including the Virunga volcanoes.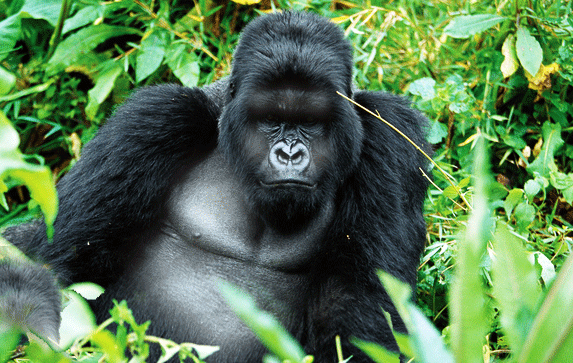 Of the three countries that have mountain gorillas; Uganda, Rwanda and the DR Congo, Uganda is the only destination where visitor has alternatives of where to trek the apes however much Bwindi is the most popular and recommended place.
Mgahinga Gorilla national park is located in the extreme southwestern corner of Uganda, bordering Rwanda and DRC. A gorilla permit to trek gorillas in this park costs US$ 700 (foreign nonresident) US$ 600 (foreign resident) and UGX 250,000 for an East African citizen.
Budongo Forest
The tropical rain forest is the largest natural forest in Uganda. It is part of the Murchison Falls Conservation Area in western to Northwest Uganda. Budongo forest protects about 800 chimpanzees plus other primates such as the red-tailed monkeys, blue monkeys, black and white colobus monkeys and olive baboons. Nocturnal primates in Budongo forest are the galago species and the pottos. Chimp tracking is the most popular activity here specifically to search for the habituated chimp community but also exposes visitors to other impressive wildlife in the forest such as butterflies, birds, monkeys and a few other mammals can be sighted.
Kalinzu Forest Reserve
Located in western Uganda close to Queen Elizabeth national park, Kalinzu forest reserve has about 300 chimpanzees and about 40 of them are habituated for tourism. The forest has over 400 tree species on an altitude between 1,000 and 1,500 meters above the level which is suitable for chimps and other primates including black and white colobus monkeys, vervet monkeys, L'Hoest monkeys and olive baboon.
During primate tracking in Kalinzu forest reserve, you have chances of spotting other residents of the place such as forest buffaloes, forest elephants, bush pigs and antelopes. This forest can be visited at any time of the year and there are also no fixed day times for trekking like other destinations such as Kibale.
Hearing the chimps hooting as you hike through the forest trails brings a lot of excitement as tourists led by a well-trained guide find guidance to the location of these primates.
The cost of a chimp trekking permit in Kalinzu is US$ 50. It is a very good budget chimp tracking destination.
Are you interested in primate tracking and still looking for the best destinations to carry out the activities? Uganda's best destinations for primate tracking listed above are a highlight for great satisfaction of your crave. Mumwe Global safaris is an expert tour operator in arranging gorilla safaris, chimpanzee safaris, golden monkey trips and other wildlife tours at affordable rates. Get in touch with us for customized tours by sending an email to info@ugandasafaribookings.com or call our travel consultants via +256-700135510/ +256 414-699459.