On a relatively small area of 241,037 sq.km, Uganda is a birders' paradise with an amazing checklist of about 1,073 bird species. This great bird list contains some of the most impressive birds in the world such as the elusive shoebill stock, Fox's weaver and the Rwenzori turaco among others. Uganda has a high concentration of birds per square kilometers and many different birds can be spotted anywhere even before arriving at the intended destination.
Nicknamed the Pearl of Africa by Winston Churchill, Uganda boasts an incredible diversity of habitats which harbor the massive bird list and are also suitable for migrants which visit during specific times of the year. There are over 30 areas in Uganda that have been developed for bird watching tours due to the awesome species found in these places.
Mumwe Global Safaris has been organizing birding safaris in Uganda for over 8 years and here are some of the top birding spots guaranteed to add on your bird list book.
Mabamba Bay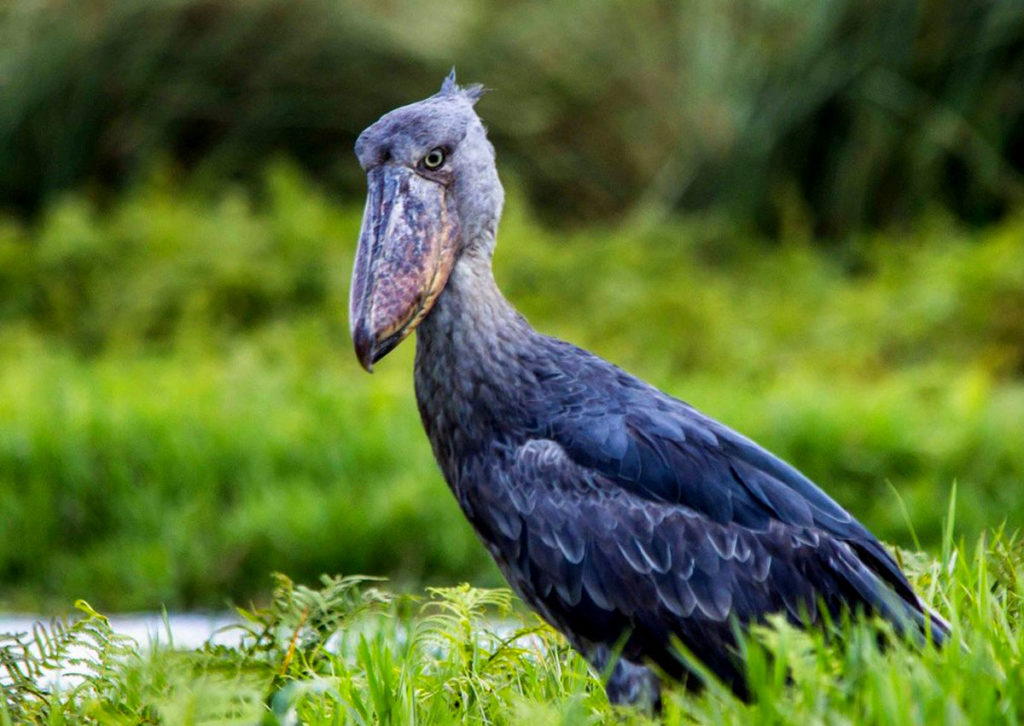 Located on the edge of Lake Victoria, northwest of Entebbe, Mabamba bay is an impressive bird watching destination ideal for birders seeking a short safari of one day from Kampala or Entebbe. When you arrive at the site, you get into a canoe with the site guide, which takes you around the swamp to areas where we expect to find the rare shoebill stork since this is the main attraction here. Other birds commonly seen at Mabamba bay include the papyrus gonolek, swamp fly catcher, African fish eagle, black kite, black headed heron, African jacana and many others.
Bigodi wetland sanctuary
Bigodi wetland sanctuary is situated near Kibale national park in western Uganda. The protection of the wetland and introduction of several activities in this place is a community-based approach. Bigodi is a birders' haven with about 200 bird species recorded. There are so many birds to look out for on the 5 hours nature walk in Bigodi. It is led by a site guide who can identify all the species around the swamp. You have chance to spot the great bleu turaco here. Other birds in Bigodi wetland sanctuary include the African pitta, black-capped apalis, purple breasted sunbird, blue breasted kingfisher, black gonolek, black and white fly catcher, brown crowned Tchagra, western nicator, the yellow billed barbet among others. You are likely to meet other animals such as monkeys, baboons and other mammals.
You can combine your visit of Bigodi swamp with the chimpanzee tracking safari for a more adventurous experience.
Queen Elizabeth national park
Covering a total area of 1978 sq.km, this nature reserve has the highest checklist of bird species in East Africa counting up to 612. It has a variety of landscapes including savannah, wetlands, forests and bushland which make ideal conditions for different bird species. A lot of birds are seen during game drives and others during the boat cruise along Kazinga channel. Birding tours are done in the morning to areas where most and specific birds are commonly seen such as Kyambura gorge, Katwe, Maramagambo forest, Kasenyi, Mweya and Lake Kikorongo. The birds of queen Elizabeth national park include black headed gonolek, black and white barked pelicans, African kingfishers, African mourning doves, grey capped warbler, African fish eagle, Hadada ibis, papyrus canary, Pin-tailed whydah and martial eagles among others. A birding safari of about 3-4 days gives a chance to spot most the birds in this park.
Bwindi impenetrable national park
Not only is Bwindi impenetrable forest home to the endangered mountain gorillas but also a great spot for bird watching. The evocative UNESCO World Heritage Site harbors 350 bird species including 23 Albertine rift endemics. 14 of these species are not recorded elsewhere in Uganda. Two days in Bwindi to go bird watching in its major birding sites such as Ivy river trail, Bwindi swamp trail, Kashasha river trail, Buhoma swamp trail and the Bamboo zone offer a good reward. Birds spotted in Bwindi impenetrable national park include Shelley's Crimsonwing, White-bellied Robin- chat, black-billed turaco, western bronze-naped pigeon, Handsome Francolin, Fraser's eagle and Chapin's flycatcher among others.
If you are interested in gorilla trekking, a 4-day Uganda gorilla safari including birding can get you to the most memorable part of your life.
Mabira Forest Reserve
This tropical rainforest in the East of Kampala city covers an area of about 300sq.km with a wide biodiversity including about 315 bird species. The forest has a 10km trail through which birders trek in search of different species. However much the forest is threatened, it still offers great experiences for birding with some of the species spotted such as reed cormorant, yellow-billed kite, hooded vulture, black headed heron, crowned eagle, black cuckoo and African palm swift among others. rare bird species in Mabira forest include the Illadopsises, Jameson's wattle eyes, Nahan's francolin and Tit Hylia.
Murchison falls national park
Bird watching in Murchison falls national park can be done at a variety of places including the boat cruise to the bottom of the falls, the boat cruise to the Albert delta, in the savannah area during the game drive and at Kaniyo Pabidi. The park has about 450 bird species including savannah species, forest species, riverine woodland species and swamp species. The Nile delta boat cruise offers a chance of spotting the elusive shoebill stork and many other birds. Also look out for the northern bishop, African quail finch, giant kingfishers, Abyssinian ground hornbill, yellow footed flycatcher and various sunbirds when birding in Murchison falls national park.
QUICK TIP – Best time for bird watching in Uganda
Since the most interest for birders are the resident birds, Uganda is good for birding all year round. However, it is important to put the factor of climate into consideration. From late May to September, there is less rain and this makes it the best time for birding because food is abundant for birds.
Planning for a birding safari in Uganda this season? then you should consider adding the above destinations to your itinerary. To inquire or book a trip some of the Uganda birding destinations above, get in touch with us through info@ugandasafaribookings.com or call us now on +256-700135510/ +256 414-699459.