A highlight activity of any Uganda safari adventure in the country's various national parks and game reserves is wildlife or game viewing. Travelers want to watch the different species of animals in their natural habitat as they tap an opportunity to see how the predators hunt and so they go for game drives which is the best way to satisfy this travel thirst. Game drives in Uganda are done in the conserved savannah plains of Murchison falls national park, Queen Elizabeth national park, Lake Mburo national park, Semuliki national park, Kidepo national park and Pian Upe game reserve.

During game drives in Uganda, tourists encounter groups of buffaloes, elephants, Uganda kobs, waterbucks, Jackson's hartebeests, giraffes, hippos and warthogs among others. Lions are not a common sighting but on a lucky day, the drive can offer a relaxed pride of these predators that you could watch for hours. Leopards and hyenas are present and can be sighted while the cheetah is only seen in Kidepo Valley national park.

The best time for game drives in Uganda is early morning and in the evening. If you want a more insightful and easy game drive, it is advisable to choose to go for a guided game drive with an experienced safari guide from your tour operator. Still though, self drive tours are possible and adventurous.
In this article, we bring you a guide that will help you enjoy your game drive while on a Uganda safari adventure.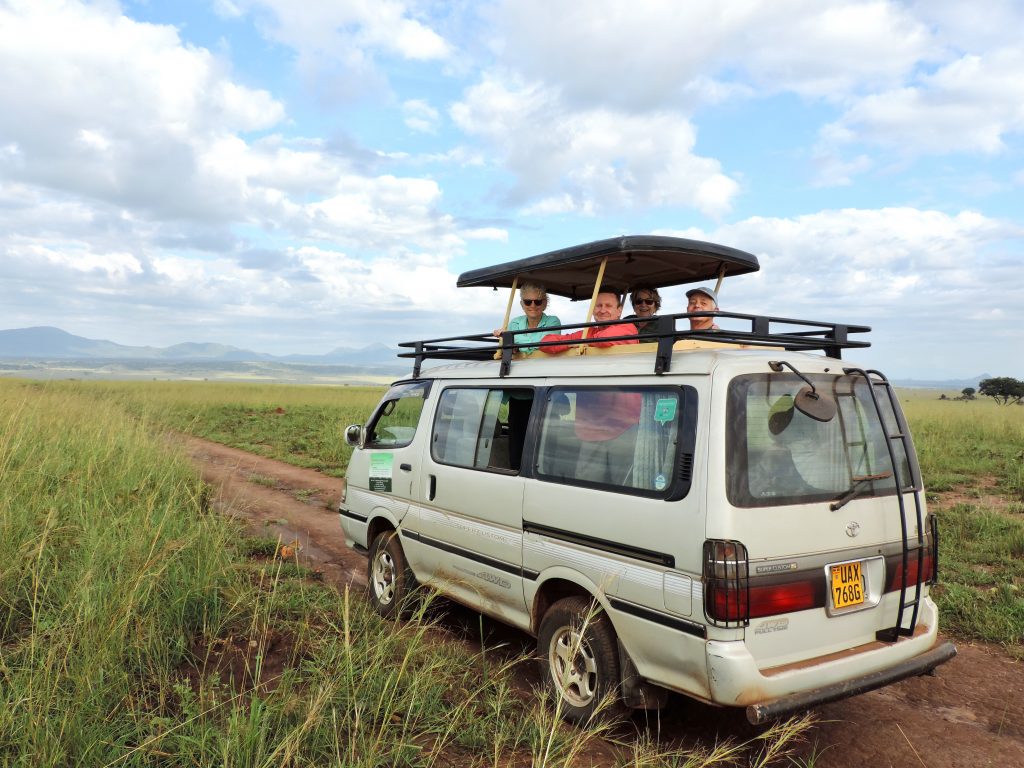 Hire the right safari car
There are many kinds of vehicles that can be used for safari but choosing an appropriate car for a game drive will help you have an awesome experience. Hiring a 4X4 safari safari car in Uganda enables you to easily go through the off-tracks getting you closer to the wildlife. Choosing one that features a pop-up roof gives you flexibility to raise up through the roof and enjoy proper and clearer views of the wildlife and the surrounding.

Choose the best time for the game drive
Travelers can choose to go for game drive any time of the day. However, there are specific times that offer the best game viewing experiences; morning and evening as temperatures are favorable for animals to roam as they feed. The morning game drive in Uganda starts as early as 6am while the evening game drive starts at around 4pm.
The morning game drive is witnessed to be the best because it gives a chance to see how the animals start their day. In addition, most predators are still active or sometimes still hunting.
Night game drives are conducted to look out for nocturnal animals.

Hire an experienced safari driver-guide
Going for a game drive with a safari driver who is familiar with the destination makes your drive smooth and more insightful as they can easily take you through the tricky-to-differentiate tracks of the parks. They also know where to go for most chances of spotting rare species like leopards, lions and cheetahs and where to stop for scenery viewing as they share facts about the locations.
Keep safe from animals while on the game drive
Once you arrive in the wildlife-protected areas, follow all the instructions of the park and guidance from your safari guide. They have expertise in their profession and therefore know the do's and don'ts to keep you safe during the activity. As you drive in the wilderness, never step out of the car unless you have been told to do so at specific locations. Wild animals are wild and are expected to appear at any place around the park.

Wear the right clothes
Morning game drives start when it is still cold and it may require you to wear warm clothing and carry a sweater. Meanwhile, light clothes may be suitable for the evening game drive since it starts when the temperature is warm, however, it is advisable to carry a sweater because it ends at around 7:30pm when you get back to your lodge. Since you may not have to leave the car, it is advisable to wear comfortable shoes let it be open shoes or sandals.

Be patient as you search for the animals
Going for a game drive in Uganda means going to search for wild animals in a protected area where they freely move. Therefore, as you look out for them, simply be patient, you may drive slowly at some points and accept what the wilderness offers you that day. However, there are normally commonly seen animals such as the various types of antelopes, buffaloes, elephants, warthogs and hippos.

Carry the right equipment
Things to carry for your game drive include binoculars for viewing animals that may be spotted at a distance, a camera to store your sightings, hats and sunglasses to protect you from the hot sun in case you get to points where you will move out of the car.

Take as many photos as you can
Make sure to have your camera battery fully charged so that you will take many photos of the wildlife and the beautiful scenery of the destinations. Also take a number of photos of yourself at safe sites such as the equator in Queen Elizabeth national park.

Planning to visit Uganda this season and want to have an incredibly remarkable game-viewing experience? Ensure to arrange for your safari through a trusted and expert tour operator. To book for a safari in Uganda, simply send an email to info@ugandasafaribookings.com or call us on +256-700135510 to speak with the reservations team.
Gloria Kabugho