What is the cost of a Uganda Safari is one of the frequently asked questions asked by many travelers planning to a take trip in Uganda, with no doubts, this is a sensitive question that need realistic answers to assist a tourist perfectly plan an awesome safari here in the Pearl of Africa. Knowing the cost of a Uganda Safari helps travelers to save enough money for other items or activities.
It is paramount to note that Uganda is one of the safe and most affordable African safari destinations with a cheap lost of living compared to other African destinations, however, there is no fixed amount for a Uganda safari but there are many tour operators that offer different prices for a given safari package. The tailored made safari packages are affordable favoring all types of travelers, on this note, regardless of whether you are traveling budget, mid range or luxury, for every destination explored, there is something unique and thrilling to enhance long lasting memories.
The cost of a uganda safari depends on various factors like the travel insurance option, choice of travel tickets, the number of days you are planning stay, the type of accommodation among other factors. Here below we are more than glad to present you important variable you need to put in mind when costing a Uganda safari this season;
Type of accommodation and its price
All safari destinations in Uganda host different types of accommodation and this ranges from Budget, luxury and mid range offers, the price of a budget lodge/ camp ranges from US $100, Mid range $180 or $200 whilst luxury ranges from $300 and above. The cost of accommodation will depend on how many nights you to stay at the lodge or camp and it is paramount to note that price of accommodation takes a lion's share when costing any Uganda, therefore try to clear be sure of the exact price of your chosen lodge for any safari destination.
Transportation cost
After you have booked your accommodation, the other significant variable is to consider how to get there, on this note you need a private car to take you there, feel free to get in touch with a safari operator to hire a 4×4 safari vehicle at an affordable price with a driver but without fuel. The price of the vehicle depends on the rental agency and the type of vehicle you plan to experience on your road trip adventure. Safari vehicles like a safari van or land cruise ranges from $80 to $150, this is an important thing to consider when costing a Uganda safari.
Activities in the Itinerary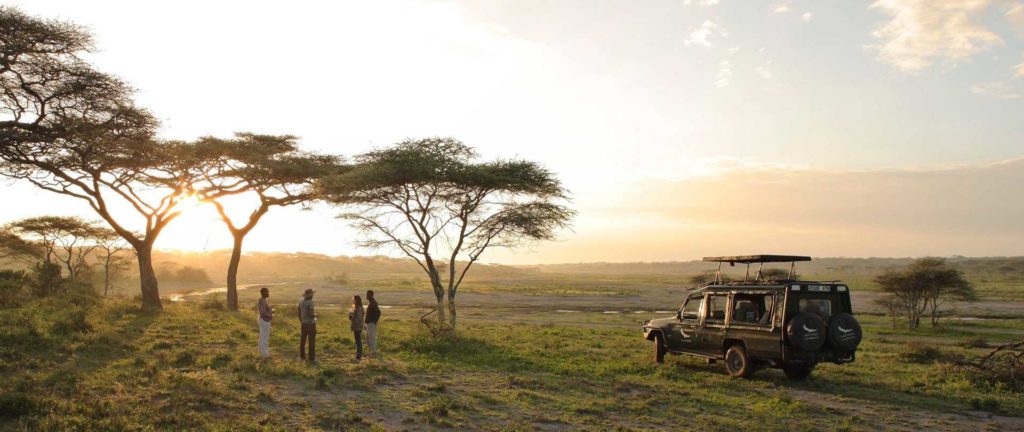 Uganda is a fascinating destination home to an endless list of extremely breath taking tourism activities that can never be explored in just one day, but to access every activity, you are required to pay a given fee so as you are permitted to take part. Each tour destination features its own activities with different charges, for resistance, gorilla trekking in Bwindi Forest national park costs $700 per person per single trek, chimpanzee trekking in Kibale Forest National park costs $200 per person, park entry fees to Mount Elgon park is $35 whilst the park entry and game drive in Queen Elizabeth, Murchison falls, lake Mburo and kidepo valley national park is $40 dollars per person per day and many other activities.
The Number of people wishing to take a safari
The Uganda safari is cheaper when you choose to travel in group because here you get a chance to save on both accommodation, tourism activities and transportation since you will share the cost. The price cost of the a Uganda safari reduces with increase in the number of people and it tends to be expensive when you are solo or two people planning to travel.
Length of the Uganda Safari
The more days you spend on a safari, the more you spend a lot on accommodation transportation plus other other activities. Thus if you want to take a short road trip in Uganda then expect to spend less money than when you take a long trip.
The markup of a Tour Operator
The markup fees is the operation cost including the unique services given by the tour operator, remember when you choose to book a Uganda Safari with travel agent, it helps to reserve accommodation, arrange accommodation, purchase permits, pays for the safari activities in time among other assistance. The mark up is the commission earned by the tour operator and you need to include it when costing a Uganda safari. 
En route Meals
In Uganda, the fact is that most safari sites are situated in far away from Kampala's capital city, there before you arrival there the a meal will get you along the way either in middle of the road trip. On this note, as you cost any Uganda safari, you need to plan for the en-route meals especially when transferring from a given safari destination to another.
Tipping and Souvenirs
Tipping is a discipline and sigh of appreciation to any services offered during your trip, however, most tour operators don't include tips when costing a Uganda Safari because it is optional to tip the service providers. At the same time, at the end of the trip, tourists love to purchase souvenir gifts that will remind them about a tour in Uganda.
In conclusion, we are humbled to inform you that there is no fixed amount for any Uganda Safari, but when you choose to book your safari with a trustworthy travel agency, you grab chance to get a perfect Uganda Safari at the most affordable rate. For more information about the price of a Uganda Safari, feel free to get in touch with our travel experts by sending an email on info@mumwesafarisuganda.com or call us on  +256-700135510 / +256 414-699459