Strategically situated on the northern bank of the Victoria Nile, Chobe safari lodge is the ultimate place for you to stay for a real wild treat in Murchison falls national park. It is a 5-star safari lodge offering world class accommodation for travelers seeking to escape from the hustle and bastle of urban centres.
Chobe Safari Lodge is under the management of Marasa Africa which manages a number of other safari lodges in the region. The lodge features more than 40 guest rooms including 21 luxury tents, a presidential cottage, 4 suites and a family house. The rooms are furnished with African crafted furniture which gives guests a real African feeling at the destination.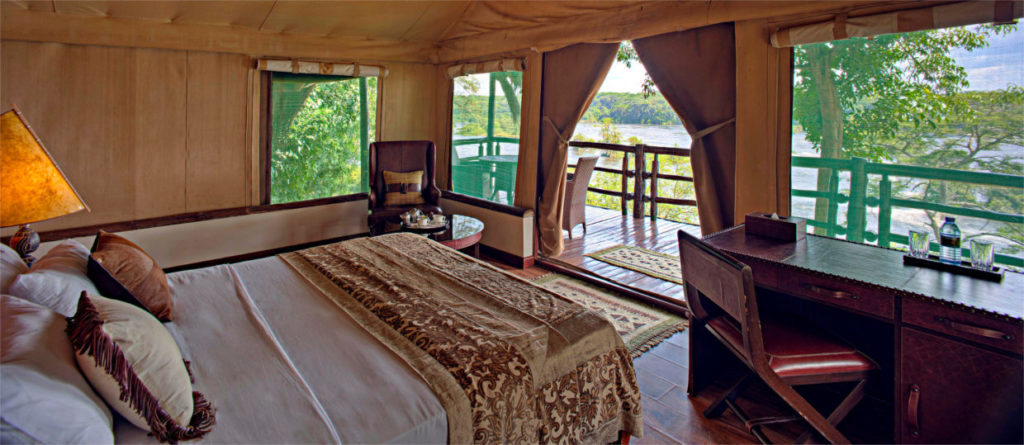 Chill at the balcony and enjoy the vast views of the beautiful Murchison falls national park including the panoramic views of the River Nile. It is also easy to spot some wildlife along the shores of the river.
Chobe safari lodge is a hidden gem of luxury that boasts 10 gyms perfectly set to offer lovely views of the park and space for conference and meetings. More facilities and services at the lodge include the swimming pool, a well-spaced restaurant overlooking the Nile and fully stocked bar with a variety of alcoholic and non-alcoholic drinks. Karuma bar is a peaceful spot to chill after a long day and meditate on the day's experience in the park.

The restaurant has experienced chefs good at preparing both the local meals and international specialties. Activities you can do during your stay at the lodge include game drives, boat cruise, nature walk, bird watching and a bush breakfast.
To book a room at the Chobe safari lodge or inquire about prices, simply get in touch with us by sending an email to info@ugandasafaribookings.com or call us now on +256-700135510 to speak with our team.