Have double fun and adventure with a combined trip of Uganda and Rwanda, offering you the best of what nature has. Uganda features great wildlife trips, safari destinations as well as interesting primate tracking tours in Rwanda, flavored with a Diana Fossey trail and interesting cultural encounters.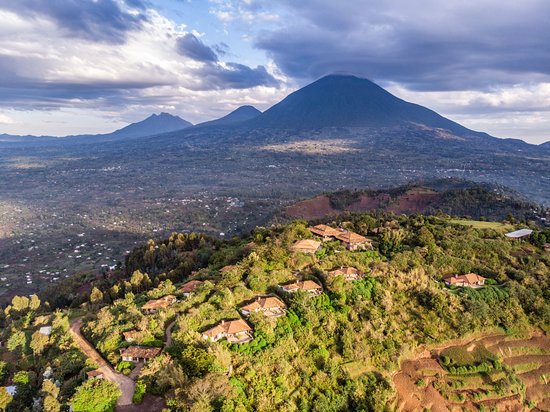 Day 1: Arrival
Today we wait on you at the airport; you will find our company representative waiting on you with a placard indicating on your name. After meet and pick up, transfer to your hotel for rest of the afternoon and evening. If you have enough time for your afternoon, doing a city tour is a great idea.
Accommodation: Serena Hotel, Hotel Triangle, Athina Guest House
Day 2: Transfer to Murchison Falls National Park
Murchison Falls National Park stands out as the largest National park in Uganda and the best highlight for wildlife viewing as well among others. Today set out of Kampala to the Northwestern region of Uganda. Today you are not only driving but also having so much on the road; make a stop for lunch meal in Masindi town or at the Zziwa Rhino sanctuary. Trek the rhinos and proceed to the park for the rest of the evening.
Accommodation: Chobe Safari Lodge, Sambiya River Lodge, Budongo Eco lodge
Day 3: Morning game drive & Boat cruise
A warm breakfast opens this day's activities. Join your guide for a thrilling game viewing adventure through the park tracks to search for the natives of this land. Have an opportunity to view giraffes, elephants, buffaloes, jackals, warthogs, waterbucks and a lot more.
Have the best of your afternoon with a lunch cruise along the white Nile to the bottom of the falls, the cruise rewards you with interesting views of the birds of the park and more animals lingering at the river banks.
Accommodation: Chobe Safari Lodge, Sambiya River Lodge, Budongo Eco lodge
Day 4: Transfer to Kibale forest National Park
Today you drive to Kibale forest National park located in fort portal district, before signing out Murchison Falls National Park, make a stop at the top of the falls and then precede. Enjoy your drive and be free to ask your guide anything, whether you need a stop or a meal
Accommodation: Ndali Lodge, Primates cottages, kibale forest Camp
Day 5: Chimpanzee trekking & Transfer to Queen Elizabeth National Park
Have a health breakfast and get ready to encounter these shy primates. Follow your guide to the briefing center where you will meet other people ready for the same activity. Trekking the chimps is quite easier and they can be seen easily. You will have an approximate of 1hr in the forest with the chimps. Since you got packed lunch, you have no need to drive back to the lodge, have your lunch and drive off to Queen Elizabeth National park.
Accommodation: Mweya Safari Lodge, Enganzi safari lodge, Marafik safari lodge
Day 6: Game viewing and boat cruise
Queen Elizabeth National Park is the proud medley of wonders in Uganda. You have a chance to meet a number of wonders while at this park and the first wonder is its vast open savannah grasslands, so huge. An early morning game is best for those that came in to see animals, here you catch the hyenas, lions, leopard returning to their dens to rest and then the elephants, buffaloes, bushbucks, sitatungas, kobs are eagerly looking for breakfast and the most beautiful birds of Africa singing in the trees celebrating a new day also.
An afternoon boat cruise heading to the Kazinga channel is also another thrilling highlight. All you have to do, grab your camera ready, sit and relax , enjoy what this Uganda safari has for you. After all this adventure, have an evening at leisure with dinner and overnight
Accommodation: Mweya Safari Lodge, Enganzi safari lodge, Marafik safari lodge
Day 7: Transfer To Bwindi forest National Park
The Ishasha sector is the best route for many to take while heading to Bwindi, this is the best spot to see the tree climbing lions of Ishasha, catch them lying lazily in the tree branches. Your guide knows the best spot to have a picture taken. Enjoy your drive through beautiful rift valley with rolling hills and great cattle farms.
Accommodation: Gorilla Resort, Nkuringo gorilla camp, Backpackers Bwindi
Day 8: Gorilla trekking
Make it to the park headquarters by 7; 30am for a briefing about the tracking conduct. If you came with your children, you can leave them at the lodge they will be in caring hands. Have your packed lunch and drinking water ready. Well the activity is quite tough especially in wet season since the trails are slippery and muddy. After finding the gorillas, you will have an hour around the forest watching them and also grab some lunch as well. Try to follow all the rules and conduct from the rangers.
In the late afternoon take a community visit and check out the Batwa pygmies. They share part of the forest with the gorillas. These people are so welcoming, enjoy their music and dance, it is worth an afternoon at Bwindi.
Accommodation: Gorilla Resort, Nkuringo gorilla camp, Backpackers Bwindi
Day 9: Transfer to Rwanda
I hope you had a great time while in Uganda; there was so much to see but less time, either way the trip continues with more adventure in Rwanda today. Have breakfast and get ready to drive off to Ruhengeri. Point to note, check if you have all your documents with you do not leave anything behind others you will find had time crossing the border. Ruhengeri is such a calm and interesting area in Rwanda and temperatures here very low, so it is quite cold.
Accommodation: Mountain Gorilla View Lodge, Kinigi Guest house
Day 10: Gorilla trekking in Rwanda
Have a different taste of trekking the gorillas of Rwanda and compare to what you had in Uganda. If you still got the strength, both of these tracking adventures are so interesting. One of the biggest differences here is that the impenetrable forest of Bwindi makes the adventure thrilling and the open forests of Volcanoes National park ease the process. try it out, it is worth every money spent in Africa after all.
Accommodation: Mountain Gorilla View Lodge, Kinigi Guest house
Day 11: Transfer to Lake Kivu
Today after breakfast, you can choose to do a Dianna Fossey trail if your muscles can hold anymore hikes and walking. If you think you r body is starting to give up, then drive off to Lake Kivu, Gisenyi area. This is the best place to relax at the sand beaches. Retrieve your energy and body back, just have a whole day at leisure. This is an awesome spot.
Accommodation: Serena hotel, Kivu sun hotel
Day 12: Whole Day at Lake Kivu
Wake up to a leisurely breakfast, this time round do not hassle to rise so early. Have a well set break menu and get ready explore what this amazing place has for you. There are a number of excursions done here ranging from boat trips, water sports , playing beach soccer, volley ball, enjoying a cool fresh juice and if you have children they will like making sand castles as well.
Accommodation: Serena hotel, Kivu sun hotel
Day 13: Transfer to Kigali
Kigali is the capital and main commercial city of Rwanda. This is one of the smallest capital cities in Africa but truly very beautiful. Set off early morning and get to the city in time for lunch and afternoon city tour. The tour rewards you visit to the genocide site, national museum, the great university of Rwanda, craft market and captivating spots of the city
Accommodation: Serena hotel, Kivu sun hotel
Day 14: Reserved for Departure
Thank you so much for travelling with us, I hope you had a great time on your trip and a lot of adventure. Depending on your flight time, your guide/driver will be ready to transfer you to the airport for your flight to the next destination
END OF UGANDA RWANDA SAFARI
To book or inquire about the combined Uganda & Rwanda safari adventure, simply send us an email to info@ugandasafaribookings.com or call us on +256-700135510 to speak with the reservations team.