Bwindi impenetrable forest National Park is one of the most intriguing safari destinations in Uganda- famous home to the charming endangered Mountain Gorilla species. The Park hosts almost half of the remaining mountain gorilla population in world about 500 individuals and about 19 habituated gorilla families are ready for gorilla tourism. It is paramount to note that the misty Bwindi forest is among the top-visited gorilla safari parks in Africa and can be visited all year round with th best time being the dry season months.
Here below we provide you with reliable information on how to get to Bwindi Impenetrable Forest National Park by air and over land.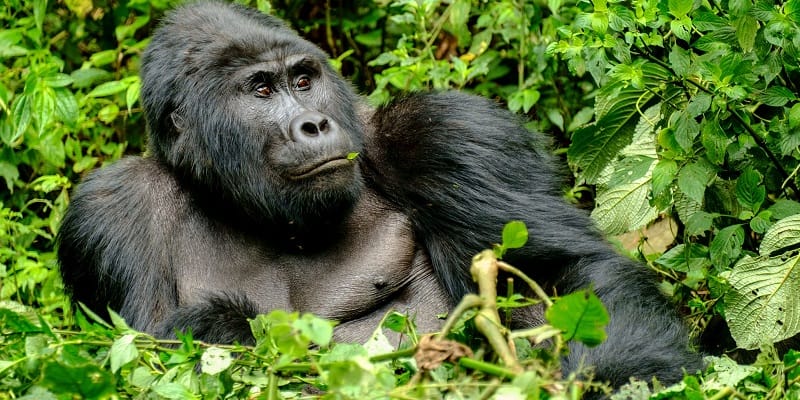 From Entebbe international Airport or Kigali Airport
Getting to Bwindi forest for a vacation experience begins by a traveler landing at the awesome Entebbe International Airport in Uganda or Kigali International Airport in Rwanda and upon arrival, get a transfer by either road or Air to Bwindi Impenetrable Forest National Park.
It is important to note that most of the gorilla trekking safaris in Uganda begin and end either in Entebbe or Kampala city. Although you can get to Bwindi Forest from Queen Elizabeth national park via Ishasha sector – home to the tree-climbing lions, this takes you about 4-5 hours to drive by road and you enter the park through Buhoma entrance gate.
And from Kampala or Entebbe to Bwindi forest park via Mbarara town, by road, it takes you about 9-10 hours drive with a 4×4 safari vehicle,  about one hour and 30 minutes if you opt to use flight services from the airport. Whilst if you are coming from Kigali, it is about 30 minutes flight and you will be landing in either Kihihi or Kisoro airstrip.
We argue all travelers to think about hiring a 4×4 safari vehicle due to unexpected rains and mud along the routes leading to the park, since it is covered with tropical rainforests that receive rainfall throughout the year regardless of whether its is a rainy or dry season. The 4×4 safari car has the ability to manage all road conditions regardless of weather changes.
In case you are interested in using public means of transport, you can book a local bus from Kampala taking you to the southern part of Bwindi forest through Mbarara, Kabale then Kisoro or take a route From Kampala to the northern section of the park, you drive through Mbarara, Ntungamo, Rukungiri, kihihi and finally through Butogota. Be conscious about theft in these local buses so always keep all bags close to you and eye on them all the time.
For travelers that have issues of siting in the safari car for long distance, you can opt for a flight to the park and which will take you about 1 hour and 30 minutes, landing in either kihihi or Kisoro airstrip, you will get the flight from kajjansi airfield close to Kampala. Upon landing, join a road transfer to your booked lodge in the park.
Travelers that get a chance to travel by road, grab the chance to sight the eye catching landscapes as you explore the country side, catch glimpse of greenery vegetation plus the mesmerizing scenic beauty.
With the above enthralling information about how to get Bwindi forest national park, free feel to contact Mumwe Global Safaris for more information, simply get in touch with our travel experts by sending us an inquiry on info@ugandasafaribookings.com or call our reservations team on +256-700135510/ +256-414699459.