For most travelers to Rwanda and Uganda, gorilla trekking is the highlight of their safari. Visiting the ancient forests to see the endangered mountain gorillas does not only have that big expense but also requires planning and preparation to get the best of your trip. In this article, we bring you the most important tips that you need to know if you are considering visiting Uganda or Rwanda for gorilla trekking safari adventure.
Obtain a gorilla permit before arriving at the destination
First thing on the list that you must plan to have when going for gorilla trekking is the gorilla permit. This is the document that allows you to access the forest with the ranger to look out for the gentle giants in Bwindi Impenetrable national park and Mgahinga Gorilla national park in Uganda and Volcanoes national park in Rwanda.
Gorilla permit in Uganda costs US$ 700
Gorilla permit in Rwanda costs US$ 1500
Be ready for any weather
The weather around the gorilla habitats is fond of changing anytime because of the effect of these thick forests alongside the altitude. On the same day, the weather can vary from hot and humid to being slightly chilly or rainy. It is advisable that you wear clothes that can be adjusted and give you comfort with the ongoing weather.
Have it in mind that it can rain anytime regardless of the season, therefore move with a waterproof jacket. Also pack a pair of strong hiking shoes since trekking takes place through varying hilly terrain.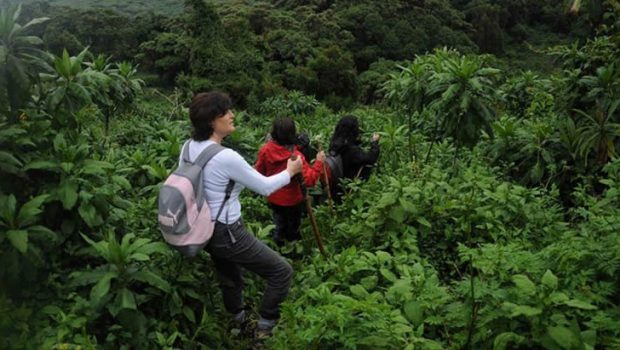 Have a basic level of fitness for the trek
The gorilla national parks in Rwanda and Uganda are situated on the lower slopes of the Virunga volcanoes. Meaning g that they are on a high altitude which makes trekking abit strenuous. Before heading for your safari make sure you know your level of fitness. If you don't have any experience in hiking, try to hit some trails or take short hikes around your home area. Alternatively, visit the gym. There is no specific duration of the trek as it can take an hour, two or more before spotting the gorillas as you hike through the varying terrain.
Carry food and water
Remember to pack some energy-giving snacks when leaving for Bwindi, Mgahinga or Volcanoes. However some tour operators prefer that you carry packed food for lunch to the forest when trekking because we do not know how long the trek will last, you still need to move with some energy-giving snacks to provide energy for the hike. In addition, water is a must-take.
The dry season is the best travel time for gorilla trekking
Although mountain gorillas in Rwanda and Uganda can be tracked any time of the year, the dry season is normally the best for trekking. There are two dry seasons; the short dry season running from December to February and the long dry season running from June to September. These are the driest months when there is very little or no rainfall and therefore the trails are dry making hiking easier.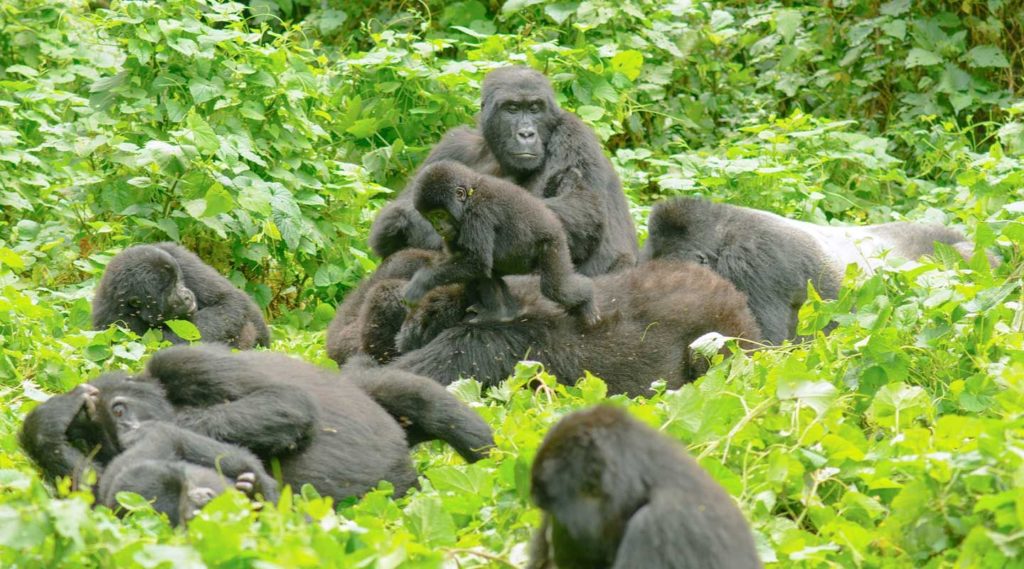 Respect for the gorillas
There are a number of rules for gorilla trekking to ensure that gorilla tourism is sustainable. Some of the rules you must keep when you come across the giants is to respect their space. Trekkers are highly advised to give them the space they deserve for a number of reasons including that they are prone to human respiratory infections and although they are habituated, they are still wild and can hurt. Follow the advice from the ranger guide when the gorillas become aggressive.
Keep your camera safe from water
As earlier said that the weather is unpredictable around the gorilla destinations, it could rain while you are already in the forest. You are advised to waterproof your camera or have a waterproof rain cover for your backpack to keep other equipment such as the phone safe from water.
Be reminded that you are not allowed to use flash photography while trekking, simply turn off your flash setting while at the gorilla destinations.
Mountain gorillas only survive in their natural habitats and those are the only places you can find them. Trekking these powerful primates and finally encountering them is simply described as a life-changing experience because it is indeed adventurous, enjoyable and so exciting. For more advice about gorilla trekking safari in Uganda or Rwanda , contact us through info@ugandasafaribookings.com or call our expert travel consultants on +256-700135510 / +256 414-699459.