Safari is a borrowed Swahili word meaning "long journey and spending the night at a safari lodge offers travelers the chance to get close to the amazing wildlife & nature while sleeping in African-made eco-friendly fully furnished rooms, grass-thatched cottages & luxury tented camps. There are hundreds of safari lodges in Uganda each offering unique accommodation & services and facilities but with some good research from our savvy travelers and past clients, we were able to rank the top 10 best Uganda safari lodges guaranteed to give you safe & comfortable stay in the wilds of Uganda. The ranking has been based on quality & number of services, closeness to attraction as well facilities..
1- Chobe Safari Lodge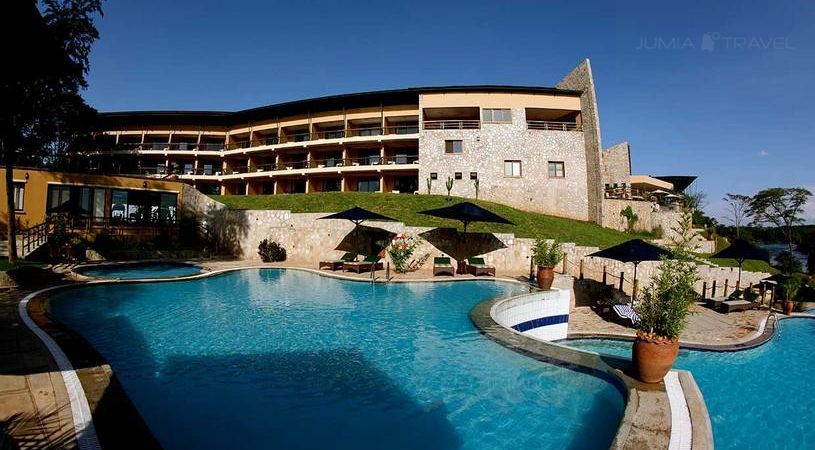 This a fabulous luxury safari lodge situated in the northern section of Murchison falls national park – one of the most visited tourist destinations harboring the mighty Murchison Waterfalls, stunning unique Mammals over 76 species including the African big five animals, Rothschild giraffes plus about 451 colorful bird species. Chobe safari lodge provides you with an opportunity to sample the fascinating wildlife, flora and fauna, eye-catching landscapes and sceneries of the park among other natural wonders.  Chobe Lodge is the ideal place to enjoy rewarding sport fishing adventures, guests staying at the lodge are give a chance to enjoy activities like game drives, sport fishing, boat cruise to the bottom of the falls guided nature walks to the top of Murchison falls where catch glimpse of the Victoria Nile forcing its way through a narrow gorge to form the beautiful waters.  The Lodge can organize a bush breakfast on request thus giving you more chances feel and touch real nature.
2- Mweya Safari Lodge

This is another elegant luxury lodge located in Mweya peninsula region of Queen Elizabeth national park in the southern section; it is adjacent to magical Mountains of the moon (Rwenzori Mountains), it is surrounded by the meandering Kazinga channel connecting lake gorge and Edward and the Great Rift Valley in the East. A stay at Mweya safari lodge offers you an opportunity to experience a luxurious boat cruise on Kazinga channel, game drive that takes you close to the population of different stunning wildlife and birdlife in the park and enjoy trekking the chimpanzees in Kyambura Gorge. All accommodation rooms at Mweya safari lodge offer spectacular scenic views of the beautiful Kazinga channel, they have ensuite facilities and a private balcony where you can sit, relax and enjoy the mesmerizing beauty of the park. A room at Mweya safari lodge ranges from $203 per night and above.
3- Kyaninga Lodge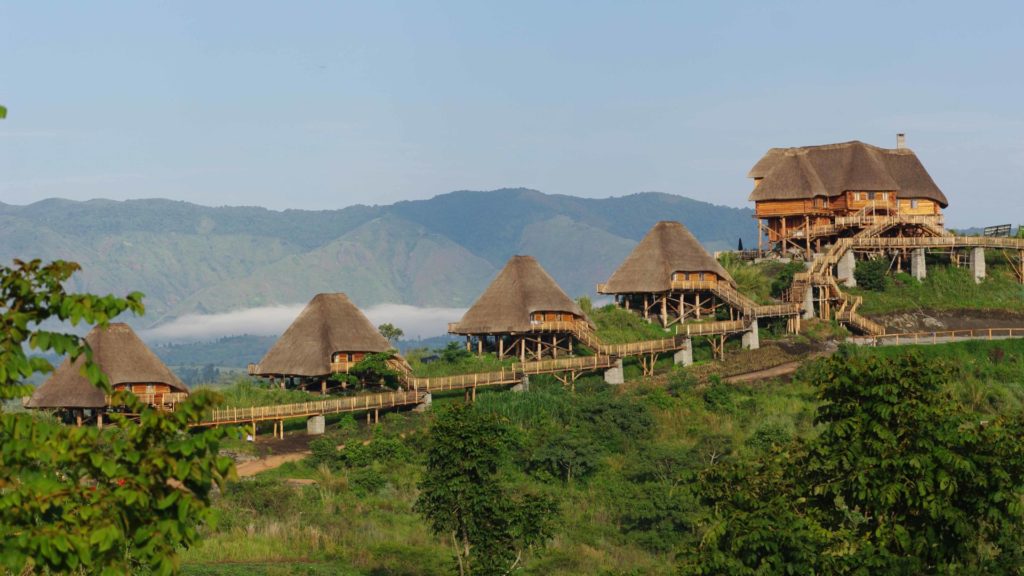 This unique eye-cathing Uganda safari lodge is situated in Fort portal town close to Lake Kyaninga and the mountains of the moon, it was constructed using natural local materials thus expect to encounter hand carved logs, a serene onsite restaurant serving delicious meals plus a well-organized stocked bar. The lodge is strategically located on the foot hill of Mountain Rwenzori and on the edges of the volcanic crater lakes, this is the point where Great Rift Valley connects to the mighty Congo basin. A stay at this lodge allows you the chance to enjoy activities like gorilla trekking in the Bwindi forest, experiencing Queen Elizabeth national park, enjoy trekking the Rwenzori mountains as well as delighting in chimpanzee trekking adventure.
4- Apoka Safari Lodge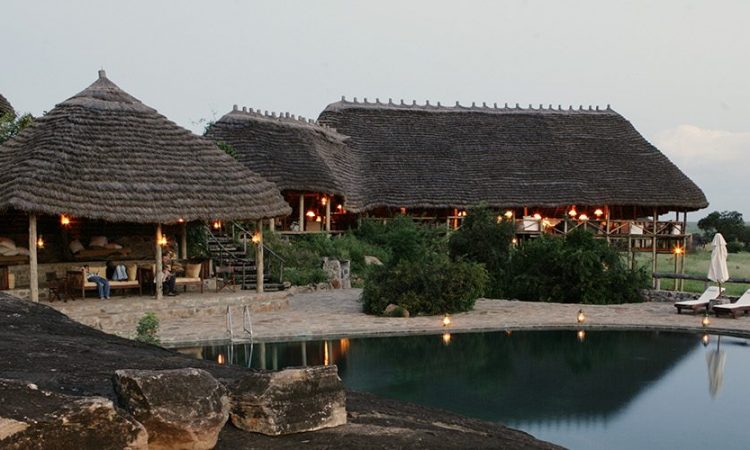 Apoka is a good accommodation facility found in the magical Kidepo valley national park in Kaabong district, the park is situated in the very remote areas of Uganda far away from Kampala capital city. It was established using local materials, it provides large spacious and comfortable accommodations about 10 of them equipped with inbuilt bathrooms, flashing toilets, basic free toiletries, Extra-large plush towels, soft duvets, hand-woven carpets, woolen carpets among others. Kidepo valley National Park a beautiful jungle blessed with unique impressive number of wildlife like many lions, leopards, elephants, giraffes, buffaloes, waterbucks, warthogs, and hartebeests among others. A stay at Apoka safari lodge gives you more chances to get close to this majestic wildlife in open rooftop land cruiser. A room at Apoka safari lodge ranges from $399 per night and above.
5- Sanctuary Gorilla forest camp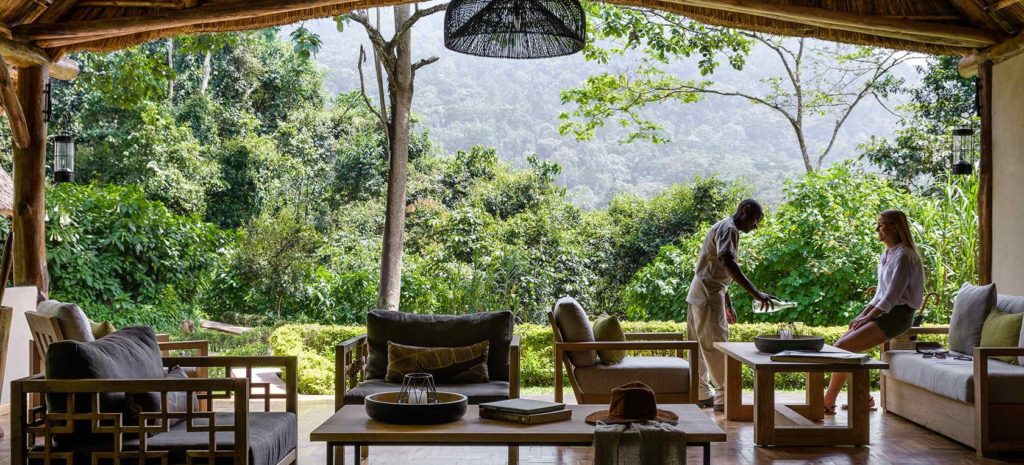 The safari lodge is situated in Kanungu district close to the mist Bwindi Impenetrable forest; it is a luxury safari camp offering elegant and spacious accommodation hence recommended a perfect place to enhance a comfortable stay when on a gorilla trekking tour in Bwindi forest The camp features private luxury tents that are well vanished to blend with the natural surrounding such as hilly landscape, while here enjoy gorilla trekking in Bwindi forest, experience the Batwa Culture plus other activities. A room at Sanctuary gorilla forest camp ranges from $247 and above.
6- BirdNest Bunyonyi resort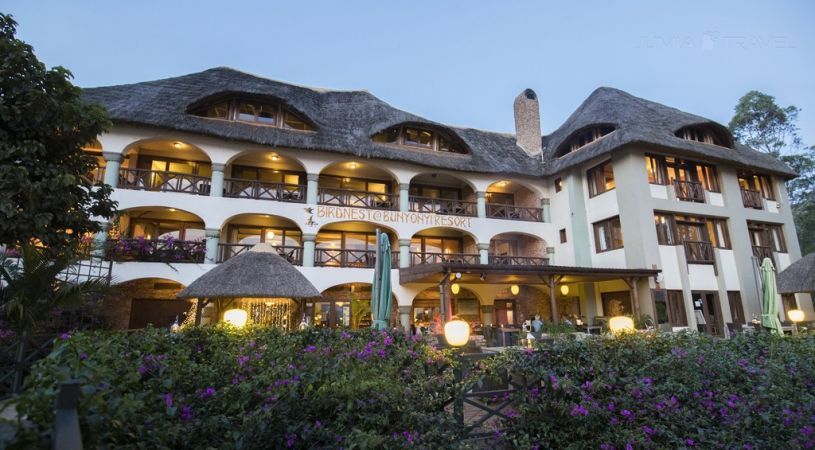 This is one of the most beautiful safari lodges in Uganda strategically facing the infamous Lake Bunyonyi islands.. The lodge is overlooking spectacular scenic views of Lake Bunyonyi, it provides about 7 cottage rooms established in ecological settings. Guest staying at this lodge enjoy activities like birding, cultural encounter, canoe boat trip to explore the exciting islands on the lake giving you chance to meet and greet with the local people. A room at Bird Nest Bunyonyi ranges from $399 per night and above.
7- Mihingo lodge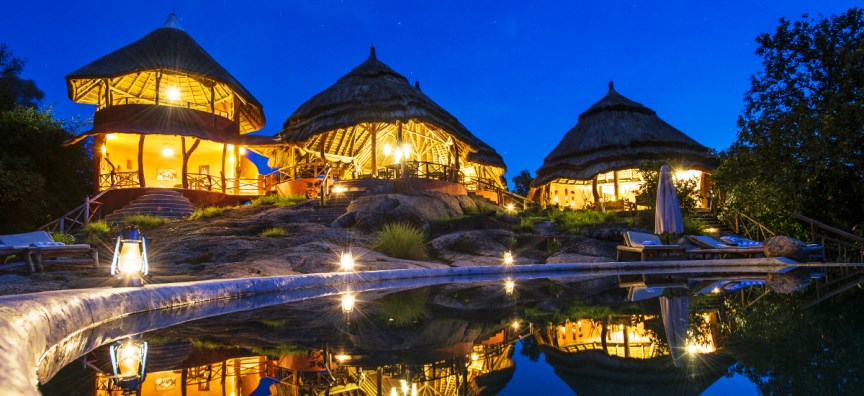 Mihingo lodge is a luxury accommodation situated in the heart of Lake Mburo national park- the smallest savannah park blessed with unique wildlife species like the burchell's zebras, impalas, Elands, Rothschild giraffes among others. Mihingo lodge offers eco-friendly accommodation, an ideal place for relaxation and adventure experiences in the park. It is famous for its unique horseback riding experience which offers adventure seekers a chance to get up close with nature and the wild riding through the savannah plains of Lake Mburo park . Other activities you can enjoy while staying here include game drives, boat cruise on Lake Mburo, night game drives to spot the nocturnal like leopards, guided nature walks, and cultural experiences among others. 
8- Katara Lodge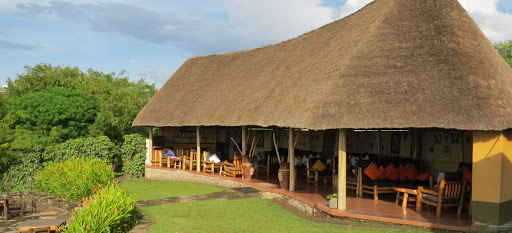 Katara lodge is situated adjacent to the famous Great Rift Valley escarpment surrounded by enchanting beauties of lake Edward, Mountain Rwenzori ranges plus the Virunga ranges. It found about 16 kilometers from Katunguru gate entrance to Queen Elizabeth national park- a premier destination of thrilling biodiversities in the world. Katara lodge provides 8 classic grass thatched cottages overlooking the charming beauty of the eye catching savannah landscapes. The cottages were constructed using local materials like wood and grass thus expect to find grass thatched roofs, wooden floor and beds. All rooms are equipped with inbuilt bathrooms, flashing toilets, basic free toiletries plus a private balcony. While here enjoy activities like chimpanzee trekking in kyambura gorge, game drive, crater exploration and boat cruise on kazinga channel. An accommodation room at Katara lodge ranges from $ 200 per night and above.
9- Semuliki Safari Lodge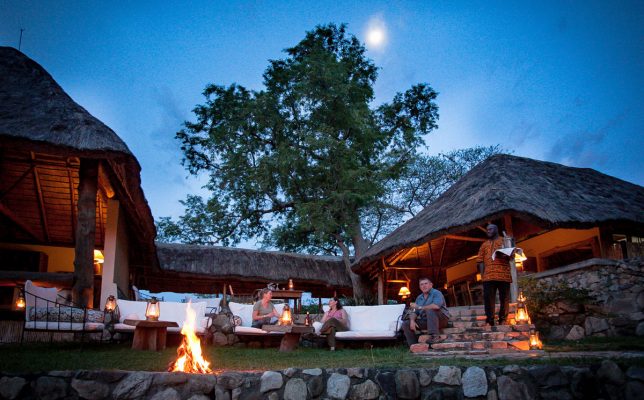 This is the only up market lodge located in charming Semuliki national park, close to the western rift valley, it features canvas tents and grass thatched roof that blend with the natural environment. The safari lodge provides accommodation with spacious rooms, private veranda and overlooking the park's sceneries. During your stay enjoy exploring the Sempaya hot springs which is the main key attraction to the park, it has serene swimming pool offer thrilling views of the Congo blue mountains. Other activities to enjoy during your stay here include; birding with over 34 endemic species recorded, chimpanzee trekking, game drives plus the Bambuti cultural experience. The room rates at Semuliki Safari lodge range from $250 per night and above.
10- Paraa Safari Lodge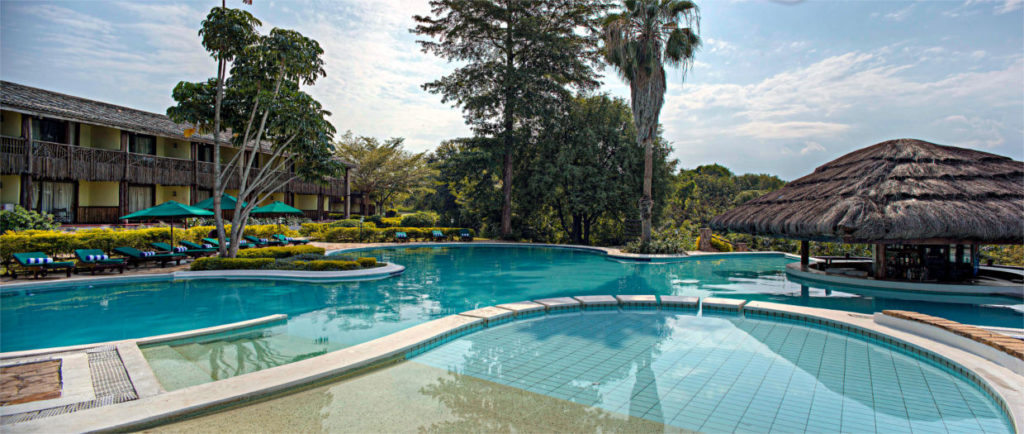 Paraa safari lodge is luxury accommodation situated in southern section of Murchison falls national park, it provides accommodation overlooking the charming beauty of the Victoria Nile. The lodge was designed using local materials that blends with the natural environment hence expect to enjoy unique adventure while staying here, each rooms has an impressive serenity and features private balconies as well as inbuilt bathrooms among other facilities. Guest staying at Paraa safari lodge get chance to delight in a wide range of activities like game drives, boat cruise on the meandering river Nile or a guided nature walk that takes you to experience the top of the falls.
Are you a family, group or a solo traveler planning an adventure road trip in the safari parks of Uganda but still haven't made up your mind where to stay, try out the above 10 Uganda safari lodges in this article for sa fe, comfortable and adventure-filled safari experience. To inquire about safari lodge availability, room rates or any other information, simply send us an email on info@ugandacarrentalservices.com or call us now on +256-700135510 to speak with our team