Uganda is one of the top East African countries that is home to the largest population of Primate mammals. Such as; the endangered mountain gorillas, chimpanzees, Olive Baboons as well as the beautiful monkey species.  The mountain gorillas are found in Maghinga and Bwindi impenetrable forest national park with about 21 habituated gorilla families. Whilst there are about 5000 chimpanzee individuals in Uganda, about 1450 are found in Kibale forest national park. Other chimpanzees can be spotted in various destinations in Uganda like; Budongo Forest protects about 800 individuals, kyambura gorge among other places. There are different species of exciting monkeys in Uganda which include; black and white monkeys, grey cheeked mangabey, patas monkeys, red tailed monkeys, vervet monkeys, L'hoest monkeys among others.
Uganda Safari Bookings presents to the top primate tracking destinations in Uganda where you can go for gorilla trekking in Uganda and chimpanzee tracking as well other other fun exciting tourist activities on the menu.
1- Kibale forest national park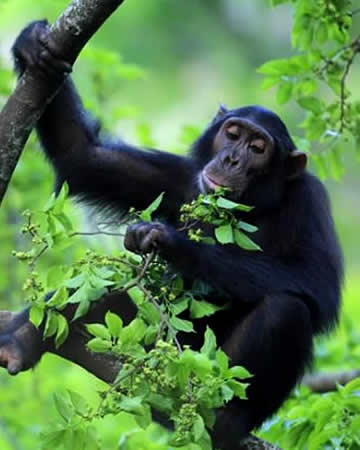 Kibale forest national park is also known as the primate capital of East Africa due to the largest number of primates that call the forest its home. There are about 1450 chimpanzees over 5000 that have been recorded in Uganda. Kibale forest covers an area of about 766 square kilometers and it has the largest pre-montane forest with in East Africa. Due to the huge number of chimpanzee individuals in Kibale forest, the park offers one of the best chimpanzee tracking experiences in East Africa.
2- Bwindi Impenetrable forest national park
Bwindi forest is situated in the south western region of Uganda close to Virunga national park in DR-Congo. It is a recognized UNESCO World Heritage site covering an area of about 321 square kilometers. Bwindi forest is famous for offering the best gorilla trekking experience in Uganda. It hosts half of the remaining mountain gorilla population in the world and about 19 habituated gorilla families that are open for tourism.
3- Budongo Forest
Budongo forest is another amazing place where many tourists would love to visit and delight in an interesting chimpanzee tracking experience. The forest is situated with in Murchison falls national park. Budongo forest harbors about 800 chimpanzee population coexisting with other primates like olive baboons, patas monkeys, L'hoest monkeys, white and black monkeys among others. with the forest, you encounter the savannah vegetation that comprises of mahogany trees.
4- Kyambura Gorge
Kyambura gorge is one of the great destinations situated with in Queen Elizabeth national park. The forest reserve is situated about 30 kilo meters from Queen Elizabeth national park. It is home to 12 primates such as; the red-tailed monkeys, vervet monkeys, Olive Baboon among others.
5- Kalinzu Forest
The forest is one of the unique places where you delight in one of the most rewarding chimpanzee trekking experience beside Kibale and Budongo forest. It is close to Maramagambo forest as well as Queen Elizabeth national park. Chimpanzee tracking in Kalinzu forest exposes you to other primates like olive baboons, blue monkeys, L'hoest monkeys, vervet monkeys among others. Kalinzu forest is blessed with abundant wildlife such as; over 379 species of birds, 261 butterflies, 98 moths among others.
6- Ngamba Island
The Island is a famous home for the injured and orphaned chimpanzees. You will be impressed with a huge number of habituated chimpanzees that are open for tourism to all visitors. These orphan chimpanzees have been rescued from poachers who were trying to smuggle them from their natural habitat. Apparently, there are about 49 chimpanzee individuals that live at Ngamba island sanctuary. Out of the above total number, only three individuals are born there whilst the rest were reintroduced and these have given birth to others. don't hesitate to book with us a one-day excursion to Ngamba island which gives you a chance to see the orphan or lucky chimpanzees that survived death from the poachers.
In case you are searching for where to go primate trekking in Uganda, don't hesitate to consult from our professional and experienced reservation team to assist you arrange one of the astounding primate tracking safari experience in one of the top exciting primate destinations in Uganda. Simply send an inquiry on info@ugandasafaribookings.com or call the reservations desk on +256-700135510 to speak now.