A tourist vehicle is an automobile customized for off-the-beaten-track road trips ideal for park tours, camping adventures as well as research projects and filmography. There are a variety of rental cars in Uganda you can hire for a park tour but not all of them will give you the same level of comfort and security like a tourist vehicle. Some of the top tourist vehicles in Uganda include the 6-9 seater safari land cruiser, 8-seater tourist van, Camper van plus the portable compact Rav-4.
Uganda Safari Bookings has organized a variety of Uganda safaris and tour excursions and we are proud to present to you some of the reasons why we highly recommend you hire a tourist vehicle for your next tour to a national park.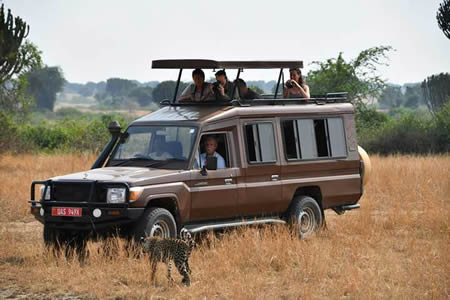 Comfort seating
Comfort is always part and partial of any successful road trip and that's why you need a vehicle that can accommodate both the passengers and cargo comfortably. Most if the tourist vehicles comes with well-spaced seats plus cargo space in the rear and also on the roof meaning you don't even have to be worried about getting squeezed during your Uganda safari in the park.
Pop up roof
A safari vehicle features a pop-up rooftop which offers you uninterrupted wildlife view opportunity in the savannah parks of Uganda while on the game drive compared with other vehicles. This is among the great reasons why most tourist and travelers opt to hire tourist vehicles over ordinary on-raod SUVs
Cargo space
Hire a safari vehicle that will give you enough space for your cargo While on a safari, all safari vehicles have enough space for tourist which makes one to seat comfortably on his or her travel thus gabbing an opportunity to enjoy and relax on your safari.
Camping
Are you planning for camping in Uganda and your stuck with a camping vehicle to go with, 4×4 safari vehicle is your answer, it carries all features all the camping gears due to enough cargo space such as, double roof tents and mattress, sheets and duvet covers, kitchen equipment, first aid kits, among others mentioned but a few, that one would love to use while camping hence making it the best car to hire for your camping safari.
4-wheel drive mechanism
4-wheel drive Safari vehicle is your perfect ideal car to hire for your safari with a two-axled vehicle drivetrain capable of providing torque to all of its wheels simultaneously thus having the capacity to manage the challenging roads within the parks, strong enough thus can not be easily broken down, good terrain road tyres to survive the muddy and slippery roads and park trails which makes it the supper and strong machinery that one would love to travel with on a safari.
Customized and an extended body
A 4×4 safari vehicle features a great strong customized and extended exterior body which favors it to manage all weather conditions compared to other vehicles, this makes you feel comfort, relax and stress-free while on your safari in Uganda.
Customized interior body
Tourist vehicles feature an interior body with well built system such as air conditions in case of heat while on a safari, MP3 prayer systems, charging system where one can not run out of power, build fledge for cold drinks, marvelous window seats among others which all deserves one while on a travel safari in pearl of Africa.
If you're planning a Uganda safari on any of the national parks, the above points should give you a reason to hire a tourist vehicle for the road trip. You can hire a safari land cruiser or van in Uganda online today by sending an email to info@ugandacarrentalservices.com or call us on +256-700135510 and talk to our reservation team.
By Mandera Talemwa
Mumwe Global Safaris